Pre Astyanax IV Boost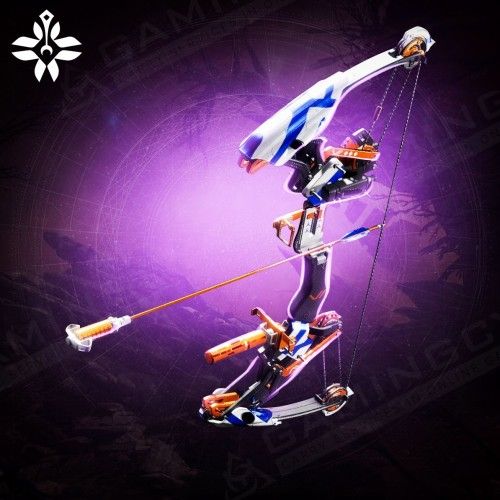 24/7 support
Get a helpful human reply in ±15 seconds!

Hide My Boost
We've developed this unique software to protect you from bans and suspensions. It allows account sharing without flagging an account.

Secure Payments
You can pay securely with PayPal or your Credit Card via Stripe. All payments are covered with the customer protection system and money back guarantee!

Secure Web-site
SSL and HTTPS protocols are used for your 100% privacy & data safety

Enlarge your collections!
An extensive list of unique & rare collectibles makes your gameplay brighter and your whole account more precious!
Buy the incredible Pre Astyanax IV boost on this page of our website. This Nightfall Legendary Energy Combat Bow has made its way into Destiny 2 Lightfall, and now you have the opportunity to unleash its potential. Our premium carry services, led by experienced D2 sherpas, are here to help you make the most of this weapon.
With their extensive knowledge, our top-tier gamers guarantee a swift unlocking of your desired weaponry. Whether you're aiming for the Pre Astyanax IV itself, its coveted God Roll, or specific sought-after perks, our experts have you covered.
Let our skilled players handle the grind of farming the Pre Astyanax 4 on your behalf, ensuring a smooth and effortless acquisition process. No matter if you play on PlayStation, PC, or Xbox, our services cater to all platforms, providing universal access to our exceptional assistance.
Join us today to embark on your Destiny 2 journey and experience the convenience of boosting your gameplay to new heights with our top-notch services.
Why buying the Pre Astyanax IV is a must-have?
Purchase the Pre Astyanax IV and get a combat bow, which remains popular in tough PvE encounters in D2 Lightfall Season of the Witch. This weapon, with perks like Collective Action and Precision Instrument, deals potent long-range damage. Despite facing competition from Solar bows like Strident Whistle and Tyranny of Heaven, which share similar top-tier perks, Astyanax shines in PvE, even if it won't drastically alter the meta.
How to Get the Pre Astyanax IV?
The Pre Astyanax IV weapon is an exclusive item available through the Nightfall playlist, and its acquisition is limited to specific weeks within a rotating schedule. Opting for higher-difficulty Nightfall encounters significantly improves the likelihood of securing this sought-after weapon. For those aiming for the elite Adept variant of Pre Astyanax 4, it's essential to tackle Grandmaster Nightfall challenges when this weapon is listed as the weekly prize.
After you've successfully obtained the weapon, you can specialize its features by interacting with Commander Zavala, where you can exchange it for Vanguard Engrams, Glimmer, and Legendary Shards. Remember that focusing the Adept version is constrained to those weeks when it's designated as the Grandmaster weekly reward. Furthermore, it will require a total of 10 Nightfall Ciphers to complete the focus process.
The Perks of the Pre Astyanax IV and the God Roll
The Pre Astyanax IV Combat Bow has the following base stats:
Impact: 76
Accuracy: 65
Stability: 40
Handling: 50
Reload Speed: 40
Aim Assistance: 69
Zoom: 18
Airborne Effectiveness: 17
Recoil: 69
Bounce Intensity: 31
Draw Time: 684
The God Roll for Pre Astyanax IV depends on your preference and playstyle, but here are some recommended perk combinations for both PvE and PvP:
For PvE, the ideal Pre Astyanax IV setup includes:
Bowstring

: Flexible String (or Elastic String)

Arrow

: Straight Fletching

Perk 1

: Archer's Tempo

Perk 2

: Precision Instrument (or Successful Warm-Up)

Masterwork

: Draw Time
While bowstring and arrow are less significant in PvE, prioritizing those that reduce Draw Time without compromising Accuracy is recommended. Archer's Tempo is a clear choice in column 3, while the final column offers potent perks like Incandescent and Collective Action, along with Precision Instrument. Your selection here depends on your playstyle.
For PvP engagements, the optimal Pre Astyanax IV configuration consists of:
Bowstring

: Polymer String

Arrow

: Straight Fletching

Perk 1

: Perpetual Motion

Perk 2

: Opening Shot

Masterwork

: Accuracy or Handling
In PvP, Pre Astyanax IV performs modestly, focusing on high Accuracy and Handling stats. Polymer String, Straight Fletching, and an Accuracy or Handling masterwork contribute to this. The first column's Perpetual Motion offers noticeable in-game impact, while Opening Shot in the final column enhances Accuracy further.
Is the Pre Astyanax IV Worth the Farm?
Farming the Pre Astyanax IV Combat Bow in Destiny 2 tests dedication, skill level, and a lot of grind. Yet, not all players can invest the required time and expertise into this demanding quest. But worry not, as Gamingcy's expert carry services are here to help you with that.
Our seasoned Destiny 2 sherpas possess intricate knowledge and exceptional expertise. With unwavering commitment, they undertake the task of farming the Pre Astyanax IV on your behalf, providing a comprehensive solution to enhance your gaming experience. Whether you're a seasoned veteran or a newcomer, unlocking the legendary Pre Astyanax IV combat bow holds an undeniable allure.
Trust in Gamingcy as your unwavering companion, and let us elevate your Destiny 2 journey. You'll wield this remarkable weapon with confidence through our boosts, reigning supreme on the battlefield. Embrace our expertise and embark on a fast track to redefine your Destiny 2 gameplay, leaving an indelible mark in your memories. Together, we'll unlock the full potential of the Pre Astyanax IV, forging an unforgettable path to glory.
ETA:
Average starting time: 1-3 hours
Average Execution time: 1-5 days
Rewards you will get:
Pre Astyanax IV

Legendary Energy Combat Bow;
Unique Armor and Weapon drop from the Nightfalls;
Experience for your Season Pass and Artifact.
Options available:
Random Roll

: a weapon with

random perk

combos.

Adept

: You will get an Adept version of weapon.

Rolls with Guaranteed Perk

: We will get you a weapon with the

desired perk

roll.

God roll:

We will get you a weapon with the desired

god roll

.
Requirements:
1600+ Power Level

for Normal

1800+ Power Level

for Adept

All DLC

Recovery

(an experienced player will securely log into your account and do all the work for you)
This weapon can be received

only while this weapon is in the weekly rotation

. If it's not in the current weekly rotation – we'll wait until it becomes obtainable again.