PLUG ONE.1 Boost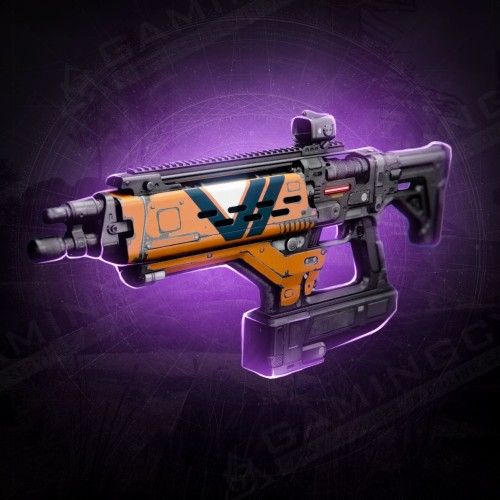 24/7 support
Get a helpful human reply in ±15 seconds!

Hide My Boost
We've developed this unique software to protect you from bans and suspensions. It allows account sharing without flagging an account.

Secure Payments
You can pay securely with PayPal or your Credit Card via Stripe. All payments are covered with the customer protection system and money back guarantee!

Secure Web-site
SSL and HTTPS protocols are used for your 100% privacy & data safety

Enlarge your collections!
An extensive list of unique & rare collectibles makes your gameplay brighter and your whole account more precious!
Welcome to the section of our website where you have the opportunity to buy the PLUG ONE.1 boost – an extraordinary Nightfall Legendary Energy Fusion Rifle now attainable within Destiny 2 Lightfall. Unleash the full potential of this legendary fusion rifle utilizing our premium carry services, delivered by experienced D2 sherpas at the pinnacle of their expertise. With their extensive knowledge, we assure swift unlocking of your desired armament – be it the PLUG ONE.1 itself, its optimal God Roll, or specific coveted perks. This service implies that you will get the purchased weapon with a 100% guarantee.
Our skilled gamers will farm the PLUG ONE.1 for you, ensuring a seamless and effortless endeavor. No matter your gaming platform – whether PlayStation, PC, or Xbox – our services cater to all, guaranteeing universal access to our exceptional support.
Join us today to embark on your Destiny 2 journey and uncover the ease of enhancing your gameplay to its zenith with our boosting services.
Why buying the PLUG ONE.1 is a must-have?
Purchase D2 PLUG ONE.1 and get its fusion rifle mechanics, capable of dealing high burst damage at mid-range. It's particularly effective against groups of enemies and can be used to quickly eliminate adversaries in both PvE and PvP encounters. In addition, this weapon boasts some super-powerful perks and combinations that are really worth farming.
How to Get the PLUG ONE.1?
The Plug One.1 has a distinct association with the Nightfall playlist activity. In any given week, a trio of weapons is up for grabs, and the sequence remains constant. It ensures that the Plug One.1 will emerge in the rotation once every trio of weeks. The challenge level you select for the Nightfall significantly impacts the likelihood of this weapon dropping. To illustrate, you're in for a tougher grind aiming for the Plug One.1 in a 1240 Power Nightfall compared to the 1310 or 1340 Power levels. Notably, even if both Legend and Master levels label the Nightfall weapon as Common, it's observed to be more prevalent at 1340. To optimize your acquisition efforts, we shall focus on the Legend and Master Nightfall levels. They tend to yield a steadier flow of Plug One.1. For those setting sights on the Adept version, it becomes available exclusively during the Grandmaster Nightfalls, but only when this weapon is part of the active rotation.
The Perks of the PLUG ONE.1 and the God Roll
The PLUG ONE.1 Fusion Rifle has the following base stats:
Impact: 80
Range: 58
Stability: 49
Handling: 36
Reload Speed: 31
Aim Assistance: 66
Inventory Size: 40
Zoom: 17
Airborne Effectiveness: 8
Recoil: 75
Bounce Intensity: 25
Charge Time: 780
The God Roll for PLUG ONE.1 depends on your preference and playstyle, but here are some recommended perk combinations for both PvE and PvP:
PLUG ONE.1 PvE God Roll:
Barrel:

Arrowhead Brake or Corkscrew Rifling

Magazine:

Projection Fuse

Perk 1:

Feeding Frenzy

Perk 2:

Reservoir Burst
Opting for Feeding Frenzy in the initial primary perk slot grants us a rapid reload speed. This pairs seamlessly with Reservoir Burst, often yielding 2-3 stacks of Feeding Frenzy. It's worth noting that this combination mirrors the one found in Null Composure. While you do have the option to utilize the seasonal pinnacle weapon, Plug One.1, it stands out by delivering more impactful hits, rendering it a superior choice for PVE engagements. If this combination doesn't align with your preferences, alternatives like Bottomless Grief and Cornered are noteworthy perks to consider.
PLUG ONE.1 PvP God Roll:
Barrel:

Corkscrew Rifling

Magazine:

Projection Fuse or Accelerated Coils

Perk 1:

Heating Up

Perk 2:

Kickstart
Having established our initial two perks, the choice for our first primary perk falls on Heating Up. This significantly enhances the weapon's lethality upon delivering finishing blows, a trait that proves particularly formidable in any 6v6 engagements. Yet, the true essence of this configuration lies within Kickstart, an innovative fusion rifle perk. Following a slide, the charge rate decreases while the damage output rises for a brief duration. This combination wields considerable potency, especially in the hands of more agile classes such as Titans or Hunters. If traversing the battlefield through slides doesn't align with your strategy, consider seeking out Backup Plan as an alternative.
Is the PLUG ONE.1 Worth the Farm?
Farming the PLUG ONE.1 Destiny 2 Fusion Rifle requires resolute commitment, honed mastery, and an unyielding pursuit of excellence. However, not all players possess the luxury of time or the expertise this formidable challenge demands. But despair not, as Gamingcy's adept carry services are poised to bridge this gap.
Among our ranks, seasoned Destiny 2 sherpas boast intricate expertise and extraordinary skill. Fueled by unwavering dedication, they undertake the PLUG ONE.1 farming endeavor on your behalf, offering a comprehensive solution to enrich your gaming expedition. Place your trust in Gamingcy, your steadfast companion, and allow us to elevate your Destiny 2 progression. Whether you're a seasoned veteran or a neophyte, the allure of unlocking the legendary PLUG ONE.1 fusion rifle holds undeniable appeal.
You'll wield this remarkable weapon with resolute confidence through our boosting services, reigning supreme on the battlefield. Embrace our prowess and embark on a journey that will redefine your Destiny 2 legacy, leaving an indelible imprint in the chronicles of time. Together, we shall unlock the magnificence within PLUG ONE.1, forging an unforgettable path to glory.
ETA:
Average starting time: 1-3 hours
Average Execution time: 1-5 days
Rewards you will get:
PLUG ONE.1

Legendary Energy Fusion Rifle;
Unique Armor and Weapon drop from the Nightfalls;
Experience for your Season Pass and Artifact.
Options available:
Random Roll

: a weapon with

random perk

combos.

Adept

: You will get an Adept version of weapon.

Rolls with Guaranteed Perk

: We will get you a weapon with the

desired perk

roll.

God roll:

We will get you a weapon with the desired

god roll

.
Requirements:
1600+ Power Level

for Normal

1800+ Power Level

for Adept

All DLC

Recovery

(an experienced player will securely log into your account and do all the work for you)
This weapon can be received

only while this weapon is in the weekly rotation

. If it's not in the current weekly rotation – we'll wait until it becomes obtainable again.