About us
A Story Behind the Gamingcy's Brand
At Gamingcy, you will find numerous carry services that are meant to improve your in-game progress. Unite with over 2000 of our expert players with years of experience. Avoid all the tedious grinding & unnecessary end-game drama. Make your online gaming an exhilarating experience with us!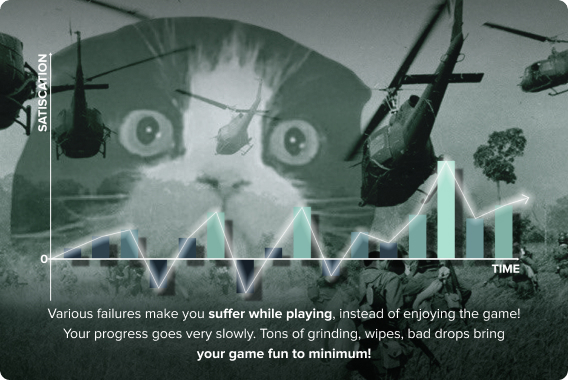 You're using our boosting services
You're playing on your own
Helping passions grow since 2014
We started as a small team of passionate WoW players back in 2014.
First, boosting was just a hobby for us: we provided 10-15 orders per week. All we wanted from it was to get enough money to pay for the monthly subscription. However, we managed all the orders responsibly, in a high-quality and timely manner.
That's why, from week to week, we got more and more satisfied customers, and amount of orders was increasing.
At the same time, our authority in the boosting community grew: we got hundreds of new friends & partners among professional players and carry teams.
Since then, much time has passed, and we have expanded a lot:
we have completed over 109 642 orders for the market;
we have gathered a big team of over 2000 professional players;
members of our team have worked with giants of the boosting industry as managers, marketers, and partners.
So we concluded that we have enough knowledge, skills, and enthusiasm to make our own professional boosting agency. At Gamingcy.com, we want to gather everything we have learnt about carry services & online technologies and provide you a convenient, customer-friendly platform.
8+
YEARS IN BOOSTING INDUSTRY
2000+
PROFESSIONAL PLAYERS
OUR PRINCIPLES
We believe that a perfect in-game boosting service should base on the following fundamental principles:
TRUST
COMFORT AND SPEED
PRICE AND QUALITY
SECURITY
Trust
5 stars Stars Rating at Trustpilot.com
We are requesting feedback after any service completion. Please share your opinion, and check, what other customers think about us!
Comfort & Speed
An extensive flexible boosts schedule:
You can choose the most convenient time option from our online boosts schedule.
Quick support response:
Average support reply waiting time is 15 seconds.
Price & Quality
You will find our prices decent. The reason for that is our extensive base of professional gamers (over 2k players). We are always price matching before we set prices at our site.
All of our boosters have been members of top world guilds and statics since early expansions. With us, any order will be smooth, fun, and exciting!
We have a quality control department. Feel free to send us a complaint if you have faced any troubles while getting your boost. We will go above and beyond to make things right!
Security
We have created the Hide My Boost technology to evade security blocks, making your carry 3 times safer.
All payments at our site are covered with the customer protection system. It means that if something goes wrong, you can get a full or a partial refund!
We have SSL and HTTPS secure website. That's why all your information and data will be 100% safe!
WHAT WE VALUE IS WHAT WE GIVE!
Our core values stem from our own experience and how we want to make yours better:
We set competitive, fair prices for our services;
Cooperate with thousands of talented professional players;
Constantly work on technical improvements to make our site more convenient for you;
Provide fast & helpful support.
Saving your time is a priority of ours, so we complete services at maximum speed.
A few words about our logo
While creating the logo, there were four things that we focused on:
We wanted to reflect the most important principles of our company inside:

Trust

Speed

Growth and Enchacement

Make our logo MMO games-based. That's why you can find the symbol of an MMO character inside the logo.

Make our logo unique, and implement the basic letters of the company's name inside. So you can find the G, M, and Y letters in the logo.

Make a logo that matches the minimalistic style of our website.
Our philosophy
Making you happy, saving your time is the true end-goal of our team. We value your privacy; we're ever-evolving and trying new things and options to add to make you satisfied. We believe that qualified boosting services can bring your gaming experience to the next level!