Uzume RR4 Boost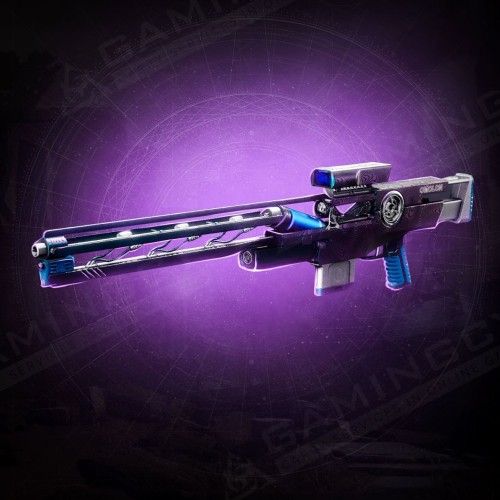 24/7 support
Get a helpful human reply in ±15 seconds!

Hide My Boost
We've developed this unique software to protect you from bans and suspensions. It allows account sharing without flagging an account.

Secure Payments
You can pay securely with PayPal or your Credit Card via Stripe. All payments are covered with the customer protection system and money back guarantee!

Secure Web-site
SSL and HTTPS protocols are used for your 100% privacy & data safety

Enlarge your collections!
An extensive list of unique & rare collectibles makes your gameplay brighter and your whole account more precious!
On this page of Gamingcy, you can buy the Uzume RR4 boost, an extraordinary Nightfall Legendary Energy Sniper Rifle that is now within your reach in Destiny 2 Lightfall. Unleash the full potential locked within this SR using our premium carry services, which are done by experienced D2 sherpas at the pinnacle of their expertise. With their profound knowledge, we guarantee a swift unlocking of your desired weapons – whether it's the Uzume RR4 itself, its coveted God Roll, or any perks combos. Everything will be done turnkey and with a 100% guarantee.
Our skilled gamers are dedicated to farming the Uzume RR4 on your behalf, ensuring a smooth and effortless endeavor. Irrespective of your gaming platform – PlayStation, PC, or Xbox – our services are all-encompassing, granting access to our exceptional aid across the board.
Embark on your Destiny 2 journey by enlisting with us today, and uncover the convenience of enhancing your gameplay to its zenith through our boosting services.
Why buying the Uzume RR4 is a must-have?
Purchase the Uzume RR4 and get its ability to deliver precise and high-damage shots at long range. Its adaptable perks allow players to optimize its performance for various scenarios. In PvE, it can be a reliable long-range DPS option, and when paired with complementary weapons like Anarchy, it can provide steady damage output. In PvP, it can excel with perks that enhance its accuracy and stability.
How to Get the Uzume RR4?
The Uzume RR4 has its roots in Nightfall. On a weekly basis, you can chase after one out of three weapons. With a fixed rotation, the Uzume RR4 will appear every third week. The odds of dropping this SR depend primarily on the difficulty setting chosen for NF.
For instance, chasing the Uzume RR4 at a 1240 Power level is noticeably tougher than attempts at 1310 or 1340 Power levels. It's worth noting that despite the Legend and Master levels indicating a commonality for the Nightfall weapon, the frequency of its drop is significantly higher at 1340. For those aiming for consistency, it's advisable to focus on the Legend and Master Nightfall levels to maximize the chances of securing Uzume RR4. As for its Adept variant, keep an eye out for it during Grandmaster Nightfalls when the weapon enters the rotation.
The Perks of the Uzume RR4 and the God Roll
The Uzume RR4 Sniper Rifle has the following base stats:
Impact: 70
Range: 60
Stability: 48
Handling: 46
Reload Speed: 45
Reload Time: 3.13s
Aim Assistance: 67
Inventory Size: 50
Zoom: 50
Airborne Effectiveness: 3
Recoil: 75
Bounce Intensity: 25
Rounds Per Minute: 90
The God Roll for Uzume RR4 depends on your preference and playstyle, but here are some recommended perk combinations for both PvE and PvP:
Uzume RR4 PvE God Roll:
Barrel:

Arrowhead Brake

Magazine:

Appended Mag or Tactical Mag

Perk 1:

Triple Tap or Bottomless Grief

Perk 2:

Vorpal Weapon
Opt for Arrowhead Brake in the barrel slot to significantly reduce recoil and slightly enhance stability of the sniper rifle. To increase magazine size, choose Tactical or Appended Mag; Extended Mag has a lengthy reload penalty, which is less favorable. These perks synergize well with Triple Tap and Bottomless Grief, granting more bullets in the chamber. Uzume excels at eliminating bosses, so maximizing rounds before a reload is essential. The pivotal perk here is Vorpal Weapon, renowned for boss damage. While High-Impact Reserves is viable, my personal preference leans towards Vorpal Weapon.
Uzume RR4 PvP God Roll:
Barrel:

Corkscrew Rifling or Arrowhead Brake

Magazine:

Accurized Rounds

Perk 1:

Snapshot

Perk 2:

Explosive Payload or High Impact Reserves
The advantage of hitting your target first should not be underestimated. In Uzume's second perk column, geared primarily toward PVE, options become intricate. Explosive Payload offers AoE damage and disrupts aim when hitting, enhancing forgiveness for body shots. Alternatively, High Impact Reserves provides a straightforward damage increase. An argument can also be made for Vorpal Weapon, valuable for countering Guardians in their Supers.
Is the Uzume RR4 Worth the Farm?
Farming the Uzume RR4 Destiny 2 Sniper Rifle demands unyielding dedication, masterful skill, and an unwavering pursuit of excellence. However, not all players possess the time or expertise for this challenging feat. Yet, there's no need to worry, as Gamingcy's expert carry services are here to bridge that gap.
Our accomplished Destiny 2 sherpas, armed with extensive knowledge and remarkable prowess, embark on the Uzume RR4 farming journey on your behalf. This comprehensive solution enriches your gaming experience, regardless of whether you're a seasoned veteran or a fresh recruit. The significance of unlocking the legendary Uzume RR4 sniper rifle cannot be overstated.
Trust in Gamingcy, your loyal ally, to elevate your Destiny 2 adventure. With our boosts, you'll wield this exceptional weapon with unwavering confidence, asserting dominance on the battlefield. Embrace our expertise and embark on a journey that reshapes your Destiny 2 legacy, leaving an indelible mark in history. Together, we'll unlock the full potential of the Uzume RR4, forging an unforgettable path to glory.
ETA:
Average starting time: 1-3 hours
Average Execution time: 1-5 days
Rewards you will get:
Uzume RR4

Legendary Energy Sniper Rifle;
Unique Armor and Weapon drop from the Nightfalls;
Experience for your Season Pass and Artifact.
Options available:
Random Roll

: a weapon with

random perk

combos.

Adept

: You will get an Adept version of weapon.

Rolls with Guaranteed Perk

: We will get you a weapon with the

desired perk

roll.

God roll:

We will get you a weapon with the desired

god roll

.
Requirements:
1600+ Power Level

for Normal

1800+ Power Level

for Adept

All DLC

Recovery

(an experienced player will securely log into your account and do all the work for you)
This weapon can be received

only while this weapon is in the weekly rotation

. If it's not in the current weekly rotation – we'll wait until it becomes obtainable again.