The Militia's Birthright Boost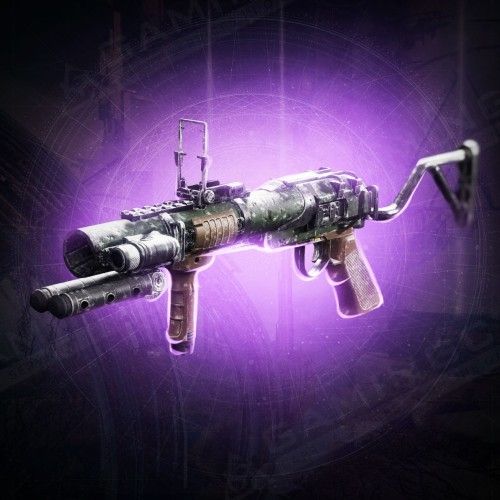 24/7 support
Get a helpful human reply in ±15 seconds!

Hide My Boost
We've developed this unique software to protect you from bans and suspensions. It allows account sharing without flagging an account.

Secure Payments
You can pay securely with PayPal or your Credit Card via Stripe. All payments are covered with the customer protection system and money back guarantee!

Secure Web-site
SSL and HTTPS protocols are used for your 100% privacy & data safety

Enlarge your collections!
An extensive list of unique & rare collectibles makes your gameplay brighter and your whole account more precious!
Welcome to the site, where you can buy the Militia's Birthright boost. This extraordinary Nightfall Legendary Kinetic Grenade Launcher is now within your reach in Destiny 2 Lightfall. Unleash the full power of this weapon through our premium carry services, provided by highly skilled D2 sherpas. Their extensive expertise assures the swift unlocking of your desired item, whether it's the Militia's Birthright itself, its optimal God Roll configuration, or specific sought-after perks. Everything will be done quickly and smoothly!
Our PRO gamers are dedicated to unlocking the Militia's Birthright for you, ensuring a seamless and uncomplicated encounter. This offering is available for PlayStation, PC, or Xbox players.
Enroll today to embark on your Destiny 2 journey and experience the convenience of elevating your gameplay to the pinnacle with our boosting services.
Why buying the Militia's Birthright is a must-have?
Purchase the Militia's Birthright and get a Grenade Launcher, which excels at area control and dealing significant damage. However, it's not the best option for burst damage or ad control, as other weapons like Ignition Code and Salvager's Salvo surpass it. However, if you manage to get Militia's Birthright with proper perks, it will be a decent gun in your arsenal, which you can use for many activities.
How to Get the Militia's Birthright?
Acquiring The Militia's Birthright isn't as straightforward as merely participating in the Nightfall event; it has its intricacies. The arsenal associated with this activity goes through a weekly rotation, offering windows of opportunity and unavailability gaps for landing this specific grenade launcher.
Your odds of securing The Militia's Birthright also hinge on the chosen difficulty setting within the NF. Opting for an Adept challenge significantly skews your chances, making the weapon harder to obtain than tackling a Master Nightfall. To give you a clear idea, here's the breakdown of weapon rarity for each Nightfall difficulty:
Hero

– Uncommon;

Legend

– Common;

Master

– Common;

Grandmaster

– Common (Adept Variants Only).
For those yearning for the Adept version of The Militia's Birthright, you'll need to wade through the Grandmaster level when that particular weapon is in rotation. Though it may seem like a maze of requirements, this is the framework within which you can obtain this sought-after item. Crafting isn't an option; as of this article, there are no existing blueprints for the weapon. Therefore, whether or not you secure a "God Roll" is purely a matter of luck, governed by RNG.
The Perks of the Militia's Birthright and the God Roll
The Militia's Birthright Grenade Launcher has the following base stats:
Blast Radius: 100
Velocity: 72
Stability: 23
Handling: 69
Reload Speed: 63
Aim Assistance: 75
Inventory Size: 61
Zoom: 13
Airborne Effectiveness: 4
Recoil: 62
Bounce Intensity: 38
Rounds Per Minute: 90
The God Roll for Militia's Birthright depends on your preference and playstyle, but here are some recommended perk combinations for both PvE and PvP:
Militia's Birthright PvE God Roll:
Barrel

: Quick Launch or Smart Drift Control

Magazine

: Blinding Grenades or Spike Grenades

Perk 1

: Ambitious Assassin or Slideways

Perk 2

: Auto-Loading holster or Frenzy
In your magazine, both Blinding Grenades and Spike Grenades are effective choices. Opt for Blinding Grenades to control crowds, or choose Spike Grenades for increased damage output. When it comes to perks, Ambitious Assassin or Slideways are optimal for Slot 1, while Auto-Loading Holster or Frenzy work well for Slot 2.
Militia's Birthright PvP God Roll:
Barrel

: Quick Launch or Smart Drift Control

Magazine

: Blinding Grenades, Spike Grenades, or Proximity Grenades

Perk 1

: Ambitious Assassin or Slideways

Perk 2

: Auto-Loading Holster
When considering PvP rolls, prioritize elevated Velocity and Handling. Opt for Quick Launch or Smart Drift Control as your top choices. Regarding your magazine, you have various options. Spike Grenades offer immediate one-hit kill potential, Blinding Grenades facilitate effortless elimination of blinded foes, and Proximity Grenades set up easy kills with your secondary weapon.
Is the Militia's Birthright Worth the Farm?
Farming the Militia's Birthright Destiny 2 Grenade Launcher demands dedication, skill, and unwavering pursuit of excellence. However, not all players have the time or expertise for this challenge. But fear not; Gamingcy's expert carry services are here to help.
Our seasoned Destiny 2 sherpas possess deep knowledge and exceptional prowess. With dedication, they'll farm the Militia's Birthright for you, enhancing your gaming journey. Whether you're a seasoned warrior or a newcomer, unlocking this legendary grenade launcher is a powerful achievement.
Trust Gamingcy to be your companion and elevate your Destiny 2 experience. With our boosts, you'll wield this weapon confidently, dominating the battlefield. Join us on a journey to redefine your Destiny 2 legacy, as together we forge an unforgettable path to glory through the might of the Militia's Birthright.
ETA:
Average starting time: 1-3 hours
Average Execution time: 1-5 days
Rewards you will get:
The Militia's Birthright

Legendary Kinetic Grenade Launcher;
Unique Armor and Weapon drop from the Nightfalls;
Experience for your Season Pass and Artifact.
Options available:
Random Roll

: a weapon with

random perk

combos.

Adept

: You will get an Adept version of weapon.

Rolls with Guaranteed Perk

: We will get you a weapon with the

desired perk

roll.

God roll:

We will get you a weapon with the desired

god roll

.
Requirements:
1600+ Power Level

for Normal

1800+ Power Level

for Adept

All DLC

Recovery

(an experienced player will securely log into your account and do all the work for you)
This weapon can be received

only while this weapon is in the weekly rotation

. If it's not in the current weekly rotation – we'll wait until it becomes obtainable again.