Necrochasm Catalyst Boost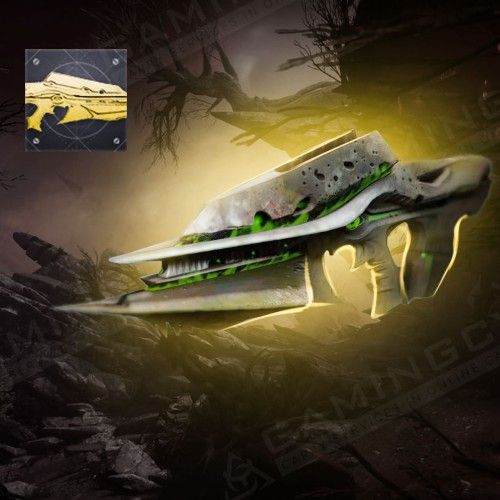 24/7 support
Get a helpful human reply in ±15 seconds!

Hide My Boost
We've developed this unique software to protect you from bans and suspensions. It allows account sharing without flagging an account.

Secure Payments
You can pay securely with PayPal or your Credit Card via Stripe. All payments are covered with the customer protection system and money back guarantee!

Secure Web-site
SSL and HTTPS protocols are used for your 100% privacy & data safety

Enlarge your collections!
An extensive list of unique & rare collectibles makes your gameplay brighter and your whole account more precious!
Welcome to Gamingcy's site, where you can buy the Necrochasm Catalyst boost in Destiny 2 Lightfall. We pride ourselves on offering this service at the most competitive prices in the market, all while ensuring 100% security throughout the entire process. Our team of seasoned D2 sherpas is renowned for their unmatched expertise and proficiency in swiftly obtaining any in-game reward, making them the perfect choice for unlocking this exotic upgrade, securing the weapon, or completing the masterwork. Let our professional gamers expertly handle the challenging journey of Necrochasm Catalyst farming on your Guardian. As a trusted and entirely legitimate official site, Gamingcy guarantees a seamless and gratifying experience for all.
What does this Catalyst do?
Acquiring the Necrochasm Catalyst is no small achievement. It demands precise navigation through a complex quest-completion process. Once unlocked, the Necrochasm Catalyst bestows an additional perk upon your weapon, further enhancing its power. Known as "Outlaw," it dramatically decreases reload time upon precision kills.
Which D2 platforms are supported?
Our boosting services cater to players on major gaming platforms such as PlayStation, PC, and Xbox. We're dedicated to ensuring that every Guardian can benefit from our exceptional assistance. Join us today and experience the unparalleled convenience of our boosts, elevating your Destiny 2 journey to its peak. Prepare yourself for a destiny-altering adventure like never before.
How to get Necrochasm Catalyst?
To acquire the Necrochasm Catalyst in Destiny 2, you must adhere to specific steps within the Crota's End raid. Here's the process:
Complete Crota's End Raid:

You must conquer the challenging Crota's End raid.

Activate Timed Trials:

Within the raid, you must conquer two timed trials. These trials involve defeating waves of enemies, including Gatekeeper Knights.

Equip Necrochasm:

Crucially, at least one member of your Fireteam needs to have the Necrochasm exotic auto rifle equipped to initiate the trials.

Activate Plates:

There are two plates for each trial that you must activate. The first plate is located after the Bridge encounter. Head to the right end of the area to find a small plate with a green aura. Step onto the plate while wielding the Necrochasm to initiate the trial.

Complete Timed Challenges:

You'll have one minute and thirty seconds to finish each timed challenge. Completing both trials will unlock the Necrochasm Catalyst.

Boost it to Masterwork:

Once you've secured the exotic catalyst, your subsequent step involves gathering 20 Oversoul Essences to complete the weapon's upgrade. These essences can be obtained through successfully finishing various challenges within the Crota's End raid. Right now, it's a very grindy task and will require numerous raid runs (the drop rate of OE is very low).
Necrochasm Catalyst farming service: what does it imply?
Unlocking the Necrochasm catalyst and acquiring its coveted masterwork status demands uncompromising dedication, incredible luck, a lot of grinding, and an unrelenting pursuit of perfection. Among Guardians, this weapon holds a revered position due to its formidable capabilities and distinctive design. However, we recognize that not every player has enough time or the essential skills for this challenging work. This is where Gamingcy's professional carry services come into play, bridging the gap and providing a customized solution to meet your needs.
Unlocking the Necrochasm catalyst bestows an additional perk upon your weapon, significantly reducing reload time with precision kills:
Outlaw

: Precision kills significantly reduce reload time.
Buying a Necrochasm catalyst farming service is the ideal choice for gearing up for Season of the Witch. Our team comprises the best Destiny 2 experts with extensive knowledge and exceptional abilities, ready to farm on your behalf tirelessly. We offer a comprehensive solution that takes your gaming experience to unparalleled heights. Whether you are a battle-hardened veteran well-versed in Destiny 2 or a fresh-faced newcomer embarking on your first adventure, the Necrochasm catalyst boost is an opportunity you shouldn't miss.
Choose Gamingcy as your trusted store, and let us skyrocket your Destiny 2 experience to pinnacle levels. With our steadfast services, you can confidently wield this extraordinary weapon upgrade, dominating new PvP and PvE content with 100% confidence. Prepare for an unforgettable journey filled with triumph and glory at every turn!
ETA:
Average starting time: 1-3 hours
Average Execution time: 1-2 hours
Rewards you will get:
Necrochasm Catalyst;
Exp for your Season Pass and Artifact level;
All items and resources that may drop during the service.
Options available:
Catalyst Masterwork:

we will complete Catalyst Masterwork requirements, so the buff will start working;

Weapon Obtain:

We will farm a weapon to get catalyst for you.
Requirements

+ Important notes:
Recovery

(an experienced player will securely log into your account and do all the work for you)

Necrochasm

weapon in your arsenal. If you still don't have this exotic yet, you can buy Necrochasm weapon at our site: a PRO gamer will get it for you fast and with a guarantee.