Touch of Malice Catalyst Boost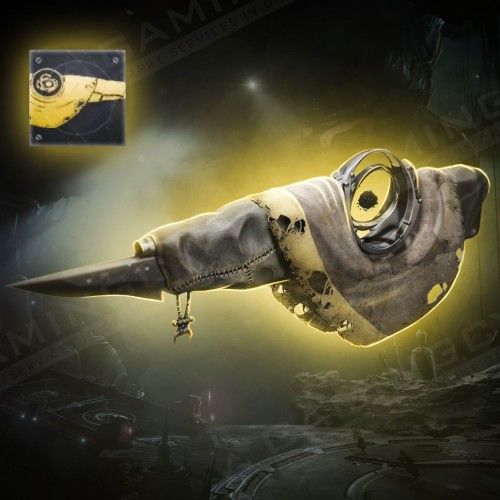 24/7 support
Get a helpful human reply in ±15 seconds!

Hide My Boost
We've developed this unique software to protect you from bans and suspensions. It allows account sharing without flagging an account.

Secure Payments
You can pay securely with PayPal or your Credit Card via Stripe. All payments are covered with the customer protection system and money back guarantee!

Secure Web-site
SSL and HTTPS protocols are used for your 100% privacy & data safety

Enlarge your collections!
An extensive list of unique & rare collectibles makes your gameplay brighter and your whole account more precious!
You can buy the Touch of Malice Catalyst boost at our site in Destiny 2. Engage in a peerless experience as we present elite carry services anchored by seasoned D2 veterans. Honored for their profound game knowledge and unparalleled mastership, our professionals are ready to get any upgrade you desire. Whether you're seeking to acquire this exotic catalyst, procure the weapon itself, or attain masterwork completion, our experienced gamers are prepared to tackle the demanding journey of Touch of Malice Catalyst farming on your behalf, ensuring a seamless and thoroughly satisfying journey.
Our superior services span all leading gaming platforms, including PlayStation, PC, and Xbox. We make sure every Guardian can enjoy the unrivaled benefits of our support.
Getting the Touch of Malice Exotic Catalyst isn't your average task. It necessitates careful navigation through the complexities of battling a challenging group of Oracles. Precision, strategy, and unwavering focus are crucial within the arduous VoG Raid environment. Once completed and applied, the Touch of Malice masterwork reveals an intriguing and unique system, enabling you to unlock the weapon's full potential and commence an exhilarating journey of advancement.
Join us today to experience unmatched convenience as we take your Destiny 2 journey to new zeniths. Prepare to embark on a game-changing adventure that will leave a lasting imprint on your gaming expedition.
How to Unlock the Touch of Malice Catalyst?
The questline to unlock the Touch of Malice Catalyst and reveal its full power is not for the timid. It starts with acquiring this exotic weapon itself, a requirement for this extraordinary task. The quest for the Touch of Malice Catalyst unravels within the confines of the raid, presenting a sequence of tough challenges:
The team must strategically divide, covering the four quarters of the vast area.
A Fireteam member equipped with the Touch of Malice takes a position on a designated plate.
Relics emerge within the arena, requiring swift action.
Simultaneously, the team retrieves the relics and moves toward the core of the Dreadnaught, where ancient statues stand guard.
The relics are accurately placed before the ruthless timer expires.
However, this moment of victory doesn't mark the journey's end. Completing the Touch of Malice masterwork requires a challenging count of 700 kills using the weapon. Only through this grindy feat can the Rapid Hit perk be instilled into the gun, enhancing its capabilities and pushing it to unparalleled power.
Touch of Malice Catalyst Farming Service: What Does It Entail?
Embark on the path to unlock the full potential of the Touch of Malice, a demanding masterwork that requires relentless dedication, uncompromising skill, and a quest for perfection. This legendary weapon is a badge of honor among Guardians, revered for its powerful abilities and iconic design. We recognize that not all players have the time or the expertise to undertake this challenging quest, which is exactly why our professional carry services are in place, bridging the gap and providing a transformative solution.
Choosing our Touch of Malice catalyst farming service is the optimal path to gearing up. Our team comprises seasoned experts in Destiny 2, equipped with intricate knowledge and exceptional prowess to grind diligently on your behalf. We offer a comprehensive solution that takes your gaming experience to new levels. Whether you're a seasoned veteran familiar with the intricacies of Destiny 2 or a novice beginning your first steps, the Touch of Malice catalyst boost is a golden opportunity.
Unlocking the Touch of Malice catalyst awards your weapon an additional perk, boosting its power to the next level:
Rapid Hit:

Quick, successive precision hits temporarily increase stability and reload speed.
Choose Gamingcy as your trusted online store, and let us elevate your Destiny 2 experience to undiscovered territories of success. With our unwavering support, you'll wield this extraordinary weapon with steadfast confidence, commanding the battlefield with unmatched prowess. Gear up for an unforgettable D2 journey where triumph and glory lie around every corner with our PRO gamers covering your back!
ETA:
Average starting time: 1-3 hours
Average Execution time: 1-2 hours
Rewards you will get:
Touch of Malice Catalyst;
Exp for your Season Pass and Artifact level;
All items and resources that may drop during the service.
Options available:
Recovery:

an experienced player will securely log into your account and do all the work for you.

Sherpa:

you will play your character yourself with a group of our professional player(s).

Catalyst Masterwork:

we will complete Catalyst Masterwork requirements, so the buff will start working.

Weapon Obtain:

We will farm a weapon to get catalyst for you.
Requirements:
1560+ Power Leve

l

The Witch Queen DLC

Touch of Malice

weapon in your arsenal. If you still don't have this exotic yet, you can buy Touch of Malice weapon at our site: a PRO gamer will get it for you fast and with a guarantee.