Osteo Striga Catalyst Boost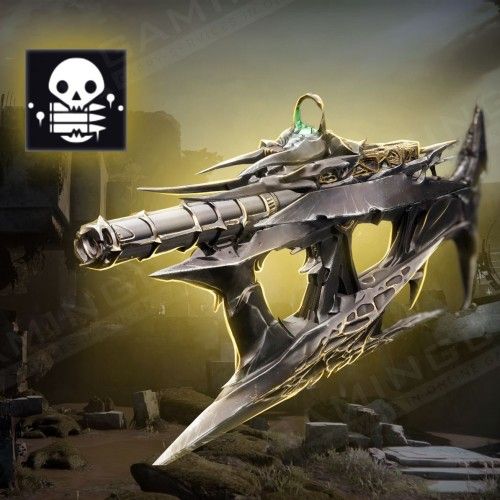 24/7 support
Get a helpful human reply in ±15 seconds!

Hide My Boost
We've developed this unique software to protect you from bans and suspensions. It allows account sharing without flagging an account.

Secure Payments
You can pay securely with PayPal or your Credit Card via Stripe. All payments are covered with the customer protection system and money back guarantee!

Secure Web-site
SSL and HTTPS protocols are used for your 100% privacy & data safety

Enlarge your collections!
An extensive list of unique & rare collectibles makes your gameplay brighter and your whole account more precious!
On our professional platform, you can effortlessly buy the Osteo Striga Catalyst boost for Destiny 2. Experience unbeatable prices and 100% security. Our team of experienced D2 sherpas provides top-tier carries, renowned for their unmatched knowledge and skill in efficiently acquiring any in-game reward. Whether your goal is to unlock this exotic upgrade, obtain the weapon, or complete the masterwork, our professional gamers are ready to expertly navigate the challenging Osteo Striga Catalyst farming journey on your behalf. As a trusted and entirely legit official site, Gamingcy guarantees a seamless and satisfying experience.
Unlocking the Osteo Striga Catalyst and its masterwork is no easy feat, requiring precise navigation through a complex process. However, this unique and compelling system allows you to unleash the weapon's true potential and embark on an impressive journey of progression. The catalyst for Osteo Striga significantly enhances your SMG performance by providing an extra 30 points in Reload Speed and an additional 20 points in Stability. What sets it apart, however, is its unique ability to replenish your magazine with a substantial amount of ammunition following each Poison-tinged final blow, thus minimizing your need to reload.
Our boosting services cater to players on major gaming platforms, including PlayStation, PC, and Xbox. We ensure that every Guardian can enjoy the professional assistance we provide. Join us today and discover the unparalleled convenience of our boosts, elevating your Destiny 2 journey to new heights. Prepare yourself for an adventure that will reshape your D2 gameplay!
How to get Osteo Striga Catalyst?
After you have successfully crafted your Osteo Striga, you will discover that the catalyst is initially locked during the "Shape" phase. To unlock it, you must attain Level 10 with the original Osteo Striga you created. You can raise the weapon's level by eliminating enemies with it, so ensure that you carry it along as you explore the Throne World.
After you've achieved Level 10 with the Osteo Striga, return to The Relic located in the Enclave on Mars, where you will have the opportunity to insert the Catalyst into the weapon's slot. The materials required for the Osteo Striga Catalyst include:
3 units of Ascendant Alloy
140 pieces of Ruinous Element
2,000 units of Neutral Element
After you've fitted the Catalyst, the next step is to complete it by farming additional kills using the weapon. Upon completion, you'll be able to boost the Osteo Striga to a masterwork status, which grants you the following bonuses:
Improved weapon stability
Faster reloading times
Ammo replenishment in the magazine upon executing poison-based finishing blows
Osteo Striga Catalyst farming service: what does it imply?
To unlock the full potential of the revered Osteo Striga and achieve its masterwork, you must possess unwavering dedication, honed skills, and an unrelenting pursuit of perfection. Guardians hold This excellent weapon in high regard for its potent abilities and distinctive design. However, not every player has the time or expertise to grind on this challenging quest. This is where Gamingcy's professional carry services come to the rescue, bridging the gap and offering a solution.
When gearing up, opting for the Osteo Striga catalyst farming service is optimal. Our team, comprised of seasoned Destiny 2 veterans, possesses in-depth knowledge and exceptional skills to grind on your behalf diligently. We provide a comprehensive solution that elevates your gaming experience to unprecedented heights. Whether you're a seasoned veteran or a novice embarking on your first Destiny 2 adventure, the Osteo Striga catalyst boost is an opportunity you cannot afford to miss.
Unlocking the Osteo Striga catalyst bestows an additional perk upon your weapon, further amplifying its power.
Perk

: Poison final blows return ammo to the magazine.
Choose Gamingcy as your trusted boosting site, allowing us to supercharge your Destiny 2 experience and propel you to new realms of accomplishment. With our support, you can confidently wield this extraordinary weapon, dominating the battlefield with unwavering confidence. Prepare for an unforgettable journey where triumph and glory await you at every turn!
ETA:
Average starting time: 1-3 hours
Average Execution time: 5-8 hours
Rewards you will get:
Osteo Striga Catalyst;
Exp for your Season Pass and Artifact level;
All items and resources that may drop during the service.
Options available:
Catalyst Masterwork:

we will complete Catalyst Masterwork requirements, so the buff will start working;

Weapon Obtain:

We will farm a weapon to get catalyst for you.
Requirements

+ Important notes:
Recovery

(an experienced player will securely log into your account and do all the work for you)

Osteo Striga

weapon in your arsenal. If you still don't have this exotic yet, you can buy Osteo Striga weapon at our site: a PRO gamer will get it for you fast and with a guarantee.