Ace Of Spades Catalyst boost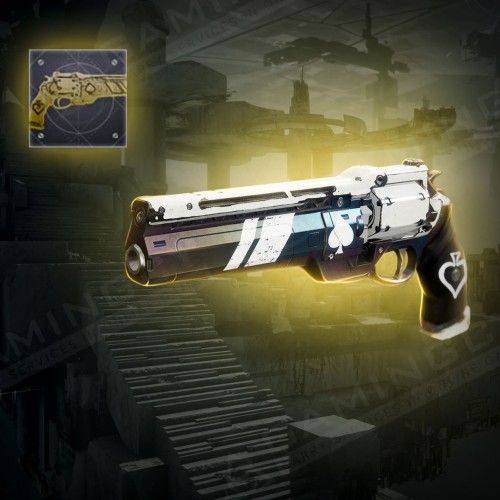 24/7 support
Get a helpful human reply in ±15 seconds!

Hide My Boost
We've developed this unique software to protect you from bans and suspensions. It allows account sharing without flagging an account.

Secure Payments
You can pay securely with PayPal or your Credit Card via Stripe. All payments are covered with the customer protection system and money back guarantee!

Secure Web-site
SSL and HTTPS protocols are used for your 100% privacy & data safety

Enlarge your collections!
An extensive list of unique & rare collectibles makes your gameplay brighter and your whole account more precious!
Immerse yourself in our exceptional platform, where you can effortlessly purchase the Ace of Spades Catalyst boost for Destiny 2. We offer the best prices on the market and ensure 100% security. Our team of seasoned D2 veterans provides top-tier carry services, renowned for their unparalleled knowledge and skill in efficiently acquiring any in-game reward. Whether you're seeking to unlock this exotic upgrade, obtain the weapon, or complete the masterwork, our professional gamers are prepared to expertly navigate the challenging Ace of Spades Catalyst farming journey on your behalf. As a trusted and completely legitimate official site, Gamingcy guarantees a seamless and satisfying experience.
Obtaining the Ace of Spades Catalyst is no easy feat. It requires precise maneuvering through a complex process of defeating formidable enemies. Once you acquire and apply the Ace of Spades masterwork, you'll gain access to a unique and captivating system that empowers you to unleash the true potential of the weapon, embarking on an impressive journey of progression.
Our boosting services cater to players across major gaming platforms, including PlayStation, PC, and Xbox. We ensure that every Guardian can enjoy the benefits of our unmatched assistance. Join us today and discover the unparalleled convenience of our boosts, elevating your Destiny 2 journey to unprecedented heights. Prepare yourself for a destiny-altering adventure like never before.
How to get Ace of Spades Catalyst?
The Ace of Spades Catalyst has the potential to drop as a reward from Nightfalls or Strikes upon completing the activity. In order to enhance and upgrade this catalyst, you must conquer adversaries using the Ace of Spades Hand Cannon. The catalyst evolves as you accumulate a formidable total of 500 kills with this remarkable weapon. Upon reaching its full potential, the Ace of Spades Catalyst bestows additional Funeral Pyre perks and advantages, elevating the capabilities of the weapon to new heights.
Ace of Spades Catalyst farming service: what does it imply?
Unleashing the full potential of the revered Ace of Spades and attaining its coveted masterwork requires unwavering dedication, honed skills, and an unyielding pursuit of perfection. This extraordinary weapon stands as a symbol of power and admiration among Guardians, with its potent abilities and distinct design setting it apart. However, not every player possesses the time or expertise to embark on this challenging quest. Fortunately, Gamingcy's professional carry services step in to bridge the gap and provide a solution.
When it comes to gearing up, opting for the Ace of Spades catalyst farming service offered by Gamingcy is the optimal choice. Our team, consisting of seasoned Destiny 2 veterans, possesses profound knowledge and exceptional skills to diligently farm on your behalf. We offer a comprehensive solution that elevates your gaming experience to unparalleled heights. Whether you're a seasoned veteran or a novice embarking on your first Destiny 2 adventure, the Ace of Spades catalyst boost presents an opportunity you won't want to miss.
Unlocking the Ace of Spades catalyst bestows your weapon with an additional perk, further amplifying its power.
The Funeral Pyre

perk enhances the damage of Firefly while Memento Mori is active, granting you a formidable advantage on the battlefield.
By choosing Gamingcy as your trusted boosting site, you allow us to turbo-charge your Destiny 2 experience, propelling you to new realms of accomplishment. With our unwavering support, you can confidently wield this extraordinary weapon, dominating the battlefield with unshakable confidence. Prepare yourself for an unforgettable journey where triumph and glory await you at every turn.
ETA:
Average starting time: 1-3 hours
Average Execution time: 4-6 hours
Rewards you will get:
Ace of Spades Catalyst;
Exp for your Season Pass and Artifact level;
All items and resources that may drop during the service.
Options available:
Catalyst Masterwork:

we will complete Catalyst Masterwork requirements, so the buff will start working;

Weapon Obtain:

We will farm a weapon to get catalyst for you.
Requirements:
Forsaken DLC

Recovery

(an experienced player will securely log into your account and do all the work for you)

Ace of Spades

weapon in your arsenal