Gjallarhorn Catalyst boost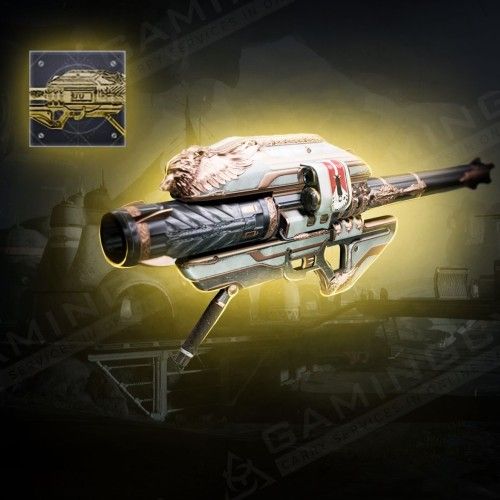 24/7 support
Get a helpful human reply in ±15 seconds!

Hide My Boost
We've developed this unique software to protect you from bans and suspensions. It allows account sharing without flagging an account.

Secure Payments
You can pay securely with PayPal or your Credit Card via Stripe. All payments are covered with the customer protection system and money back guarantee!

Secure Web-site
SSL and HTTPS protocols are used for your 100% privacy & data safety

Enlarge your collections!
An extensive list of unique & rare collectibles makes your gameplay brighter and your whole account more precious!
Immerse yourself in our exclusive platform, where buying the Gjallarhorn Catalyst boost in Destiny 2 Lightfall becomes effortless. We offer the best prices in the market, accompanied by 100% security. Our team of seasoned D2 veterans excels in delivering top-tier carry services, recognized for their unparalleled knowledge and skill in efficiently obtaining any in-game reward. Whether your goal is to unlock this exotic catalyst, secure the weapon itself, or complete the masterwork, our professional gamers are prepared to flawlessly navigate the challenging Gjallarhorn Catalyst farming journey on your behalf. As a trusted and fully legitimate official site, Gamingcy ensures a seamless and satisfying experience.
Gjallarhorn Catalyst unlock is a formidable quest requiring precise navigation through a complex process of defeating tough enemies. Meticulous coordination and strategic execution are paramount within the challenging environment of the Grasp of Avarice dungeon.
Why is this catalyst a must-have?
Upon initially acquiring the Gjallarhorn, you will find that its chamber holds only a single rocket before requiring a reload. However, "The More Wolves" perk changes this by increasing the chamber's capacity to two missiles. It lets users fire off dual projectiles before they must pause to reload, a significant advantage in rocket launchers.
Moreover, "The More Wolves" synergizes exceptionally well with the Wolfpack Rounds perk. It divides the main projectile into smaller, clustered missiles and grants the Wolfpack Rounds perk capability to any player wielding at least a Legendary-tier rocket launcher within the firing player's proximity.
Which D2 Platforms are supported?
Our boosting services cater to players across major gaming platforms, including PlayStation, PC, and Xbox. We strive to ensure that every Guardian can enjoy the benefits of our unparalleled assistance. Join us today and discover the unmatched convenience of our boosts, propelling your Destiny 2 journey to unprecedented heights. Prepare yourself for a destiny-altering adventure like never before.
How to get Gjallarhorn Catalyst?
Once you have obtained the exotic Gjallarhorn itself, your next step is to venture back into the depths of the Grasp of Avarice dungeon. This dungeon can be tackled on any difficulty, but you must progress until you reach the final boss encounter. Your objective is to vanquish three formidable yellow bar Reaver Vandals and collect the Burden by Riches debuff they drop. Your task doesn't end there, as you must deliver this debuff to three separate chests scattered throughout the dungeon. Opening the first two chests won't yield any rewards, but unlocking the third and final chest will bestow upon you the highly sought-after Gjallarhorn Catalyst. It will significantly boost this exotic's stats and damage.
To ascend the Gjallarhorn to its masterwork state, you must amass a formidable tally of 400 kills with this mighty weapon. Achieving this feat will imbue the gun with the More Wolves perk, elevating its capabilities to new heights and propelling it to a level of mastery beyond compare.
Gjallarhorn Catalyst farming service: what does it imply?
Unlocking the Gjallarhorn catalyst and boosting it to masterwork requires unwavering dedication, honed skills, and a lot of grinding. This unique weapon stands as a symbol of power and admiration among Guardians, with its potent abilities and distinct design setting it apart. However, not every player possesses the time or expertise to embark on this challenging quest. Fortunately, Gamingcy's professional carry services step in to bridge the gap and provide a solution.
When it comes to gearing up, opting for the Gjallarhorn catalyst farming service offered by Gamingcy is the optimal choice. Our team, consisting of seasoned Destiny 2 sherpas, possesses profound knowledge and exceptional skills to grind on your behalf diligently. We offer a comprehensive solution that elevates your gaming experience to unparalleled heights. Whether you're an experienced player or a novice embarking on your first Destiny 2 adventure, the Gjallarhorn catalyst boost presents an opportunity you won't want to miss:
The More Wolves perk

increases the magazine size and, upon delivering final blows with Wolfpack Rounds, spawns a faster, more powerful missile at the target's location. This enhancement grants you a formidable advantage on the battlefield.
By choosing Gamingcy as your trusted boosting site, you allow us to turbo-charge your Destiny 2 experience, pushing you to new realms of accomplishment. With our unwavering support, you can confidently wield this extraordinary weapon, dominating the battlefield with unshakable confidence. Prepare yourself for an unforgettable journey where triumph and glory await you at every turn!
ETA:
Average starting time: 1-3 hours
Average Execution time: 1 day
Rewards you will get:
Gjallarhorn Catalyst;
Exp for your Season Pass and Artifact level;
All items and resources that may drop during the service.
Options available:
Catalyst Masterwork:

we will complete Catalyst Masterwork requirements, so the buff will start working;

Weapon Obtain:

We will farm a weapon to get catalyst for you.
Requirements:
Bungie 30th Anniversary pack

Recovery

(an experienced player will securely log into your account and do all the work for you)

Gjallarhorn

weapon in your arsenal. If you still don't have this exotic yet, you can buy Gjallarhorn weapon at our site: a PRO gamer will get it for you fast and with a guarantee.