Gjallarhorn Boost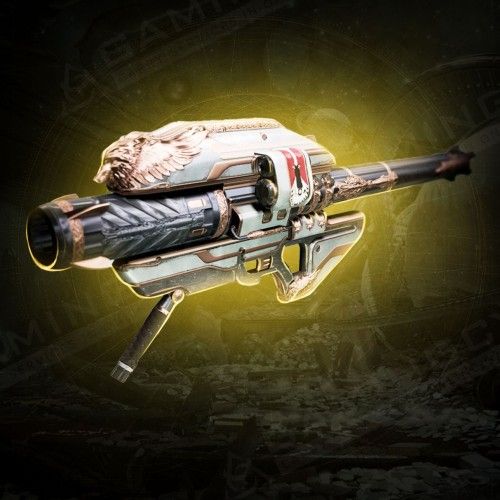 24/7 support
Get a helpful human reply in ±15 seconds!

Hide My Boost
We've developed this unique software to protect you from bans and suspensions. It allows account sharing without flagging an account.

Secure Payments
You can pay securely with PayPal or your Credit Card via Stripe. All payments are covered with the customer protection system and money back guarantee!

Secure Web-site
SSL and HTTPS protocols are used for your 100% privacy & data safety

Enlarge your collections!
An extensive list of unique & rare collectibles makes your gameplay brighter and your whole account more precious!
Experience the unrivaled convenience of buying Gjallarhorn boosting service, offered by expert Destiny 2 players. We shall farm this weapon for you until your Guardian gets it with a 100% guarantee.
In D2, the Gjallarhorn is an exotic rocket launcher sought after by fans because it appeared long ago in Destiny 1. It launches a rocket that breaks into tracking cluster missiles upon impact, causing severe damage to its target and surrounding enemies. Its reintroduction in Destiny 2 has rekindled players' excitement and desire to get this powerful weapon.
We understand the difficulties involved in farming the Gjallarhorn. Therefore, our team of expert gamers is here to help. With our boosting service, our booster will do all the necessary quests and requirements to get the Gjallarhorn exotic for you. With us, you will acquire this iconic weapon and get valuable bonus loot with a 100% guarantee.
Our services are available to all players regardless of your gaming platform, whether PlayStation, PC, or Xbox. Everyone can enjoy the extraordinary benefits of our boosts. Join us today to experience the unmatched convenience of our carries, taking your Destiny 2 journey to new heights.
How To Get the Gjallarhorn in Destiny 2?
To get the iconic Gjallarhorn D2 weapon, players need to successfully complete the "And Out Fly The Wolves" exotic quest. Here's a brief description of the required steps:
Participate in the event

known as Dares of Eternity (automatically initiated once the Bungie 30th Anniversary update is downloaded)

Visit Xur

in the Treasure Hoard and collect the quest titled And Out Fly the Wolves Converse with Shaw Han located in the Cosmodrome.

Complete

the Grasp of Avarice dungeon.
Again, interact with Shaw Han in the Cosmodrome,

Defeat the Fallen in the Cosmodrome

to accumulate Wolfpack Rounds (7 in total)
Again, Engage with Shaw Han in the Cosmodrome to

obtain the Rocket Housing component

.
Speak with Banshee-44 to

acquire the Trigger Mechanism

.
Venture into

Lost Sector Exodus Garden 2A

in the Cosmodrome and successfully complete it.

Assemble

the Gjallarhorn at Shaw Han's encampment in the Cosmodrome.
Have a final interaction with Shaw Han in the Cosmodrome to

unlock

the Gjallarhorn.
Remember that you must buy the Bungie 30th Anniversary DLC to gain access to the questline.
Perks of the Gjallarhorn in D2
The Gjallarhorn in Destiny 2 is a powerful rocket launcher sought after for its unique perks that boost its power. Here are these impressive perks:
Wolfpack Rounds:

When fired, the rounds from Gjallarhorn break into tracking cluster missiles upon explosion. This feature guarantees maximum damage and devastation to the intended target and surrounding enemies.

Pack Hunter:

Standing close to allies gives Gjallarhorn users a significant boost in handling and reload speed. Also, when firing this weapon, nearby allies using non-Exotic Rocket Launchers receive the powerful Wolfpack Rounds, further boosting their attack capabilities.
Is the Gjallarhorn worth farming?
Due to its high damage potential and crowd control abilities, it will be a super-smart decision to farm the Gjallarhorn in Destiny 2. With tracking warheads and impressive Wolfpack Rounds, its rockets hit their targets with extraordinary precision, proving lethal against individual opponents and groups of enemies. This powerful weapon's ability to cause significant damage has made it a preferred choice for tackling demanding multi-player activities and facing tough bosses in D2.
The Gjallarhorn is a cherished item among players due to its legendary status in the original Destiny 1 game. Known as one of the best and most potent weapons of its time, it could inflict immense damage on enemies. Its unique perks and impressive damage output became a popular weapon for PvE and PvP.
Getting this exotic rocket launcher symbolizes a Guardian's skill and steadfast determination, a feat that creates a deep sense of pride. Don't miss this chance; take the opportunity to enhance your arsenal and assert your dominance over your foes. Secure the Gjallarhorn quickly using our professional boost, endowing your Guardian with its unmatched power. Embrace the path to victory and grab the force that awaits you with Gamingcy!
ETA:
Average starting time: 1-3 hours
Average Execution time: 2-4 hours
Rewards you will get:
Gjallarhorn Exotic Power Rocket Launcher;
"And Out Fly the Wolves" Quest completed;
Unique drops during boost.
Requirements:
1330+ Power Leve

l

Recovery

(an experienced player will securely log into your account and do all the work for you)