Dead Man's Tale Catalyst Boost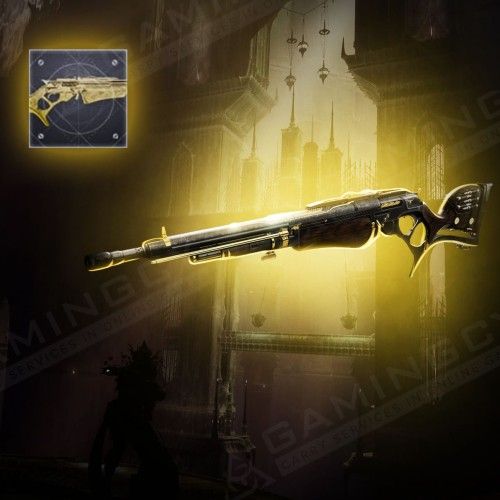 24/7 support
Get a helpful human reply in ±15 seconds!

Hide My Boost
We've developed this unique software to protect you from bans and suspensions. It allows account sharing without flagging an account.

Secure Payments
You can pay securely with PayPal or your Credit Card via Stripe. All payments are covered with the customer protection system and money back guarantee!

Secure Web-site
SSL and HTTPS protocols are used for your 100% privacy & data safety

Enlarge your collections!
An extensive list of unique & rare collectibles makes your gameplay brighter and your whole account more precious!
Discover the Dead Man's Tale Catalyst boost available on our Destiny 2 weapons store. Immerse yourself in an unparalleled adventure with our team of seasoned D2 veterans leading the way. Our experts are renowned for their extensive Masterworks gaming knowledge and unmatched mastery, and they're fully prepared to assist you in achieving any desired upgrades. Whether you're aiming to obtain the exotic catalyst, acquire the weapon itself, or achieve masterwork completion, our skilled gamers are equipped to undertake the challenging path of Dead Man's Tale Catalyst farming for you, ensuring a seamless and highly satisfying process.
Our top-notch services encompass all major gaming platforms, including PlayStation, PC, and Xbox. We're dedicated to making sure that every Guardian can experience the exceptional advantages of our assistance.
Attaining the Dead Man's Tale Exotic Catalyst goes beyond the ordinary task. It allows you to get an additional perk for this exotic. Once successfully obtained and implemented, the Dead Man's Tale masterwork unveils an intriguing and distinctive system, empowering you to unlock the weapon's complete potential and embark on an exhilarating journey of progression.
Join us today to relish unparalleled convenience as we elevate your Destiny 2 journey to unprecedented heights. Prepare to set out on a transformative adventure that will leave an enduring mark on your gaming expedition.
How to Unlock the Dead Man's Tale Catalyst?
To get The Dead Man's Tale Masterwork, you need to complete a special mission. To initiate the quest chain, go to Zavala at the Tower, where you'll receive the mission titled "At Your Fingertips." Osiris has reportedly unearthed an alternate trigger mechanism for the gun, and the singular way to secure it is by venturing back into the enigmatic Glykon.
Be warned, this is not for the faint-hearted. This mission, set at a daunting 1320 Power Level, features a tight 25-minute countdown and is laden with an array of complicating factors. These include Champions: Mob (extra champion enemies), Equipment Locked (no changing gear mid-mission), Match Game (energy shields are less susceptible to non-matching elements), and Chaff (your radar functionality will be disabled).
Dead Man's Tale Catalyst Farming Service: What Does It imply?
To farm the Dead Man's Tale catalyst, a masterwork that demands unyielding dedication, our PRO sherpa will complete your character's At Your Fingertips mission (you need to have the weapon unlocked already). This iconic weapon symbolizes honor among Guardians, renowned for its formidable capabilities and iconic design. We acknowledge that not all players possess the time or expertise to undertake this arduous quest. Our professional carry services exist precisely – to bridge this gap and provide a transformative solution.
Selecting our Dead Man's Tale catalyst farm presents the ultimate route to equip yourself with an upgraded version of this weapon with an additional perk. Our team consists of seasoned Destiny 2 experts armed with intricate knowledge and exceptional skills to grind on your behalf tirelessly. Our all-encompassing solution propels your gaming experience to unprecedented heights.
Unlocking the Dead Man's Tale catalyst bestows an extra perk upon your weapon, elevating its potency to the next echelon:
Dark-Forged Trigger

enhances the gun's hipfire capabilities. Specifically, it boosts the firing rate when shooting from the hip and eliminates the hit to accuracy that generally accompanies hipfire. Essentially, this makes the firearm far more proficient in hipfire situations.
Opt for Gamingcy as your entrusted online store, and let us elevate your Destiny 2 escapade into uncharted realms of triumph. With our steadfast backing, you'll wield this exceptional weapon with resolute confidence, dominating the battlefield with unparalleled expertise. Prepare for an indelible journey through D2, where victory and glory await at every turn, all while our PRO gamers have your back covered!
ETA:
Average starting time: 1-3 hours
Average Execution time: 2-5 hours
Rewards you will get:
Dead Man's Tale Catalyst;
Presage Exotic Quest completed on Legendary difficulty;
Exp for your Season Pass and Artifact level;
All items and resources that may drop during the service.
Options available:
Catalyst Masterwork:

we will complete Catalyst Masterwork requirements, so the buff will start working;

Weapon Obtain:

We will farm a weapon to get catalyst for you.
Requirements

+ Important notes:
Recovery

(an experienced player will securely log into your account and do all the work for you)

Dead Man's Tale

weapon in your arsenal. If you still don't have this exotic yet, you can buy Dead Man's Tale weapon at our site: a PRO gamer will get it for you fast and with a guarantee.