Osteo Striga Boost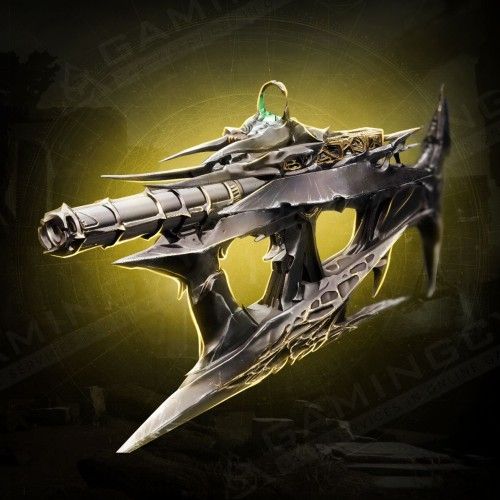 Boosting Schedule
Set the time when the booster may play your account with your manager. We can provide your whole carry while you're AFK without disturbing your usual gaming time!

24/7 support
Get a helpful human reply in ±15 seconds!

Hide My Boost
We've developed this unique software to protect you from bans and suspensions. It allows account sharing without flagging an account.

Secure Payments
You can pay securely with PayPal or your Credit Card via Stripe. All payments are covered with the customer protection system and money back guarantee!

Secure Web-site
SSL and HTTPS protocols are used for your 100% privacy & data safety
Discover the unmatched advantages of our professional Osteo Striga Boosting Service, provided by seasoned Destiny 2 players.
The Osteo Striga is an exotic submachine gun equipped with the unique "Screaming Swarm" intrinsic trait. It unleashes a constant barrage of sentient, poisonous projectiles that efficiently track the targeted foe, promising a robust and lethal encounter.
Understanding the hurdles in acquiring the Osteo Striga, our team of experienced gaming professionals is prepared to assist. Using our boosting service, our experts will carry out all the requirements to obtain the Osteo Striga for you. Their dedication ensures a high probability of securing this outstanding weapon and a significant accumulation of precious rewards in the process.
Regardless of your gaming platform—PlayStation, PC, or Xbox—, our services are accessible to all players. Each participant can reap the extraordinary rewards offered by our remarkable assistance. Join us today to experience the unmatched ease of boosting, taking your Destiny 2 journey to new heights.
How to Get the Osteo Striga
After completing The Witch Queen campaign, players are gifted the sought-after Osteo Striga. You can then journey to the Enclave and use The Relic on Mars for crafting to acquire this weapon. The initial version of the weapon is free, serving as the basis for its potential power. As players consistently progress and level up the weapon, they can unlock extra perks that enhance its capabilities, transforming it into an even more potent force in their arsenal.
Notable Perks of Destiny 2 Osteo Striga
The Osteo Striga weapon in Destiny 2 carries an array of distinct perks, heightening its power as a formidable submachine gun. Let's explore these unique perks:
Screaming Swarm:

By unleashing a continuous stream of sentient, poisonous projectiles, the Osteo Striga relentlessly targets and confronts the enemy with deadly accuracy, ensuring a relentless attack that instills fear in adversaries.

Toxic Overload:

Securing a final blow or landing multiple precision hits triggers a powerful burst, poisoning nearby targets. This destructive effect creates chaos among enemies, dealing extra damage and weakening their defenses.
Key Strengths of Osteo Striga
Renowned as one of the most user-friendly PvE weapons in Destiny 2, the Osteo Striga excels in rapidly taking down hordes of low-health enemies. Its unique poison-spreading capability is particularly effective in eliminating large groups of foes. This standout weapon is highly efficient in clearing adversaries without the need for precise aim. The tracking ability of its poison-laden bullets enhances its versatility, making it a strong contender in both PvE and PvP battles. Embrace the multifaceted nature of Osteo Striga and utilize its power to reign supreme in various Destiny 2 activities.
Why D2 Osteo Striga is Worth Farming
The Osteo Striga farm allows you to get a highly desired weapon with impressive efficiency and adaptability in both PvE and PvP activities. In PvE engagements, it shines as one of the top choices for killing enemies, thanks to its powerful poison-spreading effect. Furthermore, by diligently upgrading the weapon and unlocking its catalyst, the Osteo Striga achieves virtually unlimited ammo, propelling its power and appeal to unprecedented levels.
Acquiring this exotic submachine gun showcases a Guardian's skill and unwavering commitment, a feat deserving of the highest praise. Embrace the chance to strengthen your arsenal and defeat your opponents. Obtain Destiny 2 Osteo Striga smg quickly by using our professional boost, empowering your Guardian with its unmatched power. Unlock the true potential of this gun and ascend to new heights of dominance with Gamingcy!
ETA:
Average starting time: 1-3 hours
Average Execution time: 2-4 hours
Rewards you will get:
Osteo Striga Exotic Kinetic Submachine Gun;
"Vox Obscura" Exotic quest completed;
Unique drops during boost.
Requirements:
1350+ Power Leve

l
Witch Queen Deluxe DLC

Recovery

(an experienced player will securely log into your account and do all the work for you)