Unforgiven Boost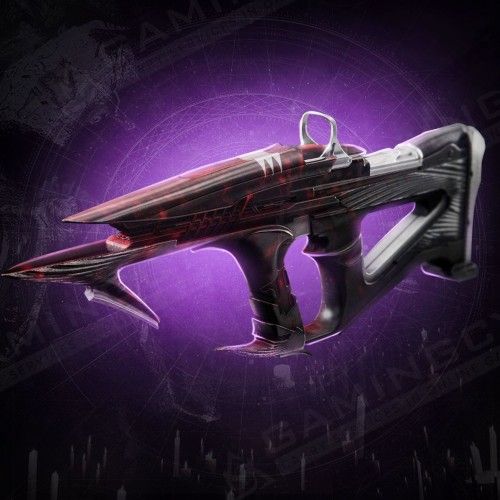 Boosting Schedule
Set the time when the booster may play your account with your manager. We can provide your whole carry while you're AFK without disturbing your usual gaming time!

24/7 support
Get a helpful human reply in ±15 seconds!

Hide My Boost
We've developed this unique software to protect you from bans and suspensions. It allows account sharing without flagging an account.

Secure Payments
You can pay securely with PayPal or your Credit Card via Stripe. All payments are covered with the customer protection system and money back guarantee!

Secure Web-site
SSL and HTTPS protocols are used for your 100% privacy & data safety
On this page of Gamingcy, you will find our exclusive offering allowing you to buy the Unforgiven boost and its God Roll farming service. It's an extraordinary Legendary Energy Submachine Gun now available in Destiny 2. Unlock its unmatched potential with our top-tier carries, meticulously provided by the best D2 sherpas. Their profound expertise and knowledge ensure the swift unlocking of any weapon you desire, be it the legendary SMG itself, the highly sought-after God Roll, or specific perks. Our professional gamers will diligently farm the Unforgiven for your character, delivering a seamless and gratifying experience.
No matter which gaming platform you wield, whether it's PlayStation, PC, or Xbox, our boosts cater to all players, ensuring that each Guardian can bask in the brilliance of our unparalleled assistance. Dominate Destiny 2 with Gamingcy and enjoy the convenience of boosting and elevating your gameplay to the pinnacle.
Why buying the Unforgiven is a must-have?
Purchasing the Unforgiven, you get a weapon that truly shines in PvE, especially when paired with the reworked void 3.0 subclasses. This amazing SMG can roll with practically every trait you need for PvE activities, and it gets even better with the addition of the new Bitterspite origin trait. This trait boosts the SMG's reload speed after taking any amount of damage, making it a formidable choice for sustained combat.
In PvP, Unforgiven remains competitive and can hold its own against some of the more popular options like Shayura's Wrath. However, it may struggle to compete with long-range engagements when facing opposing Guardians. But in any case, this legendary SMG remains a versatile and potent choice in various combat scenarios.
How to Get the Unforgiven?
Farming the Duality dungeon is the only way to obtain the D2 Unforgiven SMG. This formidable weapon's elusive presence awaits those who dare to embark on the second encounter, an enigmatic challenge centered around opening a mysterious vault. However, the path to acquiring the Unforgiven is cloaked in uncertainty, as it is not a guaranteed drop at the end of this encounter. Instead, RNG may offer you a linear fusion rifle or a piece of armor as an alternative reward.
The Perks of the Unforgiven and the God Roll
Witness the formidable Unforgiven SMG, its potent base stats laid bare for all to behold:
Impact: 23
Range: 43
Stability: 16
Handling: 50
Reload Speed: 21
Reload Time: 2.44s
Zoom: 14
Rounds Per Minute: 750
The pursuit of the God Roll for the Unforgiven is a journey guided by individual preferences and playstyles, whether it's for PvE or PvP. Here are some recommended perk combinations for each scenario:
Best Unforgiven PvE God Roll in Destiny 2
Barrel Perk:

Arrowhead Brake

Magazine Perk:

High-Caliber Rounds

Third Column Perk

: Demolitionist, Feeding Frenzy

Fourth Column Perk:

Adrenaline Junkie, Rampage
"Arrowhead Brake" enhances control and reduces recoil, ensuring accurate shots. "High-Caliber Rounds" increase range and stagger foes. Synergy between Third and Fourth Column perks enables easy stacking of damage through grenade kills, while "Rampage" and "Feeding Frenzy" boost reload speed and offer rewards for enemy takedowns.
Best Unforgiven PvP God Roll in Destiny 2
Barrel Perk:

Corkscrew Rifling

Magazine Perk:

High-Caliber Rounds

Third Column Perk:

Feeding Frenzy, Tunnel Vision

Fourth Column Perk:

Rampage
For PvP, the powerful "Corkscrew Rifling" barrel excels, enhancing range, stability, and handling. "High-Caliber Rounds" provide a battle advantage and range boost. Opt for "Feeding Frenzy" or "Tunnel Vision" for faster reloads and agile targeting after eliminations. "Rampage" in the Fourth Column amplifies damage with each kill, making you a formidable opponent.
What Makes the Unforgiven Worth the Farm?
Farming the Unforgiven Destiny 2 SMG demands dedication and skill, but not every player has the time or expertise for this challenging path. Fear not; Gamingcy's professional carries are here to help!
Our seasoned Destiny 2 sherpas possess intricate knowledge and exceptional prowess and will quickly provide the Unforgiven farming for your D2 toons. Whether you're a veteran or a newcomer, wielding this legendary sub-machine gun is an opportunity you shouldn't miss.
Trust Gamingcy as your one-stop shop, and let us boost your Destiny 2 progress. With our assistance, you'll wield this extraordinary weapon with unwavering confidence, dominating the PvE and PvP battles. Embrace our expertise and redefine your Destiny 2 legacy with us. Leaving your mark in the annals of time awaits.
ETA:
Average starting time: 1-3 hours
Average Execution time: 10-12 hours
Rewards you will get:
Unforgiven

Legendary Energy Submachine Gun;

Duality

dungeon completed.
Unique

Armor and Weapon

drops;
Exp for your Season Pass and Artifact level.
Options available:
Random Roll

: a weapon with

random perk

combos.

Rolls with Guaranteed Perk

: We will get you a weapon with the

desired perk

roll.

God roll:

We will get you a weapon with the desired

god roll

.
Requirements:
1560+ Power Leve

l

Witch Queen Deluxe Edition or Dungeon Key from Eververse

Recovery

(an experienced player will securely log into your account and do all the work for you)