Spire of the Watcher Boost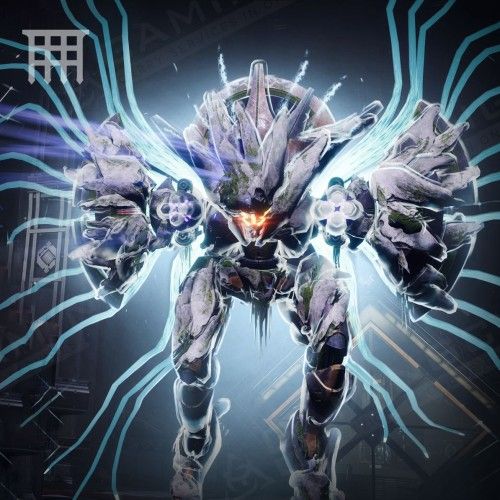 On this page of our site, you can buy Spire of the Watcher boost and immerse yourself in the extraordinary gaming experience that this Season of the Seraph dungeon presents. This captivating carry service is filled with challenging encounters and invaluable rewards, including the coveted SotW exotic bow, making it a dream for every D2 gamer to master. And here at Gamingcy, we're committed to transforming that dream into reality on all platforms: PC, Xbox, and PlayStation. Our professional boosting services, tailored for veteran Guardians and newer players alike, promise an affordable carry to conquer every challenge this instance offers. In the SotW dungeon, you will progress through a sequence of different challenges and puzzles. Here's a brief list of the encounters and their order as follows:
Ascend the Spire:

In this encounter, you must ascend the vertical dungeon, racing against the clock and dealing with enemies along the way.

Descend puzzle:

After ascending the Spire and silencing the Siren, the subsequent encounter is Descend, where you must face new obstacles and adversaries.

Akelous the Siren's Currect Boss Fight

: This encounter involves battling Akelous, a formidable enemy. The fight requires specific strategies and gear for success.

Persys Boss Fight:

The final encounter of the dungeon is a fight against Persys, Primordial Ruin. This boss fight is relatively more straightforward but has unique challenges and mechanics that players must overcome to emerge victorious.
Remember, each encounter requires teamwork, a carefully executed strategy, and the right gear load-outs to succeed.
Spire of the Watcher Carry: What does it imply?
All Spire of the Watcher carries at Gamingcy are provided by seasoned professional gamers only. The SotW dungeon's vertical structure, strategic encounters, and the necessity for tactical agility can often seem daunting. But, with Gamingcy on your side, you're equipped with an experienced and professional fireteam committed to helping you clear every challenge and defeat every boss. Our boosters possess extensive knowledge of the dungeon's unique mechanics and understand the tactics and strategies required to overcome its multitude of encounters.
D2 SotW Dungeon Runs: Sherpa and Recovery
We offer two main types of Destiny 2 SotW boosting services for sale - Sherpa and Recovery - to cater to the diverse needs of our customers. If you're a player who enjoys active participation in achieving your gaming victories, our Sherpa service (carry) is a perfect choice. You get the opportunity to team up with our professional boosters, learning from their strategies and tactics as they guide you through the intricate mechanics of the Spire of the Watcher.
For those players seeking to secure the coveted D2 SotW exotic and other rewards without sweating it out, we recommend to buy our Recovery Boost. In this service, one of our trustworthy carries logs into your account and completes the Spire of the Watcher dungeon on your behalf. We guarantee the security of your account, ensuring it remains safe and untouched, except for the remarkable progress made within the game.
D2 Spire of the Watcher Boosts Prices
At Gamingcy, we strive to offer exceptional Spire of the Watcher boosting services at affordable cost, ensuring that every Destiny 2 enthusiast can make a purchase and experience the thrill of conquering the SotW dungeon. Every dollar spent on this carry is invested in acquiring exclusive rewards and enhancing your overall game experience.
Navigating through the Spire of the Watcher provides a rewarding but challenging experience. With Gamingcy's professional and affordable boosting services, you can conquer the treacherous verticality of this dungeon, overcome its thrilling encounters, and secure its coveted rewards. Whether you choose to buy Sherpa or Recovery, our boosting services promise an enriched, 100% secure gaming experience. So gear up, Guardian! Your conquest of the Spire of the Watcher starts with Gamingcy.
Spire of the Watcher Runs: Rewards and Loot Table
Buying Spire of the Watcher Dungeon runs is renowned for its highly sought-after rewards, including the unique Hierarchy of Needs Exotic Bow and distinct armor sets. With our boosting services, we bring these rewards within your reach. Our professional fireteams that provide carry that you can see at our site, have honed high-end strategies to ensure you get the best possible drops in each run.
Talking about the Spire of the Watcher secret chests, there are two of them hidden within its depths, offering many bonus rewards. Each contains loot you have previously secured, giving you a chance to receive multiple rolls of your favorite weapons or gear.
The first secret chest, tucked away in the "Begin the Ascent" jumping puzzle, beckons those with an eagle's eyes and a cat's nimbleness. To discover it, Guardians must expertly navigate an intricate network of hanging platforms and complex scaffolding, eventually leading to a particular platform linked to an earlier walkway. Though the journey is challenging, the prize within the chest is well worth the effort.
The journey to the second chest begins after the dungeon's second major encounter. This treasure is hidden deep within the structure, surrounded by levels of machinery teeming with hostile Vex units. A room filled with electrified traps and formidable enemies houses this chest. The key to finding it lies in locating a specific set of stairs with grates beneath them. However, you should note that these secret containers can only be looted once per week per character. Despite this limitation, the hidden chests present an exhilarating hunt for Guardians, challenging them to leave no stone unturned in the Spire of the Watcher. This thrilling chase and the chance to secure fantastic loot make the dungeon an adventure-filled playground for explorative spirits.
For those seeking even more enticing loot, our Spire of the Watcher Master boosting service offers access to high-quality gear exclusive to this version. Among them is the artifice armor, Western-themed Tex Machina set, exotic Bow, several legendaries, etc. Check the loot table below, and discover an easy way to optimize your in-game experience.
Encounter

Item

Loot type

Ascend the Spire
Terminus Horizon
Legendary / Power / Machine Gun
Long Arm
Legendary / Energy / Scout Rifle
Seventh Seraph Carbine
Legendary / Kinetic / Auto Rifle
TM Cogburn Gauntlets
Legendary / Titan / Arms / Gauntlets
TM Cogburn Legguards
Legendary / Titan / Legs / Leg Armor
TM Cogburn Cover
Legendary / Titan / Head / Helmet
Silence the Spire
Terminus Horizon
Legendary / Power / Machine Gun
Seventh Seraph Officer Revolver
Legendary / Kinetic / Hand Cannon
TM Cogburn Gauntlets
Legendary / Titan / Arms / Gauntlets
TM Cogburn Plate
Legendary / Titan / Chest / Chest Armor
TM Cogburn Mark
Legendary / Titan / Class Item / Titan Mark
Persys
Any items from previous encounters
Weapon & Armor
Liminal Vigil
Legendary / Kinetic / Sidearm
Wilderflight
Legendary / Energy / Grenade Launcher
Hierarchy of Needs
Exotic / Energy / Combat Bow
ETA:
Average starting time: 1-2 days
Average Execution time: 2-3 hours
Rewards you will get:
Spire of the Watcher dungeon completion;\
Chance to get Hierarchy of Need Exotic Energy Bow;
Exp for your Season Pass and Artifact level;
All other rewards and resources that may drop during the run.
Additional options:
Recovery:

A seasoned gamer from our team will securely access your account, taking over the reins and completing the run on your behalf.

Sherpa:

You retain control of your character, teaming up with our expert player(s) who guide you through the SotW.

Solo Flawless Completion:

completing the whole dungeon Solo with zero deaths.

Secret chests:

Our fireteam will find all the hidden caches ensuring you reap the rewards of the bonus loot concealed within.
Requirements:
1810+ Power level
Witch Queen Deluxe Edition or Dungeon Key from Eververse