Wilderflight God Roll Boost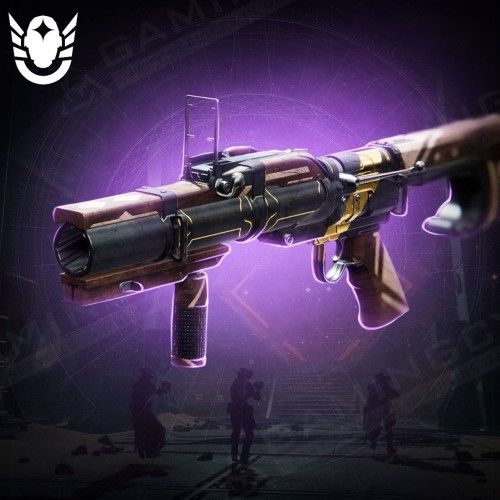 Boosting Schedule
Set the time when the booster may play your account with your manager. We can provide your whole carry while you're AFK without disturbing your usual gaming time!

24/7 support
Get a helpful human reply in ±15 seconds!

Hide My Boost
We've developed this unique software to protect you from bans and suspensions. It allows account sharing without flagging an account.

Secure Payments
You can pay securely with PayPal or your Credit Card via Stripe. All payments are covered with the customer protection system and money back guarantee!

Secure Web-site
SSL and HTTPS protocols are used for your 100% privacy & data safety
Introducing our exclusive offer: the Wilderflight boost and its God Roll farming. It's an extraordinary Legendary Energy Grenade Launcher now available in Destiny 2. With our platform, you gain access to top-tier carry services delivered by seasoned D2 players, equipped with extensive expertise and knowledge to swiftly acquire any weapon. Whether your goal is to unlock this legendary firearm, secure the highly sought-after God Roll, or obtain a specific combination of perks, our professional gamers will expertly farm the Wilderflight on your behalf, ensuring a seamless experience.
Our services cater to players across all gaming platforms, including PlayStation, PC, and Xbox, guaranteeing that everyone can benefit from our exceptional assistance. Embark on your Destiny 2 journey with us today and embrace the convenience of boosting and elevating your gameplay to unprecedented heights.
Why buying the Wilderflight is a must-have?
Wilderflight, a recent addition to Destiny 2's Season of the Seraph, sets itself apart with its ability to fire two projectiles simultaneously. This Void-element grenade launcher is a remarkable innovation and can be obtained by defeating the final boss in the Dungeon. It offers players a fresh perspective on the breach archetype, showcasing seasonal modifications that enhance its unique characteristics. Unleashing the full potential of the Wilderflight requires unwavering dedication, skill, and a relentless pursuit of excellence. This legendary weapon's exceptional power, versatility, and the pursuit of the perfect roll make it an invaluable asset for any Guardian. However, we understand that not all players have the time or expertise to undertake this challenging quest. That's where Gamingcy's professional carry services come in to bridge the gap.
Our team consists of seasoned Destiny 2 experts with extensive knowledge and remarkable prowess. They are ready to tirelessly farm the Wilderflight on your behalf, providing a comprehensive solution that takes your gaming experience to new heights. Whether you're a seasoned veteran or a novice starting your journey, don't overlook the opportunity to wield the Wilderflight.
Choose Gamingcy as your trusted companion and let us carry your Destiny 2 experience to unprecedented achievements. With our assistance, you can confidently dominate the battlefield, wielding this extraordinary weapon with unwavering confidence. Trust in our expertise and embark on a journey that will redefine your Destiny 2 legacy.
How to Get the Wilderflight?
Wilderflight can be acquired by completing the challenging Spire of the Watcher dungeon during the Season of the Seraph. This powerful weapon has a chance to drop from the final boss encounter featuring Persys. Prepare yourself for a formidable battle as you strive to claim the Wilderflight as your own.
Obtaining the Wilderflight demands not only skill but also unwavering patience. This legendary rocket launcher is a rare find, and its desired perks or God Roll may require multiple attempts and a significant investment of time.
Fortunately, there is a solution. Gamingcy offers the Wilderflight boost, allowing you to bypass the grueling grind and obtain this exceptional weapon with your preferred perks. Our carry services come with a guarantee, ensuring a seamless and reliable experience. Whether you're a seasoned Destiny 2 player or just starting your journey, our services cater to all, providing a cost-effective and efficient path to acquiring the Wilderflight.
The Perks of the Wilderflight and the God Roll
Wilderflight is a legendary grenade launcher in Destiny 2 with the following base statistics:
RPM (Rounds per Minute): 100
Blast Radius: 60
Velocity: 93
Stability: 20
Handling: 3435
Reload Speed: 2.82s
Magazine size: 1
These base stats can be boosted by the various perks and mods that the weapon can roll with.
Wilderflight PVE God Roll
Barrel:

Volatile Launch

Magazine:

Blinding Grenades

Perk 1:

Auto-Loading Holster

Perk 2:

Vorpal Weapon or Frenzy

Masterwork

: Handling
The Wilderflight presents a unique firing mechanism, launching two grenades simultaneously, which may require some adjustment for users. While it may not have a significant impact in endgame activities, it can provide an enjoyable experience in Vanguard Operations playlists and similar engagements. One possible setup for this weapon is a straightforward combination of Demolitionist and Adrenaline Junkie perks. Additionally, the inclusion of Auto-Loading Holster is always advantageous for grenade launchers, eliminating the need for time-consuming reloads and allowing for a fire-and-forget approach. The utilization of Blinding Grenades aids in add control, enhancing combat effectiveness. In the fourth column, you have the choice between Vorpal Weapon and Frenzy. While Vorpal Weapon offers a substantial 15% damage boost against bosses for special weapons, Frenzy is likely to be the more versatile selection. There could be a strategic advantage in pairing this weapon with three auto-loading weapons, but Frenzy's broader utility makes it a preferable choice in most scenarios.
Wilderflight PVP God Roll
Barrel:

Hard Launch

Magazine:

Spike Grenades

Perk 1:

Auto-Loading Holster

Perk 2:

Adrenaline Junkie

Masterwork

: Handling
The unique frame of Wilderflight lends itself to an awkward experience in PvP. While there are more optimal options available for grenade launchers in this game mode, if you are determined to wield Wilderflight in the Crucible, here's a suggested approach. Keep in mind that it may require some luck and skill to make the most of it. Best of luck if you choose to take on this challenge!
ETA:
Average starting time: 1-3 hours
Average Execution time: 6-18 hours
Rewards you will get:
Wilderflight

Legendary Grenade Launcher;
Spire of the Watcher Dungeon completed;
Unique Armor and Weapon drops from the Spire of the Watcher;
Exp for your Season Pass and Artifact level.
Options available:
Random Roll

: a weapon with

random perk

combos.

Rolls with Guaranteed Perk

: We will get you a weapon with the

desired perk

roll.

God roll:

We will get you a weapon with the desired

god roll

.
Requirements:
1570+ Power Leve

l
Access to Spire of the Watcher Dungeon

Recovery

(an experienced player will securely log into your account and do all the work for you)