Qullim's Terminus Boost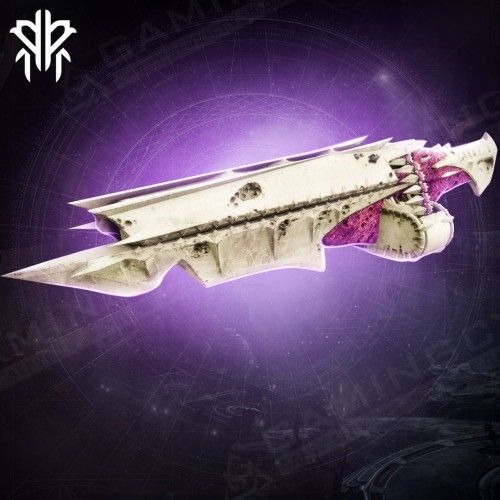 Boosting Schedule
Set the time when the booster may play your account with your manager. We can provide your whole carry while you're AFK without disturbing your usual gaming time!

24/7 support
Get a helpful human reply in ±15 seconds!

Hide My Boost
We've developed this unique software to protect you from bans and suspensions. It allows account sharing without flagging an account.

Secure Payments
You can pay securely with PayPal or your Credit Card via Stripe. All payments are covered with the customer protection system and money back guarantee!

Secure Web-site
SSL and HTTPS protocols are used for your 100% privacy & data safety
On our site, you can buy the Qullim's Terminus boost, an amazing King's Fall Legendary Power Machine Gun now available in Destiny 2 Lightfall. Unleash the full potential of this legendary machine gun with our premier carry services, expertly administered by seasoned D2 sherpas. Their profound mastery guarantees swift unlocking of your desired weapon, whether it's the Qullim's Terminus itself, the sought-after God Roll variant, or specific perks tailored to your preference.
Our adept gamers are wholly committed to farming the Qullim's Terminus on your behalf, ensuring a seamless and uncomplicated endeavor. Irrespective of your gaming platform—PlayStation, PC, or Xbox—our services extend to all players, ensuring that our exceptional assistance is accessible to everyone.
Seize the opportunity today to embark on your Destiny 2 journey, and witness the convenience of enhancing your gameplay to unparalleled levels through our boosting services.
Why buying Qullim's Terminus is a must-have?
Purchasing the Qullim's Terminus, you will get a powerful machine gun with high impact and damage output. Its slow firing rate and high damage per shot make it effective for dealing with tougher enemies and bosses. It's especially accurate when you're not moving quickly and when aiming down sights, allowing you to maintain precision shots.
How to Get the Qullim's Terminus?
Qullim's Terminus can be obtained from the King's Fall raid in Destiny 2. It's a reward for completing encounters within the raid. You can earn it by completing encounters such as the opening encounter, Totems, and the Oryx final boss. Additionally, it can appear as a reward from secret chests throughout the raid. Once obtained, you can also craft Qullim's Terminus by using Deepsight Resonance versions of the gun.
The Perks of the Qullim's Terminus and the God Roll
The Qullim's Terminus Machine Gun has the following base stats:
Impact: 70
Range: 68
Stability: 20
Handling: 30
Reload Speed: 36
Inventory Size: 46
Zoom: 16
Rounds Per Minute: 360
Magazine: 44
The God Roll for Qullim's Terminus depends on your preference and playstyle, but here are some recommended perk combinations for both PvE and PvP:
Qullim's Terminus PvE God Roll:
Barrel

: Arrowhead Brake

Magazine

: Appended Mag

Perk 1

: Stats for All

Perk 2

: Headstone or Killing Tally or Firefly
LMGs lacking auto-loading holster are disappointing, and Qullim's Terminus suffers from a painfully slow reload speed. Investing in it isn't highly beneficial either. To maximize its utility, exploit the Runneth Over Origin Trait to overflow the magazine. The third column lacks standout options, yet Stats for All boosts reload speed. In the fourth column, notable choices include Headstone for versatility, Firefly for add clear and reload assistance, and Killing Tally with the caveat that reloading or switching clears the buff.
Qullim's Terminus PvP God Roll:
Barrel

: Arrowhead Brake

Magazine

: Accurized Rounds

Perk 1

: Dynamic Sway Reduction

Perk 2

: Killing Tally or Firefly
360 RPM machine guns find a place in Destiny 2's PvP, making Qullim's Terminus viable in Crucible matches. Notably, Killing Tally retains its damage buff through swaps or reloads, allowing calculated elimination of multiple Guardians. Firefly excels in 6v6 modes. Bungie's mention of improved LMGs for PvE and potential tuning for PvP in a TWAB could elevate Qullim's Terminus' status as a Heavy weapon choice.
Is D2 Qullim's Terminus Worth the Farm? </h2>
Farming the Qullim's Terminus Destiny 2 Machine Gun demands unwavering dedication, refined expertise, and an unrelenting pursuit of excellence. Regrettably, not all players possess the time or skill to navigate this challenging course. However, despair not, for Gamingcy's professional carry services stand ready to bridge this gap.
We work exclusively with the most experienced Destiny 2 sherpas, adorned with intricate knowledge and exceptional mastery. With relentless commitment, they venture forth to secure the Qullim's Terminus farming on your behalf, providing a holistic solution that enriches your gaming odyssey. Whether you're a battle-hardened veteran or a fresh initiate, the allure of unlocking the Qullim's Terminus legendary machine gun is not to be underestimated.
Place your trust in Gamingcy, your steadfast site, and allow us to elevate your Destiny 2 journey. With our boosts, you shall wield this remarkable weapon with unwavering confidence, dominating the battlefield in triumphant style. Embrace our expertise and embark on a voyage that will redefine your Destiny 2 legacy, leaving an indelible mark on the annals of time. Together, we shall unlock the greatness within the Qullim's Terminus, forging an unforgettable path to glory.
ETA:
Average starting time: 1-3 hours
Average Execution time: 1-5 weeks
Rewards you will get:
Qullim's Terminus

Legendary Power Machine Gun;

King's Fall

raid completed;
Unique

Armor and Weapon

drops;
Exp for your Season Pass and Artifact level.
Options available:
Random Roll

: a weapon with

random perk

combos.

Deepsight:

You will get a Deepsight version of weapon.

Requirements

: You should have this weapon or select option "I don't have this weapon in collection".

Unlock the crafting pattern:

You will get 5 Deepsight weapons and can craft Weapon God Roll with guaranteed perks.
Requirements:
1600+ Power Leve

l

The Witch Queen DLC

Recovery

(an experienced player will securely log into your account and do all the work for you)