Koraxis's Distress Boost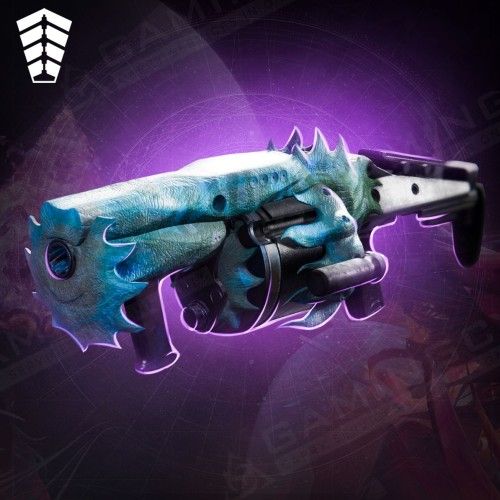 Boosting Schedule
Set the time when the booster may play your account with your manager. We can provide your whole carry while you're AFK without disturbing your usual gaming time!

24/7 support
Get a helpful human reply in ±15 seconds!

Hide My Boost
We've developed this unique software to protect you from bans and suspensions. It allows account sharing without flagging an account.

Secure Payments
You can pay securely with PayPal or your Credit Card via Stripe. All payments are covered with the customer protection system and money back guarantee!

Secure Web-site
SSL and HTTPS protocols are used for your 100% privacy & data safety
This page of Gamingcy gives you an opportunity to buy Koraxis's Distress boost – Root of Nightmares Legendary Power Grenade Launcher, now attainable in Destiny 2 Lightfall. Unveil the complete potential held by this weapon, courtesy of our top-tier carries.Their extensive mastery and profound knowledge assure the swift unlocking of your desired weapon – whether it's the Koraxis's Distress itself, the highly coveted God Roll variant, or specific perks tailored to your wishes.
Our team of dedicated professional D2 gamers stands committed to farming the Koraxis's Distress on your behalf, promising an effortless and streamlined experience. Irrespective of your chosen gaming platform – whether it be PlayStation, PC, or Xbox – our services cater to the needs of all players, ensuring universal access to our exceptional assistance.
Enlist with us today and embark on your voyage through Destiny 2, where you'll witness the seamless integration of boosting and the elevation of your gameplay to unprecedented altitudes.
Why buying the Koraxis's Distress is a must-have?
Purchasing the Koraxis's Distress allows you to get this superb Legendary Grenade Launcher in Destiny 2 Lightfall. It belongs to the "Grenade Launchers" category of power weapons. It has an Archetype of "High-Rate of Fire Frame" . This archetype provides increased magazine size and a slight reload speed boost when the magazine is empty.
How to Get Koraxis's Distress in Lightfall?
To add Koraxis's Distress to your inventory initially, you need to navigate through either the first, second, or fourth encounter within the Root of Nightmares raid. After you've unlocked this weapon for the 1st time, more ways to acquire Koraxis's Distress become available. The duo of hidden chests within Root of Nightmares could potentially reward you with this item. Moreover, you can obtain more copies by exchanging Spoils of Conquest with the final vendor. In line with other newly released raid weapons, crafting is an option for Koraxis's Distress. There's an assured extra Deepsight reward waiting for you weekly.
The Perks of the Koraxis's Distress and the God Roll
The Koraxis's Distress Grenade Launcher has the following base stats:
Blast Radius: 20
Velocity: 58
Stability: 27
Handling: 25
Reload Speed: 28
Reload Time: 3.72s
Aim Assistance: 36
Inventory Size: 50
Zoom: 13
The God Roll for Koraxis's Distress depends on your preference and playstyle, but here are some recommended perk combinations for both PvE and PvP:
Koraxis's Distress PvE God Roll:
Barrel

: Quick Launch (also good: Hard Launch)

Magazine

: Spike Grenades

Perk 1

: Demolitionist (also good: Reconstruction or Field Prep)

Perk 2

: Hatchling (also good: Full Court)
Koraxis's Distress excels in PvE, offering strong roll options. Prioritize Quick or Hard Launch plus Spike Grenades for improved damage and velocity. Optimal main perks include Demolitionist and Hatchling for Strand builds. For a versatile roll, go with Field Prep or Reconstruction paired with Full Court.
Koraxis's Distress PvP God Roll:
Barrel

: Linear Compensator

Magazine

: Proximity Grenades

Perk 1

: Impulse Amplifier

Perk 2

: Wellspring
In PvP, go for Linear Compensator and Proximity Grenades to boost various stats. Choose Impulse Amplifier for the first perk as others lean towards PvE. The last column lacks strong options; Wellspring is the top choice, though it's not very impactful.
Is the Koraxis's Distress Worth the Farm?
Farming the Koraxis's Distress Destiny 2 Grenade Launcher demands a profound commitment, a mastery of skill, and an unwavering pursuit of perfection. Alas, not every player possesses the privilege of time or the expertise to tread this arduous path. However, rest assured, Gamingcy's professional carry services stand ready to bridge this divide.
Nestled within our ranks are seasoned Destiny 2 sherpas, adorned with intricate knowledge and exceptional prowess. With an unwavering resolve, they set forth to cultivate the Koraxis's Distress farming on your behalf, presenting a holistic solution that enriches your gaming journey. Whether you stand as a seasoned warrior or a fresh initiate, the magnetic allure of unlocking the Koraxis's Distress legendary grenade launcher cannot be underestimated.
Entrust in Gamingcy, your stalwart companion, and permit us to elevate your expedition through Destiny 2. With our boosts, you shall brandish this extraordinary weapon with unwavering assurance, reigning supreme on the battlefield in triumphant style. Embrace our expertise and embark on a sojourn that will redefine your Destiny 2 legacy, leaving an indelible mark upon the annals of time. Together, we shall unlock the splendor that resides within the Koraxis's Distress, forging an unforgettable path towards glory.
ETA:
Average starting time: 1-3 hours
Average Execution time: 1-5 weeks
Rewards you will get:
Koraxis's Distress

Legendary Power Grenade Launcher;

Nezarec Root of Nightmares

boss defeated;
Unique

Armor and Weapon

drops;
Exp for your Season Pass and Artifact level.
Options available:
Random Roll

: a weapon with

random perk

combos.

Deepsight:

You will get a Deepsight version of weapon.

Requirements

: You should have this weapon or select option "I don't have this weapon in collection".

Unlock the crafting pattern:

You will get 5 Deepsight weapons and can craft Weapon God Roll with guaranteed perks.
Requirements:
17900+ Power Leve

l

Lightfall DLC

Recovery

(an experienced player will securely log into your account and do all the work for you)