Locus Locutus Boost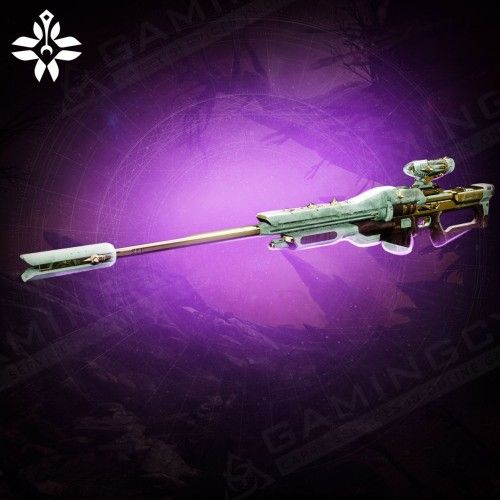 Boosting Schedule
Set the time when the booster may play your account with your manager. We can provide your whole carry while you're AFK without disturbing your usual gaming time!

24/7 support
Get a helpful human reply in ±15 seconds!

Hide My Boost
We've developed this unique software to protect you from bans and suspensions. It allows account sharing without flagging an account.

Secure Payments
You can pay securely with PayPal or your Credit Card via Stripe. All payments are covered with the customer protection system and money back guarantee!

Secure Web-site
SSL and HTTPS protocols are used for your 100% privacy & data safety
Welcome to our store, where you have the opportunity to buy the Locus Locutus boost – an extraordinary Legendary Kinetic Sniper Rifle now available in Destiny 2 Lightfall. Unleash the full potential of this SR with our premium carry services, delivered by experienced D2 sherpas. Their extensive expertise ensures a swift unlocking of your desired weapon, whether it's the Locus Locutus legendary, its must-have God Roll, or specific perks.
Our skilled gamers are dedicated to farming the Locus Locutus on your Guardian, guaranteeing a seamless and effortless process. Regardless of your gaming platform – PlayStation, PC, or Xbox – our services cater to all, ensuring widespread access to our exceptional support.
Join us today to embark on your Destiny 2 journey and discover how to enhance your gameplay to the highest level with our boosting services.
Why buying the Locus Locutus is a must-have?
Purchase the Locus Locutus and own a Sniper Rifle recognized for its exceptional precision damage, rendering it highly efficient in neutralizing resilient adversaries, bosses, and distant targets through critical strikes. A Locus Locutus equipped with potent perks holds the capacity to inflict substantial harm upon bosses in PvE engagements.
How to Get the Locus Locutus?
In line with other weapons featured in the Season of the Witch activity, the Locus Locutus can be yours through multiple avenues. Whether you're participating in season-specific events, progressing through the storyline of the current season, or farming the Ritual Table to focus your engrams, the path to acquiring Locus Locutus is varied and engaging. Additionally, once you've gathered a total of five Deepsight weapons, you'll unlock the ability to craft this unique weapon.
The Perks of Locus Locotus And The God Roll
The Locus Locutus Sniper Rifle has the following base stats:
Impact: 70
Range: 48
Stability: 44
Handling: 42
Reload Speed: 42
Reload Time: 3.18s
Aim Assistance: 61
Zoom: 40
Airborne Effectiveness: 4
Recoil: 63
Bounce Intensity: 37
Rounds Per Minute: 90
Magazine: 4
The God Roll for Locus Locutus depends on your preference and playstyle, but here are some recommended perk combinations for both PvE and PvP:
Locus Locutus PVE God Roll:
Barrel

: Arrowhead Break

Magazine

: Accurized Rounds

Perk 1

: Overflow / Wellspring

Perk 2

: Box Breathing

Masterwork

: Handling, Range
The Locus Locutus is optimized for PVE scenarios with its exceptional traits. Overflow grants the weapon an excess of rounds after collecting Special or Heavy ammo, though Wellspring can be an alternative, providing ability energy on kills. Box Breathing enhances range and precision damage when aiming down sights. To further enhance precision, the Arrowhead Break barrel pairs excellently, improving handling and recoil control for precise sniping.
Locus Locutus PVP God Roll:
Barrel

: Corkscrew Rifling

Magazine

: Tactical Mag

Perk 1

: Keep Away

Perk 2

: Opening Shot

Masterwork

: Handling, Range
In PVP battles, the Locus Locutus is configured for success. Keep Away boosts range, reload, and accuracy when no foes are nearby, while Opening Shot bolsters accuracy and range for your initial shot. While traversing the Crucible, Keep Away's advantages will activate as you search for adversaries, subsequently synergizing with Opening Shot upon engagement. This combination elevates your survival prospects in PVP encounters.
Is the Locus Locutus Worth the Farm?
Farming the Locus Locutus Destiny 2 Sniper Rifle demands resolute commitment, mastery of skills, and an unyielding pursuit of excellence. Yet, not all players possess the luxury of time or expertise required for this demanding endeavor. But fear not, for Gamingcy's expert carry services are poised to bridge that gap.
We work with the best experienced Destiny 2 sherpas with intricate knowledge and exceptional skill. With unwavering dedication, they undertake the journey of Locus Locutus farming on your behalf, providing a comprehensive solution to enhance your gaming experience. You can be sure that the whole process will be 100% secure and super-fast. Whether you're a seasoned veteran or a fresh initiate, the significance of unlocking the legendary Locus Locutus sniper rifle cannot be underestimated.
Entrust your journey to Gamingcy, your steadfast companion, and allow us to elevate your Destiny 2 adventure. With our boosts, you'll wield this remarkable weapon with unwavering confidence, asserting dominance on the battlefield. Embrace our expertise and set forth on a quest that will redefine your Destiny 2 legacy, leaving an indelible mark in the chronicles of time. Together, we will unlock the true potential of the Locus Locutus, forging an unforgettable path to glory.
ETA:
Average starting time: 1-3 hours
Average Execution time: 1-5 weeks
Rewards you will get:
Locus Locutus

Legendary Kinetic Sniper Rifle;
Exp for your Season Pass and Artifact level.
Options available:
Random Roll

: a weapon with

random perk

combos.

Deepsight:

You will get a Deepsight version of weapon.

Requirements

: You should have this weapon or select option "I don't have this weapon in collection".

Unlock the crafting pattern:

You will get 5 Deepsight weapons and can craft Weapon God Roll with guaranteed perks.
Requirements:
Lightfall DLC

Recovery

(an experienced player will securely log into your account and do all the work for you)