The Eremite Boost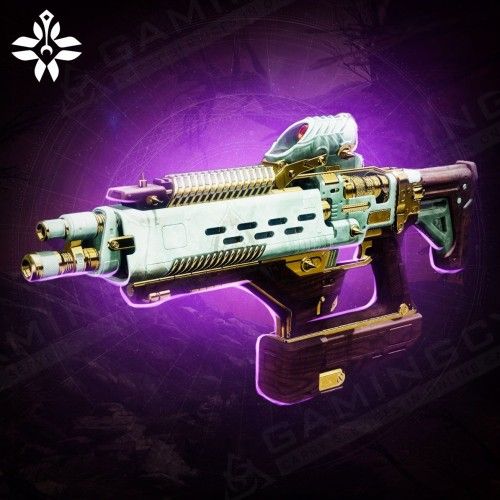 Boosting Schedule
Set the time when the booster may play your account with your manager. We can provide your whole carry while you're AFK without disturbing your usual gaming time!

24/7 support
Get a helpful human reply in ±15 seconds!

Hide My Boost
We've developed this unique software to protect you from bans and suspensions. It allows account sharing without flagging an account.

Secure Payments
You can pay securely with PayPal or your Credit Card via Stripe. All payments are covered with the customer protection system and money back guarantee!

Secure Web-site
SSL and HTTPS protocols are used for your 100% privacy & data safety
Welcome to our website's dedicated page, where you have the opportunity to buy the Eremite boost. This extraordinary Legendary Energy Fusion Rifle is now attainable in Destiny 2 Lightfall. Unlock the full potential of this LFR D2 weapon through our premium carry services, administered by experienced sherpas. Their extensive expertise assures the swift unlocking of your desired gear, whether it's the Eremite itself, its coveted God Roll, or specific sought-after perks. Your security, convenience, and express execution speed are our top priorities.
Our skilled gamers are fully committed to farming the Eremite on your behalf, ensuring a seamless and effortless experience. Irrespective of your gaming platform – PlayStation, PC, or Xbox – our services are inclusive, guaranteeing universal access to our exceptional assistance.
Join us today to embark on your Destiny 2 journey and experience the comfort of enhancing your gameplay to the pinnacle through our boosting services.
Why buying the Eremite is a must-have?
Purchase the Eremite to obtain a fusion rifle with a Solar High-Impact Frame. Notably, this FR showcases a unique set of perks.
Securing The Eremite fusion rifle is a decision you won't regret, thanks to its incredibly potent damage capabilities and straightforward acquisition process. Below, we outline the compelling reasons to add The Eremite to your arsenal:
Exceptional Damage Capabilities:

The Eremite's unique high-damage frame sets it apart, making it a weapon that can truly wreak havoc on your opponents.

Diverse Perk Selection:

The variety and strength of the perks available for The Eremite only further its appeal, offering an array of tactical advantages that can be tailored to your style of play.

Easy Crafting

: One of the most enticing aspects of this weapon is that it can be crafted, allowing for greater customization and a more straightforward path to obtaining its top-tier versions.
How to Get the Eremite?
You can acquire The Eremite fusion rifle through various means during the Season of the Witch events. This includes finishing activities at either the Altars of Summoning or Savathun's Spire, completing the weekly challenges specific to the Season of the Witch, and exchanging Witch's Engrams. After you've successfully obtained the weapon, you have the option to fine-tune it at the Ritual Table located in the H.E.L.M. There, you can use Witch's Engrams, Glimmer, and Legendary Shards to enhance your new acquisition.
It's worth noting that these special seasonal events and their corresponding vendors will be around only until the conclusion of Season 23. But there's more: once you've fully unlocked its Deepsight Pattern, The Eremite can also be handcrafted at the Enclave. This provides another layer of customization and ensures that you can maximize the weapon's potential to fit your specific needs.
The Perks of the Eremite and the God Roll
The Eremite Fusion Rifle has the following base stats:
Impact: 95
Range: 51
Stability: 22
Handling: 26
Reload Speed: 22
Reload Time: 2.62s
Aim Assistance: 59
Zoom: 15
Airborne Effectiveness: 8
Recoil: 75
Bounce Intensity: 25
Charge Time: 960
Magazine: 5
The God Roll for Eremite depends on your preference and playstyle, but here are some recommended perk combinations for both PvE and PvP:
PvE Eremite God Roll:
Barrel:

Arrowhead Brake

Battery:

Enhanced Battery

Perk 1:

Envious Assassin

Perk 2:

Reservoir Burst / Controlled Burst

Masterwork

: Stability
Envious Assassin's recent buff makes it a logical choice to capitalize on easy magazine overflow. Combine it with Reservoir Burst for continuous explosions or Controlled Burst for consistent high damage.
PvP Eremite God Roll:
Barrel:

Extended Barrel

Battery:

Projection Fuse

Perk 1:

Offhand Strike

Perk 2:

Elemental Capacitor / Controlled Burst

Masterwork

: Range
In PvP, leverage Offhand Strike for improved hip-fire stability and accuracy, especially useful for the longer charge times of High-Impact fusions. Elemental Capacitor offers subclass-dependent bonuses, while Controlled Burst delivers reliability and potential multi-kills.
Is the Eremite Worth the Farm?
If you're passionate about Destiny 2 but lack the time or specialized skills for farming the Eremite Fusion Rifle, don't stress—Gamingcy's carry services have got you covered.
Our roster is packed with highly skilled Destiny 2 sherpas. They are not just good at the game; they understand its every nuance. These experts will take on the challenging task of farming the Eremite for you. They provide a full-service solution to make your gaming experience better and exceptional. So, whether you've clocked in hundreds of hours or are relatively new to the Destiny 2 universe, the importance of unlocking the Eremite fusion rifle should not be ignored. It's a game-changing weapon that could be the difference between victory and defeat.
You're getting more than a service by placing your trust in Gamingcy. You're gaining a reliable partner in your Destiny 2 adventures. Our boosts will empower you to handle the Eremite confidently, turning you into a formidable presence on any battlefield. You're not just acquiring a weapon but also gaining a competitive edge.
But our contribution to your Destiny 2 journey doesn't end at merely getting you the weapon. We offer you the collective knowledge and skill set of our entire team of sherpas, a real treasure trove of Destiny 2 secrets and strategies. Let's unlock the Eremite's fullest capabilities and blaze an unforgettable trail toward the gaming pinnacle.
ETA:
Average starting time: 1-3 hours
Average Execution time: 1-5 weeks
Rewards you will get:
The Eremite

Legendary Energy Fusion Rifle;
Exp for your Season Pass and Artifact level.
Options available:
Random Roll

: a weapon with

random perk

combos.

Deepsight:

You will get a Deepsight version of weapon.

Requirements

: You should have this weapon or select option "I don't have this weapon in collection".

Unlock the crafting pattern:

You will get 5 Deepsight weapons and can craft Weapon God Roll with guaranteed perks.
Requirements:
Lightfall DLC

Recovery

(an experienced player will securely log into your account and do all the work for you)