Exalted Truth God Roll Boost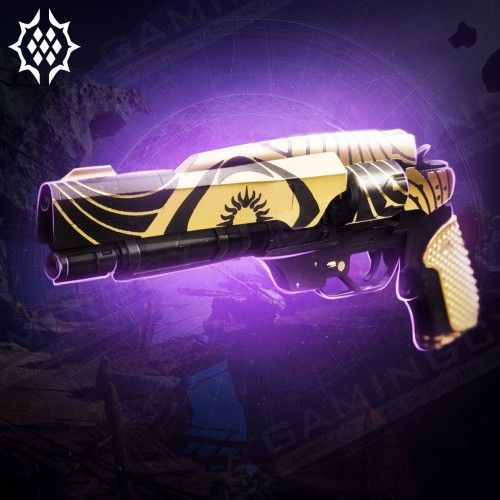 24/7 support
Get a helpful human reply in ±15 seconds!

Hide My Boost
We've developed this unique software to protect you from bans and suspensions. It allows account sharing without flagging an account.

Secure Payments
You can pay securely with PayPal or your Credit Card via Stripe. All payments are covered with the customer protection system and money back guarantee!

Secure Web-site
SSL and HTTPS protocols are used for your 100% privacy & data safety

Enlarge your collections!
An extensive list of unique & rare collectibles makes your gameplay brighter and your whole account more precious!
At this page of our site you can buy the Exalted Truth boost and get the God Roll for this extraordinary Legendary Energy Hand Cannon available in Destiny 2. Our platform provides access to top-tier carry services delivered by seasoned D2 players with extensive expertise. Whether you aim to unlock this legendary weapon, secure the highly sought-after God Roll, or obtain specific perks, our professional gamers will skillfully farm the Exalted Truth on your behalf, ensuring a seamless experience.
We cater to players on all gaming platforms, including PlayStation, PC, and Xbox, ensuring everyone can benefit from our exceptional assistance. Join us today and discover the convenience of boosting and enhancing your Destiny 2 journey with our unparalleled services.
Why buying the Exalted Truth is a must-have?
Farming The Exalted Truth is renowned for its exceptional power and performance. Its stats, perks, and unique abilities make it a formidable weapon of choice in both PvE and PvP activities. With the right rolls and combination of perks, the Exalted Truth can significantly enhance a Guardian's effectiveness on the battlefield.
Unlocking the full potential of this Hand Cannon demands unwavering dedication, refined skills, and an unyielding pursuit of perfection. Its awe-inspiring power, exceptional versatility, and the elusive pursuit of the perfect rolls make it an invaluable asset for any Guardian.
Our team comprises seasoned experts in the world of Destiny 2, equipped with intricate knowledge and unmatched prowess to diligently farm the Exalted Truth on your behalf. We provide a comprehensive solution that transcends your gaming experience to unprecedented heights. Whether you are a battle-hardened veteran well-versed in the ways of Destiny 2 or a newbie, the Exalted Truth farming service is an opportunity too valuable to overlook.
How to Get the Exalted Truth?
Acquiring the Exalted Truth in Destiny 2 can be pursued through two different methods. The first option involves obtaining it randomly from Engrams during Trials of Osiris matches or by ranking up with Osiris. Players can also increase their chances by using a Trials Engram for Focused Decoding at Osiris.
However, it is crucial to understand that acquiring the Exalted Truth requires considerable skill and unwavering patience. The drop rate for this weapon is low, and obtaining the desired combination of perks or the coveted God Roll may necessitate numerous attempts. Fortunately, Gamingcy offers the Exalted Truth boost as a solution to bypass the arduous grind and obtain this legendary hand cannon with your preferred perks, all supported by our guarantee. Our carry services are tailored to cater to the needs of all kinds of Destiny 2 players, offering a cost-effective and efficient route to acquiring this exceptional weapon.
Exalted Truth Perks and the God Roll
Exalted Truth is a legendary hand cannon in Destiny 2 with the following base statistics:
RPM (Rounds per Minute): 140
Impact: 84
Range: 50
Stability: 58
Handling: 55
Reload Speed: 47
Magazine size: 11
These base stats can be boosted by the various perks and mods that the weapon can roll with.
Exalted Truth PVE God Roll:
Barrel:

Fluted Barrel

Magazine:

Tactical Mag

Perk 1:

Outlaw

Perk 2:

Kill Clip or Frenzy

Masterwork

: Stability
Its reliable perks, Outlaw and Kill Clip, enhance reload speed and provide a substantial damage buff upon precision kills. For added versatility, Frenzy is another viable choice in the fourth column. As a Trials weapon, Exalted Truth benefits from the Alacrity Origin Trait, offering valuable bonuses such as reload speed, stability, aim assist, and range when playing solo. This makes it an excellent option for solo activities like Lost Sectors, especially during Void burn.
Exalted Truth PVP God Roll:
Barrel:

Hammer-Forged Rifling

Magazine:

Accurized Rounds

Perk 1:

Rangefinder or Killing Wind

Perk 2:

Eye of the Storm

Masterwork

: Range
The recommended god roll includes Hammer-Forged Rifling and Accurized Rounds for improved range and accuracy. Rangefinder is an excellent perk for extending engagement distances, while Killing Wind enhances kill-chaining potential. Eye of the Storm grants increased accuracy as your health diminishes, providing an advantage in duels. When playing revive-based modes like Trials, Alacrity is the preferred Origin Trait, while Suros Synergy shines in most other Crucible situations.
ETA:
Average starting time: 1-3 hours
Average Execution time: 4-10 hours
Rewards you will get:
Exalted Truth

Legendary Energy Hand Cannon;
Trials of Osiris wins;
Unique Armor and Weapon drops from the Trials of Osiris;
Exp for your Season Pass and Artifact level.
Options available:
Random Roll

: a weapon with

random perk

combos.

Rolls with Guaranteed Perk

: We will get you a weapon with the

desired perk

roll.

God roll:

We will get you a weapon with the desired

god roll

.

Recovery:

an experienced player will securely log into your account and do all the work for you.

Sherpa:

you will play your character yourself with a group of our professional player(s).
Requirements + Important notes:
1800+ Power Level

Trials Access Quest

completed
This weapon can be received

only while this weapon is in the weekly rotation

. If it's not in the current weekly rotation – we'll wait until it becomes obtainable again.