Shayura's Wrath Boost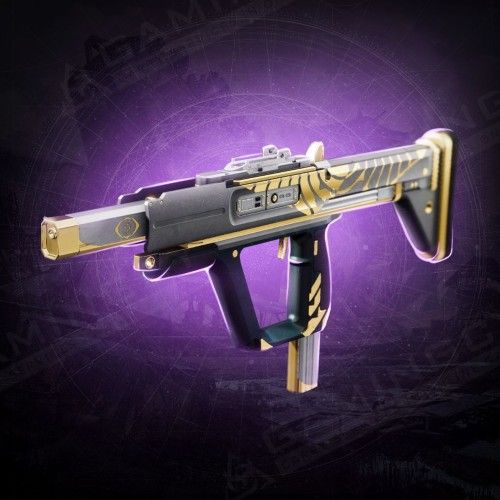 24/7 support
Get a helpful human reply in ±15 seconds!

Hide My Boost
We've developed this unique software to protect you from bans and suspensions. It allows account sharing without flagging an account.

Secure Payments
You can pay securely with PayPal or your Credit Card via Stripe. All payments are covered with the customer protection system and money back guarantee!

Secure Web-site
SSL and HTTPS protocols are used for your 100% privacy & data safety

Enlarge your collections!
An extensive list of unique & rare collectibles makes your gameplay brighter and your whole account more precious!
Experience the ultimate offer: buying Shayura's Wrath boost, an unparalleled Legendary Energy Submachine Gun exclusively available in Destiny 2. Unlock the full potential of this extraordinary weapon with our platform, where you'll find elite carry services provided by seasoned D2 players. Our experts possess extensive expertise and knowledge, ensuring efficient acquisition of any weapon you desire. Whether it's unlocking the legendary Shayura's Wrath, securing the highly coveted God Roll, or attaining a specific combination of perks, our professional gamers will expertly farm it for you, guaranteeing a seamless experience.
Our services are accessible to players on all gaming platforms, including PlayStation, PC, and Xbox, allowing everyone to benefit from our exceptional assistance. Embrace the convenience and enhancement of your Destiny 2 journey by joining us today. Unleash the true power of Shayura's Wrath and dominate your adversaries like never before.
Why you should buy Shayura's Wrath?
What sets Shayura's Wrath apart is its versatility. It is considered one of the best weapons in its class due to its ability to adapt to various game modes and situations. Its versatility is attributed to the different rolls it can have, allowing players to customize it based on their playstyle and preferences.
The specific rolls available for Shayura's Wrath may vary, and players can seek out rolls that work best for them in different game modes, such as PvP or PvE activities. The weapon's potential for customization and adaptability makes it a sought-after choice for many Destiny 2 players.
How to Get the Shayura's Wrath?
Shayura's Wrath boosting allows you to get this powerful SMG (Submachine Gun) in Destiny 2 that was initially available as a world drop but has since been limited to being obtained exclusively through the Trials of Osiris activity. Trials of Osiris is a highly competitive PvP mode in Destiny 2, and obtaining Shayura's Wrath may require dedication and skill in this game mode.
Embarking on the quest to acquire Shayura's Wrath demands not only skill but also unwavering patience. The path to obtaining this legendary rocket launcher is far from a guaranteed one, as the drop rate can be elusive. Securing the desired combination of perks or the highly coveted God Roll may require countless attempts. Fear not, for Gamingcy presents the ultimate solution: the Shayura's Wrath boosts. This service allows you to bypass the grueling grind and swiftly obtain the legendary rocket launcher with your preferred perks, all backed by our unwavering guarantee.
Our carry services are meticulously designed to cater to the diverse needs of Destiny 2 players. We offer a cost-effective and efficient route to acquiring this exceptional weapon, saving you valuable time and frustration. Trust in Gamingcy to guide you through this challenging journey and deliver Shayura's Wrath into your capable hands.
The Perks of the Shayura's Wrath and the God Roll
Shayura's Wrath is a legendary smg in Destiny 2 with the following base statistics:
RPM (Rounds per Minute): 900
Impact: 25
Range: 59
Stability: 44
Handling: 27
Reload Speed: 24
Magazine size: 27
These base stats can be boosted by the various perks and mods that the weapon can roll with.
For the ideal PvE God Roll of Shayura's Wrath, consider the following perks:
Barrel

: Corkscrew Rifling

Magazine

: Accurized Rounds or Appended Mag

First Perk

: Killing Wind

Second Perk

: Adrenaline Junkie or Kill Clip

Mod

: Range
To optimize your PvE performance, start with Corkscrew Rifling in the barrel slot, which provides a beneficial increase to your weapon's stats. The choice between Accurized Rounds and Appended Mag depends on your playstyle. Accurized Rounds enables faster and more accurate shots, while Appended Mag grants you a larger ammo reserve.
Regarding the first perk slot, there are several viable options. Both Killing Wind and Dynamic Sway Reduction can enhance your performance. Additionally, Heating Up can add a fun dynamic to your gameplay. In the second perk slot, consider Adrenaline Junkie if you're utilizing perks focused on final blows, such as Heating Up. Kill Clip and Harmony are also strong contenders, depending on your personal preference.
To further augment your Shayura's Wrath, equip a Range Mod to improve its effective range. Additionally, attaching a Minor Spec weapon mod will enhance your weapon's effectiveness against minor enemies.
For the optimal PvP God Roll of Shayura's Wrath, consider the following perks:
Barrel

: Smallbore or Extended Barrel

Magazine

: Accurized Rounds

First Perk

: Dynamic Sway Reduction

Second Perk

: Kill Clip

Mod

: Range
In PvP, prioritize Accurized Rounds as your magazine perk for improved performance. However, if necessary, Extended Barrel can serve as a suitable substitute. The first perk slot offers a variety of options. Killing Wind and Dynamic Sway Reduction are popular choices among players, while Tunnel Vision can also be effective by enhancing target acquisition after a kill. For enhanced accuracy during hip-fire, consider using Hip-Fire Grip as a substitution.
The second perk slot undoubtedly shines with Kill Clip, providing a significant advantage during combat encounters. Your choice of Masterwork and Mod depends on personal preference. A Range Mod can enhance your overall performance by allowing for faster and more accurate shots.
When it comes to the grip, Freehand Grip is the preferred option if available, as it enhances your weapon's performance when firing from the hip. Alternatively, you may opt for Icarus Grip to improve accuracy while airborne.
What Makes the Shayura's Wrath Stand Out?
Unleashing the true potential of Shayura's Wrath demands unwavering dedication, exceptional skill, and an unyielding pursuit of perfection. Its awe-inspiring power, remarkable versatility, and the elusive quest for the God Roll make it an invaluable asset in the hands of any Guardian. Yet, we recognize that not all players possess the luxury of time or the expertise to undertake this arduous journey. This is precisely where Gamingcy's professional carry services emerge as the perfect solution.
Our team comprises seasoned experts in the realm of Destiny 2, equipped with intricate knowledge and unmatched prowess to tirelessly farm the Shayura's Wrath on your behalf. We offer a comprehensive solution that transcends mere assistance, propelling your gaming experience to unparalleled heights. Whether you stand as a battle-hardened veteran, well-versed in the ways of Destiny 2, or a fresh-faced initiate embarking on your maiden adventure, the allure of Shayura's Wrath is an opportunity that should never be overlooked.
By entrusting Gamingcy as your unwavering ally, we shall carry your Destiny 2 experience to new realms of achievement. With our guidance, you shall confidently wield this extraordinary weapon, instilling fear in your adversaries as you dominate the battlefield with resolute assurance.
ETA:
Average starting time: 1-3 hours
Average Execution time: 4-10 hours
Rewards you will get:
Shayura's Wrath

Legendary Energy Submachine Gun;
Trials of Osiris wins;
Unique Armor and Weapon drops from the Trials of Osiris;
Exp for your Season Pass and Artifact level.
Options available:
Random Roll

: a weapon with

random perk

combos.

Rolls with Guaranteed Perk

: We will get you a weapon with the

desired perk

roll.

God roll:

We will get you a weapon with the desired

god roll

.

Recovery:

an experienced player will securely log into your account and do all the work for you.

Sherpa:

you will play your character yourself with a group of our professional player(s).
Requirements + Important notes:
1800+ Power Level

Trials Access Quest

completed
This weapon can be received

only while this weapon is in the weekly rotation

. If it's not in the current weekly rotation – we'll wait until it becomes obtainable again.