Bug-Out Bag Boost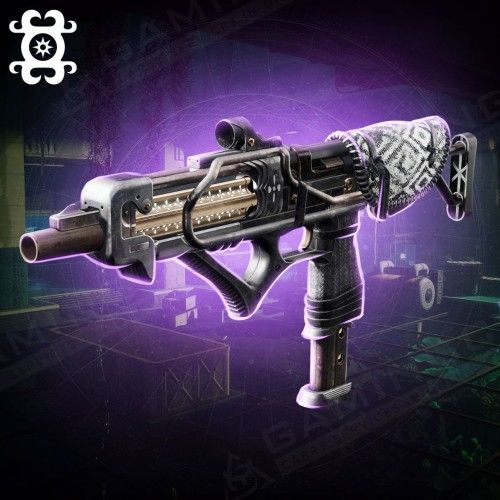 Boosting Schedule
Set the time when the booster may play your account with your manager. We can provide your whole carry while you're AFK without disturbing your usual gaming time!

24/7 support
Get a helpful human reply in ±15 seconds!

Hide My Boost
We've developed this unique software to protect you from bans and suspensions. It allows account sharing without flagging an account.

Secure Payments
You can pay securely with PayPal or your Credit Card via Stripe. All payments are covered with the customer protection system and money back guarantee!

Secure Web-site
SSL and HTTPS protocols are used for your 100% privacy & data safety
Unveiling our unique proposition: the Bug-Out Bag boost - an outstanding Legendary Energy Submachine Gun at your disposal in Destiny 2. With our platform, you gain the advantage of elite carry services facilitated by veteran D2 players equipped with vast experience and proficiency to procure any weapon with efficacy. Whether your goal is to unlock this legendary armament, acquire the coveted God Roll, or secure specific perks, our gaming experts will meticulously farm the Bug-Out Bag on your behalf, promising a smooth and hassle-free experience. We provide our services to players across all gaming consoles, encompassing PlayStation, PC, and Xbox, guaranteeing that every gamer can reap the rewards of our unparalleled support. Enlist with us today and explore the ease of boosting your Destiny 2 adventure.
Why buying the Bug-Out Bag is a must-have?
The Bug-Out Bag submachine gun in Destiny 2 is highly popular among Guardians due to its versatility and effectiveness in close-quarters combat. With a rapid rate of fire and reliable performance, it excels in various activities. Belonging to the kinetic weapon slot, its lightweight frame enables agile movement and quick target acquisition, making it ideal for fast-paced engagements. It offers excellent stability for better control in sustained firefights and a solid magazine size, providing ample ammunition before reloading.
How to Get the Bug-Out Bag?
The Bug-Out Bag submachine gun can be obtained through various in-game activities, such as completing Gambit Prime matches, The Reckoning, or participating in certain Nightfall strikes. It can also be acquired from rank-up packages in the Gambit game mode.
Acquiring the Bug-Out Bag SMG in Destiny 2 demands a profound level of skill and unwavering patience. It is crucial to recognize that the drop rate for this weapon is far from assured, and obtaining the desired combination of perks or the highly coveted God Roll often entails enduring numerous attempts. Fortunately, Gamingcy presents a valuable solution through their Bug-Out Bag boost service. This service allows players to circumvent the arduous grind and secure the legendary submachine gun with their preferred perks, all while enjoying the assurance provided by Gamingcy's guarantee. Designed to meet the diverse needs of Destiny 2 players, their carry services offer a cost-effective and highly efficient pathway to acquiring this exceptional weapon.
The Perks of the Bug-Out Bag and the God Roll
Bug-Out Bag is a legendary submachine gun in Destiny 2 with the following base statistics:
RPM (Rounds per Minute): 900
Impact: 20
Range: 38
Stability: 39
Handling: 47
Reload Speed: 2
Magazine size: 32
These base stats can be boosted by the various perks and mods that the weapon can roll with.
For the Bug-Out Bag SMG, a possible God Roll could be the following:
Multikill Clip:

This perk increases damage when you reload after defeating an enemy. The more rapid kills you make, the higher the damage boost. This perk is excellent for PvE fights where multiple enemies are often present.

Subsistence

: Kills partially reload the magazine from reserves. It is an excellent trait as it helps you keep firing without worrying about running out of ammo.

Smallbore

or

Corkscrew Rifling

would work well for a balanced boost in range and stability for barrel perks.
The

Magazine

perk that works best for your playstyle. Some prefer Tactical Mag for the boost in stability, reload speed, and magazine size, while others prefer Appended Mag for a pure increase in magazine size.
Remember, this is just one example of what could be considered a God Roll. The best roll always depends on your personal preference and playstyle. The Bug-Out Bag can roll with a wide range of different perks, so there's plenty of room for experimentation to find the perfect roll for you. You can pick any combination you like if you buy the Bug-Out Bag God Roll.
What Makes the Bug-Out Bag Stand Out?
Unlocking the true potential of the Bug-Out Bag requires unwavering dedication, skill, and a relentless pursuit of perfection. Its remarkable power, versatility, and the elusive quest for the God Roll make it an invaluable asset in the hands of any Guardian. However, we understand that not every player has the luxury of time or the expertise to embark on this challenging journey. This is precisely where Gamingcy's professional carry services step in to bridge the gap.
Our team consists of seasoned Destiny 2 experts who possess the intricate knowledge and exceptional prowess to tirelessly farm the Bug-Out Bag on your behalf. We offer a comprehensive solution that elevates your gaming experience to unprecedented heights. Whether you're a battle-hardened veteran well-versed in the ways of Destiny 2 or a fresh-faced initiate embarking on your inaugural adventure, the Bug-Out Bag is an opportunity that should not be overlooked.
Choose Gamingcy as your trusted companion and let us carry your Destiny 2 experience to new realms of achievement. With our assistance, you can confidently wield this extraordinary SMG weapon, dominating the battlefield with unwavering confidence.
ETA:
Average starting time: 1-3 hours
Average Execution time: 6-18 hours
Rewards you will get:
Bug-Out Bag

Legendary Energy Submachine Gun;
Exp for your Season Pass and Artifact level.
Options available:
Recovery:

an experienced player will securely log into your account and do all the work for you.

Sherpa:

you will play your character yourself with a group of our professional player(s).

Random Roll

: a weapon with

random perk

combos.

God roll:

We will get you a weapon with the desired

god roll

.
Requirements: