Sanctified Mind Boost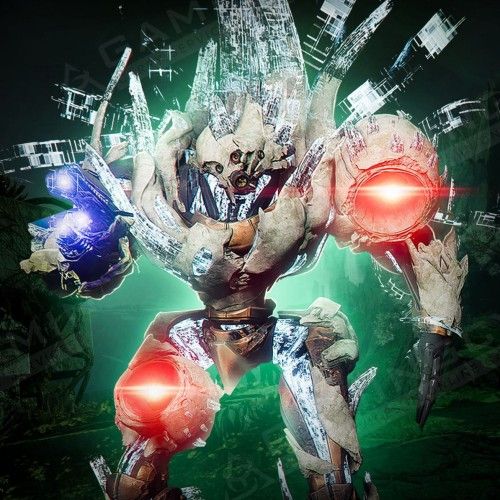 Boosting Schedule
Set the time when the booster may play your account with your manager. We can provide your whole carry while you're AFK without disturbing your usual gaming time!

24/7 support
Get a helpful human reply in ±15 seconds!

Hide My Boost
We've developed this unique software to protect you from bans and suspensions. It allows account sharing without flagging an account.

Secure Payments
You can pay securely with PayPal or your Credit Card via Stripe. All payments are covered with the customer protection system and money back guarantee!

Secure Web-site
SSL and HTTPS protocols are used for your 100% privacy & data safety
On this page of Gamingcy's site, you can buy the Sanctified Mind Kill Boosting service - the ultimate solution for Guardians aiming to defeat the final boss of the Destiny 2's Garden of Salvation raid. We offer this product with self-play and with acc-sharing.
With our PRO PvE fireteams and time-tested support by your side, farming the Sanctified Mind will be a fast and straightforward task. Embrace this professional carry and enjoy the spoils of victory as you kill one of Shadowkeep's most challenging bosses, master intricate GoS mechanics, and claim alluring loot.
Sanctified Mind Boost Highlights:
The Best Sherpas:

Our team comprises Destiny 2 PRO gamers who have mastered every facet of the game, including the Garden of Salvation raid and its complex boss mechanics. Rest assured, their expertise in dealing with D2 raid bosses ensures an efficient, seamless, and successful Sanctified Mind kill for you.

Super-fast:

No more endless hours spent with random fireteams, struggling to decipher boss mechanics, and chasing elusive rewards. Our Sanctified Mind Kill Service guarantees a swift and smooth completion, saving you precious time and energy.

Convenient:

We value your time, which is why our Sanctified Mind Boosting Service offers flexible scheduling options. Let us know your preferred date and time, and our team will be at your service.

No Risks, Result is Guaranteed:

Our Sanctified Mind carry implies a 100% success rate. If we fail to kill Sanctified Mind for you, we'll keep at it until the objective is achieved.

Amazing rewards:

fight the Sanctified Mind alongside our professionals to access exclusive drops from the Garden of Salvation raid. Coveted items like the Divinity Exotic Trace Rifle can be added to your arsenal at an affordable price. Advance your Guardian's power with must-have weapons, high-tier armor, and amazing transmogs.

Below is D2 Sanctified Mind loot list:

Omniscient Eye (Rapid-fire Sniper Rifle);
Helm of Righteousness (Head);
Temptation's Mark (Class Item)
Divinity (Exotic Trace Rifle) - This weapon is rewarded for the quest chain completion, last step of which is killing the Sanctified Mind.

100% Security:

Your privacy and account safety is our #1 priority. You can be sure that our Sanctified Mind Boosts guarantee the utmost protection of your personal information.
Don't let the challenge of Sanctified Mind and its complex mechanics hinder your progress. Buy your Sanctified Mind kill today with our top-of-the-line boosting service, and revel in the satisfaction of conquering one of Destiny 2's most difficult bosses while obtaining some of the most desirable rewards.
Destiny 2 Sanctified Mind Kill: The Process Explained
Killing the Sanctified Mind, Sol Inherent, you will defeat a formidable figure in the lore of Destiny 2, serving as the pinnacle encounter in the Garden of Salvation raid. This Axis Mind of the Vex plays a significant role within the overarching narrative of the game's Shadowkeep expansion.
The Garden of Salvation, where the Sanctified Mind resides, is located within the Black Garden. In this mysterious and timeless realm, the Vex are intrinsically connected to the metaphysical concept known as the Darkness. The Black Garden is considered a place outside of normal space and time, with its nature and purpose closely tied to the Vex's enigmatic origins and ultimate objectives.
The Sanctified Mind is a unique entity in the sense that it represents the Vex's ongoing effort to understand and harness the power of the Darkness. It manifests the Vex's obsession with the paracausal forces in the universe, entities, and authorities that operate beyond the typical laws of cause and effect.
In the Garden of Salvation raid, Guardians encounter the Sanctified Mind as the final boss, representing the Vex's dangerous ambitions. The goal of the Guardians is to stop this entity and disrupt the Vex's plans, helping to preserve the universe's balance and halt the Vex's possible alignment with the Darkness. Our professional fire teams are here to help: in D2 Lightfall, Sanctified Mind boosts are still popular among our beloved customers due to highly-desired rewards.
Through engaging with the Sanctified Mind, you will get a deeper understanding of the Vex's intentions and the lengths they are willing to go to secure their place in the fabric of reality, reinforcing the complexity and depth of Destiny 2's lore.
ETA:
Average starting time: 1-3 hours
Average Execution time: 1-4 hours
Rewards you will get:
Sanctified Mind Boss

defeat;
Chance to get

raid weapons and armor;

Chance to get

Divinity Exotic Trace Rifle;

Exp for your Season Pass and Artifact level;
A chance to get other rng-based rewards during the completion.
Options available:
Recovery:

an experienced player will securely log into your account and do all the work for you.

Sherpa:

you will play your character yourself with a group of our professional player(s).
Requirements + Important notes:
1600+ Power Level

Shadowkeep DLC