Lubrae's Ruin Boost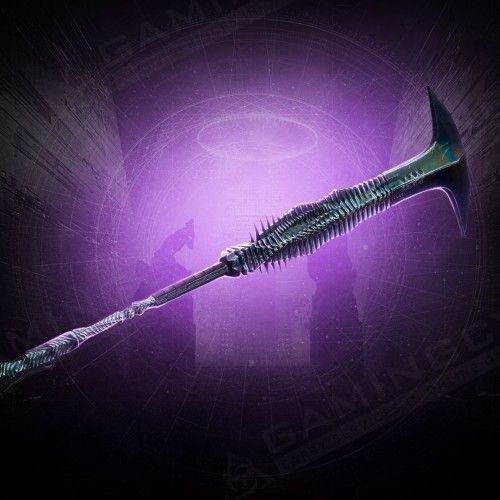 Boosting Schedule
Set the time when the booster may play your account with your manager. We can provide your whole carry while you're AFK without disturbing your usual gaming time!

24/7 support
Get a helpful human reply in ±15 seconds!

Hide My Boost
We've developed this unique software to protect you from bans and suspensions. It allows account sharing without flagging an account.

Secure Payments
You can pay securely with PayPal or your Credit Card via Stripe. All payments are covered with the customer protection system and money back guarantee!

Secure Web-site
SSL and HTTPS protocols are used for your 100% privacy & data safety
Introducing our exclusive opportunity allowing you to buy Lubrae's Ruin boost, an extraordinary VoD raid Legendary Power Rocket Launcher now obtainable in Destiny 2 Lightfall. Unleash its unmatched power through this service, meticulously offered by experienced D2 players. Their extensive expertise guarantees the swift unlocking of any weapon you seek. Whether it's the legendary rocket launcher itself, the highly desired God Roll, or specific perks, our professional gamers will tirelessly farm the Lubrae's Ruin on your account, ensuring a seamless and gratifying experience.
Regardless of your gaming platform—PlayStation, PC, or Xbox—our services are tailored to all players, assuring that every individual can revel in the excellence of our unparalleled support. Embark on your Destiny 2 journey with us today and relish in the absolute convenience of boosting and elevating your gameplay to astonishing heights.
Why You Should Buy D2 Lubrae's Ruin
Lubrae's Ruin purchase grants you a versatile weapon that offers both ranged and melee capabilities. It has a shield that can be raised while aiming down sights, which provides added protection. It's a Solar damage type weapon with an effective range of 45, making it suitable for various combat scenarios.
How to Get the Lubrae's Ruin?
Lubrae's Ruin can be obtained from the Vow of the Disciple (VoD) raid. It is specifically dropped from a single encounter within this PvE instance. The Vow of the Disciple raid is known for introducing some of the best raid weapons in Destiny 2, and Lubrae's Ruin stands out as a sought-after Legendary Glaive that can be acquired there. It's drops from the last boss, Rhulk.
The Perks of the Lubrae's Ruin and the God Roll
Behold the Lubrae's Ruin Rocket Launcher, its base stats revealing its power:
Impact: 80
Range: 45
Shield Duration: 40
Handling: 45
Reload Speed: 50
Aim Assistance: 72
Inventory Size: 40
Airborne Effectiveness: 11
Rounds Per Minute: 55
Charge Time: 40
Magazine: 4
The ideal perks for a god roll on Lubrae's Ruin can vary for PvE and PvP playstyles. According to the provided information, here's a suggested god roll for each mode:
Lubrae's Ruin PvE God Roll:
Barrel:

Auxiliary Reserves

Magazine:

Light Mag or Alloy Mag

Perk 1:

Slight of Hand or Grave Robber

Perk 2:

Vorpal Weapon
Lubrae's Ruin PvP God Roll:
Barrel:

Auxiliary Reserves or Ballistic Tuning

Magazine:

Light Mag or Swap Mag

Perk 1:

Killing Wind or Steady Hands

Perk 2:

Surrounded or Unstoppable Force
What Makes the Lubrae's Ruin Worth The Farm?
Farming the Lubrae's Ruin Rocket Launcher in Destiny 2 requires unwavering commitment, exceptional skill, and significant effort. However, not all players are fortunate enough to have the leisure of spare time or the expertise needed to navigate this demanding path. But worry not; Gamingcy's professional boosting services stand ready to bridge this gap.
Within our esteemed lineup, you'll find seasoned Destiny 2 sherpas adorned with intricate knowledge and exceptional proficiency. They embark on a tireless Lubrae's Ruin farming on your behalf, offering a comprehensive solution that enhances your gaming journey. Swift and entirely secure. Whether you're a battle-hardened veteran or a fresh newcomer, the irresistible allure of unlocking the Legendary Lubrae's Ruin rocket lancher should never be underestimated.
Place your trust in Gamingcy, and allow us to propel your Destiny 2 progress to the summit. With our steadfast boosts, you will wield this extraordinary weapon with unwavering confidence, triumphantly dominating any battle. Embrace our expertise and embark on a transaction that will redefine your Destiny 2 experience!
ETA:
Average starting time: 1-3 hours
Average Execution time: 1-5 weeks
Rewards you will get:
Lubrae's Ruin

Legendary Power Rocket Launcher;
Unique Armor and Weapon drops from the Vow of the Disciple raid;
Exp for your Season Pass and Artifact level.
Options available:
Random Roll

: a weapon with

random perk

combos.

Deepsight:

You will get a Deepsight version of weapon.

Requirements

: You should have this weapon or select option "I don't have this weapon in collection".

Unlock the crafting pattern:

You will get 5 Deepsight weapons and can craft Weapon God Roll with guaranteed perks.
Requirements:
1600+ Power Leve

l

The Witch Queen DLC

Recovery

(an experienced player will securely log into your account and do all the work for you)