Fang of Ir Yût Boost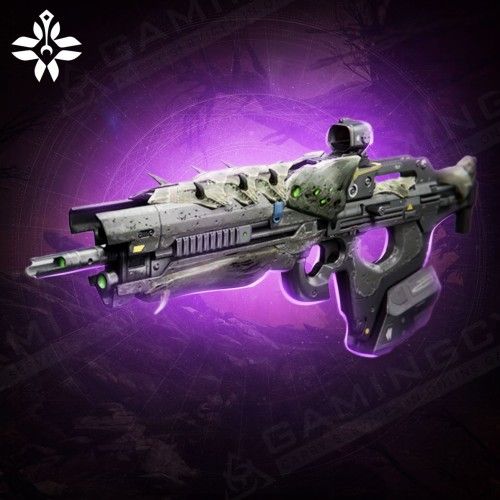 Boosting Schedule
Set the time when the booster may play your account with your manager. We can provide your whole carry while you're AFK without disturbing your usual gaming time!

24/7 support
Get a helpful human reply in ±15 seconds!

Hide My Boost
We've developed this unique software to protect you from bans and suspensions. It allows account sharing without flagging an account.

Secure Payments
You can pay securely with PayPal or your Credit Card via Stripe. All payments are covered with the customer protection system and money back guarantee!

Secure Web-site
SSL and HTTPS protocols are used for your 100% privacy & data safety
Welcome to our store, where you can buy the Fang of Ir Yût boost, an exceptional Legendary Power Scout Rifle now obtainable in Destiny 2 Lightfall. Unleash the full potential of this fantastic Season of the Witch weapon using our premium carry services, delivered by experienced D2 sherpas who are at the top of their game. Their extensive expertise ensures a swift unlocking of your desired armament – the Fang of Ir Yut itself, its optimal God Roll, or any perks you may need. Rest assured, we'll tackle all tasks at breakneck speed and provide a complete warranty for our work.
Our skilled gamers are dedicated to farming the Fang of Ir Yût on your D2 Guardian, guaranteeing a seamless and effortless process. Irrespective of your gaming platform – PlayStation, PC, or Xbox – our services are all-encompassing, ensuring everyone can benefit from our exceptional support.
Take advantage of our Destiny 2 weapons store and experience the comfort and ease of our professional boosting services meant to take your gameplay to the pinnacle!
Why buying the Fang of Ir Yût is a must-have?
Purchase the Fang of Ir Yût and get a legendary scout rifle in Destiny 2, known for its strengths and flexibility in various activities. Here are its key strengths:
Versatile Sights:

The Fang of Ir Yût offers a selection of versatile sights, including the Red Dot-ORS for precise fire, Truesight IS for good recoil control and target acquisition, and the Focus Lens FLA5 for long-range precision shooting.

Reload Speed Boost:

It comes with the "Spray and Play" perk, which increases the reload speed of the weapon when its magazine is empty. This is especially helpful when you need to get back into action quickly.

Increased Attack Power:

The Fang of Ir Yût can be upgraded to have increased attack power, allowing it to deal more damage. This makes it effective in dealing with tough enemies and bosses.

Exclusive Raid Weapon:

It was exclusively obtainable from the Crota's End raid, which adds to its desirability for collectors and players looking for unique and powerful weapons.

Comparable Stats:

It is often compared to the Vault of Glass scout rifle, Vision of Confluence, with similar stats, but it is considered superior for activities like Crota's End.
How to Get the Fang of Ir Yût?
Getting the Fang of Irc Yut weapon can be effortlessly achieved by finishing either the first two encounters of the Crota's End raid. Like the majority of raid-specific gear, once it's part of your inventory collection, you have the liberty to buy different variations from the vendor available at the raid's conclusion, each costing you 20 Spoils of Conquest. Moreover, you can also craft the weapon after collecting five Deepsight drops or "red boxes."
Given that Crota's End stands as the most recent raid experience released in the Destiny 2 Season of the Witch, players have the opportunity to continue farming additional rewards after their initial weekly raid completion. So, it shouldn't take too much time before you get this particular item drop.
The Perks of the Fang of Ir Yût and the God Roll
The Fang of Ir Yût Pulse Rifle has the following base stats:
Impact: 45
Range: 32
Stability: 49
Handling: 41
Reload Speed: 35
Aim Assistance: 64
Zoom: 20
Airborne Effectiveness: 17
Rounds Per Minute: 260
Magazine: 17
Recoil Direction: 49
The God Roll for Fang of Ir Yût depends on your preference and playstyle, but here are some recommended perk combinations for both PvE and PvP:
Fang of Ir Yût PvE God Roll:
Barrel

: Smallbore or Full Bore

Magazine

: Flared Magwell or Light Mag

Perk 1

: Rewind Rounds (or Shoot to Loot)

Perk 2:

Kill Clip or Golden Tricorn

Masterwork

: Range
Rapid-fire scout rifles like Fang of Ir Yût offer excellent performance, despite their slight range limitations. Smallbore and Full Bore barrels enhance stability and range, respectively. Opt for Flared Magwell or Light Mag to boost reload speed and either stability or range. In Column 3, Rewind Rounds and Shoot to Loot offer superb utility. For Column 4, choose between Kill Clip, Golden Tricorn, Precision Instrument, Hatchling, or Sword Logic based on your preference.
Fang of Ir Yût PvP God Roll:
Barrel

: Hammer-Forged Rifling

Magazine

: Ricochet Rounds

Perk 1

: Rapid Hit or Keep Away

Perk 2

: Kill Clip or Opening Shot

Masterwork

: Range or Reload Speed
Rapid-fire scouts, while less common in PvP, can shine with the right perks. Enhance range and stability with Hammer-Forged Rifling and Ricochet Rounds. Rapid Hit and Kill Clip are solid choices, but consider Keep Away or Killing Wind for variety in Column 3. In Column 4, choose between Kill Clip or Opening Shot to suit your playstyle. Masterwork selection depends on your preference for either range or reload speed.
Is the Fang of Ir Yût Worth the Farm?
Farming the Fang of Ir Yût Scout Rifle in Destiny 2 demands relentless commitment, refined abilities, and a steadfast quest for top-tier performance. Yet, not everyone has the abundance of time or the specialized knowledge required for this challenging endeavor. Worry not, as Gamingcy's expert boosting services stand ready to fill that void.
We work with experienced Destiny 2 sherpas who possess intricate knowledge and remarkable prowess. With unrelenting commitment, they undertake the journey of the Fang of Ir Yût farming on your behalf, offering a comprehensive solution to enrich your gaming experience. We strive to complete all orders as quickly as possible, giving you top quality services at fair prices. Regardless of whether you're an expert gamer or a fresh initiate, the allure of unlocking the Fang of Ir Yût LSR, cannot be overstated. Your convenience, fast order execution, and 100% security is our priority.
Place your confidence in Gamingcy, your unwavering companion, and allow us to elevate your Destiny 2 adventure. With our boosts, you'll wield this exceptional weapon with resolute assurance, reigning supreme on the battlefield. Embrace our expertise and set forth on a quest that will redefine your Destiny 2 legacy, leaving an indelible mark in the chronicles of time. Together, we'll unlock the greatness within the Fang of Ir Yût, forging an unforgettable path to glory.
ETA:
Average starting time: 1-3 hours
Average Execution time: 1-5 weeks
Rewards you will get:
Fang of Ir Yût

Legendary Scout Rifle;

The first two encounters of Crota's End

raid defeated;
Unique

Armor and Weapon

drops;
Exp for your Season Pass and Artifact level.
Options available:
Random Roll

: a weapon with

random perk

combos.

Deepsight:

You will get a Deepsight version of weapon.

Requirements

: You should have this weapon or select option "I don't have this weapon in collection".

Unlock the crafting pattern:

You will get 5 Deepsight weapons and can craft Weapon God Roll with guaranteed perks.
Requirements:
1810+ Power Leve

l

Lightfall DLC

Recovery

(an experienced player will securely log into your account and do all the work for you)