Necrotic Grip Boost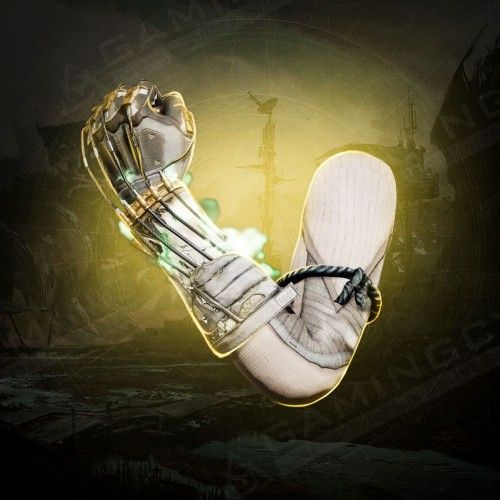 Boosting Schedule
Set the time when the booster may play your account with your manager. We can provide your whole carry while you're AFK without disturbing your usual gaming time!

24/7 support
Get a helpful human reply in ±15 seconds!

Hide My Boost
We've developed this unique software to protect you from bans and suspensions. It allows account sharing without flagging an account.

Secure Payments
You can pay securely with PayPal or your Credit Card via Stripe. All payments are covered with the customer protection system and money back guarantee!

Secure Web-site
SSL and HTTPS protocols are used for your 100% privacy & data safety
On this page of our site, you can buy Necrotic Grip exotic gauntlets in Destiny 2. All popular gaming platforms are supported: PlayStation, PC, and Xbox. Our team of expert gamers will take care of everything, ensuring you unlock the must-have exotic Warlock gauntlets smoothly and securely.
What is Necrotic Grip in Destiny 2? Necrotic Grip is a unique set of gloves that only Warlocks can use. They're well-known for an amazing perk called Grasp of the Devourer: it can wipe out a whole room of enemies.
Is Necrotic Grip worth farming? When you've got Necrotic Grip on and melee an enemy, it puts a poison debuff on them, which keeps hurting them more and more as time ticks. The real magic of this perk is its domino effect: if an enemy kicks the bucket under this poison effect, it passes on the curse to others nearby. And if those unlucky ones meet their end because of the poison, the curse keeps jumping from one enemy to the next like wildfire until there's no one left to curse. Even more remarkable is that Necrotic Grip pairs beautifully with the entire lineup of Weapons of Sorrow. This list of guns includes Thorn, Osteo Striga, and Touch of Malice. With Thorn in your arsenal and Necrotic Grip in your hands, the poison effect leaps onto multiple enemies. When you wield Osteo Striga and its Catalyst, each enemy felled by Necrotic Grip's poison leads to an ammo boost for Osteo Striga. In the case of Touch of Malice, racking up kills or deploying Blight sets off the spread of the poison.
Furthermore, if players are sporting a Glaive alongside Necrotic Grip, even the Glaive's melee attacks tag enemies with the poison curse. So, fusing Necrotic Grip with any of the weapons mentioned above can enable you to obliterate entire hordes of enemies in a blink. It is exceptionally effective, especially in the epic Lightfall legendary campaign.
How to get a Necrotic Grip? Getting this exotic involves a bit of luck. You must play Legendary or Master Lost Sector. Every day, there's one Lost Sector mission that's extra hard, called Legendary or Master, and you can get valuable rewards if you complete it. For example, you may unlock the Necrotic Grip on the days when Exotic Gauntlets are up for grabs.
How Gamingcy's Necrotic Grip Farm Works
Choosing Gamingcy's D2 Necrotic Grip farming service is like taking an express lane to a result. Once you pick us, one of our support agents will get in touch super-fast, usually in just 5-10 minutes, using Skype, Discord, or Email. We're also ready to chat on Discord at Gamingcy anytime, day or night. We'll talk about stuff like when to start, how you like to play, and anything special you need. While we're out there farming your exotic Warlock gloves, our support buddy will keep you in the loop and let you know the moment we're done. Say goodbye to the tedious grind in Destiny 2 by going with our pro-boosting service.
Don't miss out! Purchase our Necrotic Grip Boost today. Leave the boring farming to Gamingcy. You sit back and get ready to feel the rush of wielding the mighty Necrotic Grip gauntlets.
We NEVER use any third-party software or exploits, and we do all the work manually.
ETA:
Average starting time: 1-3 hours
Average Execution time: 1-24 hours
Rewards you will get:
Necrotic Grip Warlock Exotic Gauntlets;
Experience for your Season pass and Artifact level;
A chance to get other rng-based rewards during the completion.
Extra options:
I already have this Exotic:

Select this option if you already earned this Exotic and want to get it again. We will farm the desired Exotic, but it drops with a low chance.
Requirements + Important notes:
1810+ Power Leve

l

Beyond Light DLC + Campaign completed

Lost Sectors

Unlocked

Recovery

(an experienced player will securely log into your account and do all the work for you)