The Chaperone Boost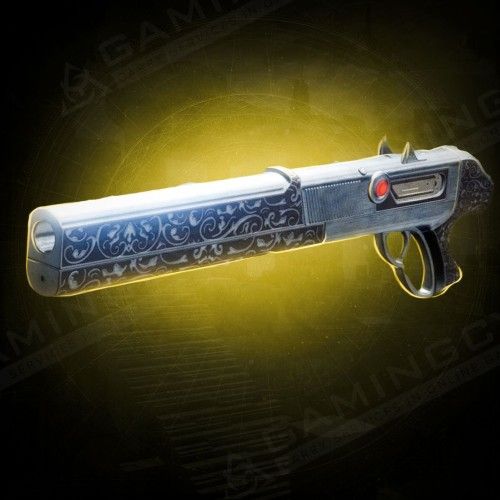 Boosting Schedule
Set the time when the booster may play your account with your manager. We can provide your whole carry while you're AFK without disturbing your usual gaming time!

24/7 support
Get a helpful human reply in ±15 seconds!

Hide My Boost
We've developed this unique software to protect you from bans and suspensions. It allows account sharing without flagging an account.

Secure Payments
You can pay securely with PayPal or your Credit Card via Stripe. All payments are covered with the customer protection system and money back guarantee!

Secure Web-site
SSL and HTTPS protocols are used for your 100% privacy & data safety
At this page of Gamingcy, you can buy The Chaperone boosting service and get it delivered by expert Destiny 2 gamers. Our expert sherpas will complete all requirements and unlock this for you with a 100% guarantee.
The Chaperone, an exotic shotgun in Destiny 2, holds a captivating lore centered around Nora Jericho. Gifted a map and a shotgun by a knight, Nora ventured to the Last Safe City. This weapon carries sentimental value as it was her mother's weapon, safeguarding their lives before their arrival at the City.
We comprehend the frustrations that can arise when attempting to acquire the Chaperone. That's precisely why our team of skilled PRO gamers is here to assist you. By utilizing our boosting service, our experts will handle all the necessary steps to obtain the Chaperone on your behalf. You not only stand an excellent chance of acquiring this exclusive weapon but also ensure that our dedicated players will help you receive a wealth of other valuable loot throughout the process.
Regardless of your gaming platform, be it PlayStation, PC, or Xbox, our services cater to all players. Every individual can benefit from the exceptional assistance we provide. Join us today and experience the convenience of boosting, elevating your Destiny 2 journey to new heights.
How to Obtain the Chaperone
To unlock The Chaperone, you must complete the "Holliday Family History" quest, which has a random chance of dropping at the end of Crucible matches. Once you obtain the quest, make your way to the Tower Hangar and visit Amanda Holliday to officially commence the tournament. The quest entails the following tasks:
Secure

20 shotgun

final blows in any

Crucible

playlist.

Accumulate Arc, Void, and Solar damage kills

in any Crucible playlist. Each kill contributes 5% progress, while each death deducts 1%.

Achieve 15 Guardian kills in Gambit

by either invading or eliminating invaders.
Perks of the Chaperone
The Chaperone weapon boasts a variety of distinctive perks that elevate its effectiveness as a shotgun. Let's take a closer look at these perks:
Precision Slug:

This remarkable feature enables The Chaperone to fire a single-slug precision round, enhancing its accuracy and precision.

The Roadborn:

With The Roadborn perk, precision kills provide a temporary boost to handling, range, and precision damage when wielding this weapon. This bonus empowers you to handle The Chaperone with increased ease, extend its effective range, and deal devastating precision damage to your foes.
Strengths of the Chaperone
The Chaperone stands out as one of the most high-ranged shotguns in Destiny 2, an attribute that ideally suits its slug projectiles and facilitates achieving accuracy kills. Its distinctive trait, The Roadborn, enhances its usability significantly following successful precision kills. Sustained precision kills reward you with increased damage and superior handling, enabling you to become a formidable force once you've mastered targeting the opponents' vulnerabilities.
Why the Chaperone is worth farming
Farming The Chaperone holds immense allure for Destiny 2 players, courtesy of its distinct playstyle and remarkable performance in both PvE and PvP engagements. Renowned for its precision damage and impressive long-range capabilities, it remains a cherished choice for those who relish precision-focused gameplay. Furthermore, the quest associated with this weapon imbues a sense of fulfillment upon its completion, further fueling its appeal among collectors and committed players.
Acquiring this exotic shotgun stands as a testament to a Guardian's unwavering skill and perseverance, serving as a noteworthy achievement that instills a sense of pride. Embrace the opportunity to boost your arsenal with this immensely powerful weapon, enabling you to assert dominance over your adversaries. Waste no time and acquire our professional boosting service without delay, ensuring swift acquisition of the Chaperone shotgun and empowering your Guardian with its unparalleled might.
ETA:
Average starting time: 1-3 hours
Average Execution time: 5-6 hours
Rewards you will get:
The Chaperone Exotic Kinetic Shotgun;
Exp for your Season Pass and Artifact level.
Requirements

+ Important notes:
Lightfall DLC

Recovery

(an experienced player will securely log into your account and do all the work for you)