Cataphract GL3 Boost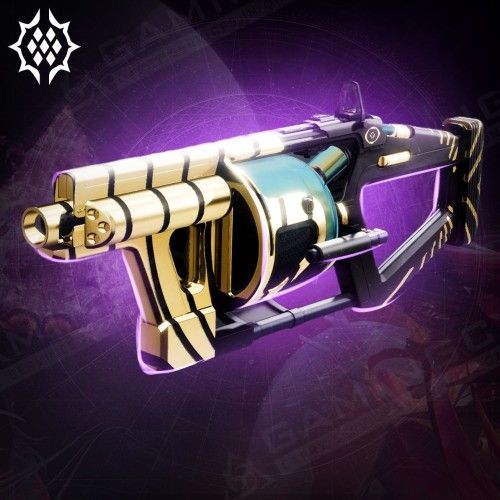 24/7 support
Get a helpful human reply in ±15 seconds!

Hide My Boost
We've developed this unique software to protect you from bans and suspensions. It allows account sharing without flagging an account.

Secure Payments
You can pay securely with PayPal or your Credit Card via Stripe. All payments are covered with the customer protection system and money back guarantee!

Secure Web-site
SSL and HTTPS protocols are used for your 100% privacy & data safety

Enlarge your collections!
An extensive list of unique & rare collectibles makes your gameplay brighter and your whole account more precious!
Welcome to our webpage, where you can buy the Cataphract GL3 boost – an extraordinary Legendary Power Grenade Launcher from Trials of Osiris, now accessible in Destiny 2's Lightfall expansion. Unleash this weapon's full power through our premium carry services, delivered by highly skilled D2 sherpas with extensive experience. Their expertise ensures a swift unlocking of your desired weapon, be it the Cataphract GL3 itself, its optimal God Roll configuration, or specific coveted perks. Your order will be done super-fast and with a 100% guarantee.
Our skilled gamers are dedicated to farming the Cataphract GL3 on your behalf, providing a seamless and effortless journey. Our services cater to all gaming platforms – PlayStation, PC, or Xbox – guaranteeing universal access to our exceptional support.
Join us today to embark on your Destiny 2 adventure and explore the ease of elevating your gameplay to the next level with our boosting services.
Why buying the Cataphract GL3 is a must-have?
Purchasing the Cataphract GL3 offers heavy grenade launcher capabilities, making it effective for dealing burst damage in PvE and PvP scenarios. It possesses a distinctive design that sets it apart from other weapons. Destiny 2 Cataphract GL3 is a must-have due to its exceptional perks, making it a top-tier choice for all types of content. Its elite Adept variant is compatible with specialized Adept Mods.
How to Get the Cataphract GL3?
The Cataphract GL3, hailing from the Season of the Witch, is an Adaptive Frame Strand Grenade Launcher that you can acquire through the Trials of Osiris. Whether you're focused on PvE or PvP, this launcher packs a substantial punch. The weapon can be secured either through chance by opening Trials engrams or by utilizing Focused Decoding with the guidance of Saint-14. Another pathway to acquire the Adept version of the Cataphract GL3 involves attaining a flawless victory in the Trials of Osiris event, which designates it as the weekly reward.
While the standard variant is attainable through dedicated grinding, you can also unlock Cataphract GL3 Adept by achieving a Flawless Passage and making your way to the Lighthouse.
The Perks of the Cataphract GL3 and the God Roll
The Cataphract GL3 Grenade Launcher has the following base stats:
Blast Radius: 50
Velocity: 40
Stability: 44
Handling: 47
Reload Speed: 47
Reload Time: 3.33s
Aim Assistance: 63
Inventory Size: 55
Zoom: 13
Airborne Effectiveness: 12
Recoil: 69
Bounce Intensity: 31
Rounds Per Minute: 120
Magazine: 6
The God Roll for Cataphract GL3 depends on your preference and playstyle, but here are some recommended perk combinations for both PvE and PvP:
Top PvE God Roll for Cataphract GL3:
Barrel

: Quick Launch

Magazine

: Spike Grenades

Column 3 Trait

: Auto-Loading Holster

Column 4 Trait

: Bait and Switch

Masterwork

: Velocity
The Cataphract GL3 shines in PvE. Pick a Velocity-boosting barrel for better performance, with a Velocity masterwork for added damage. Prioritize Spike Grenades for the magazine, but Blast Radius works if Spike Grenades isn't available. Auto-Loading Holster is usually best in Column 3, while Envious Assassin and Field Prep are also good. For Column 4, choose between Explosive Light for burst damage and Bait and Switch for overall damage.
Top PvP God Roll for Cataphract GL3:
Barrel

: Volatile Launch

Magazine

: High-Explosive Ordnance

Column 3 Trait

: Impulse Amplifier

Column 4 Trait:

Chain Reaction

Masterwork

: Blast Radius
This Cataphract GL3 configuration is monstrous in PvP. Enhance blast radius through minor perks, aiming for maximum impact. With Impulse Amplifier and Chain Reaction as major traits, this launcher becomes devastating. Consider adding an Adept Blast Radius mod to the Adept version for an extra edge. This setup is highly recommended for PvP combat.
Is the Cataphract GL3 Worth the Farm?
Cataphract GL3 Grenade Launcher farming in Destiny 2 is challenging work that takes lots of time and skill. But don't worry if you don't have the opportunity to grind or know how. That's what Gamingcy's carry services are for.
We have expert Destiny 2 sherpas who really know what they're doing. They will do the hard work of farming the Cataphract GL3 for you. This way, you can enjoy the game more. Whether you're new to the game or have been playing for years, getting this amazing grenade launcher is really exciting.
Trust Gamingcy to help you out. Our boosts make sure you get to use this awesome weapon and feel like a champ in the game. We're here to make your Destiny 2 game better than ever. We'll help you unlock all the great things the Cataphract GL3 can do, and you'll have a blast using it.
ETA:
Average starting time: 1-3 hours
Average Execution time: 4-10 hours
Rewards you will get:
Cataphract GL3

Legendary Power Grenade Launcher;
Trials of Osiris wins;
Unique Armor and Weapon drops from the Trials of Osiris;
Exp for your Season Pass and Artifact level.
Options available:
Random Roll

: a weapon with

random perk

combos.

Rolls with Guaranteed Perk

: We will get you a weapon with the

desired perk

roll.

God roll:

We will get you a weapon with the desired

god roll

.

Recovery:

an experienced player will securely log into your account and do all the work for you.

Sherpa:

you will play your character yourself with a group of our professional player(s).
Requirements + Important notes:
1800+ Power Level

Trials Access Quest

completed
This weapon can be received

only while this weapon is in the weekly rotation

. If it's not in the current weekly rotation – we'll wait until it becomes obtainable again.