Undead Heritage Armor Boost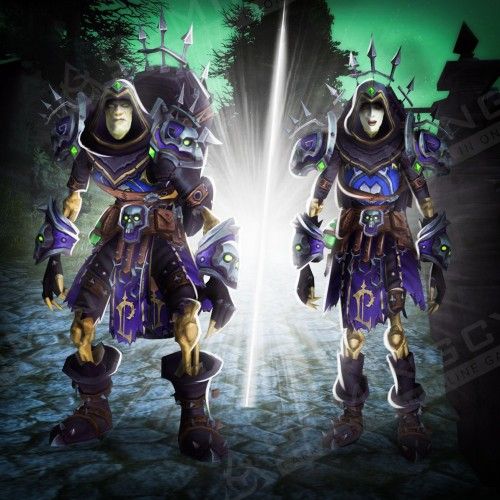 Boosting Schedule
Set the time when the booster may play your account with your manager. We can provide your whole carry while you're AFK without disturbing your usual gaming time!

Hide My Boost
We've developed this unique software to protect you from bans and suspensions. It allows account sharing without flagging an account.

Secure Payments
You can pay securely with PayPal or your Credit Card via Stripe. All payments are covered with the customer protection system and money back guarantee!

Secure Web-site
SSL and HTTPS protocols are used for your 100% privacy & data safety

Enlarge your collections!
An extensive list of unique & rare transmogs makes your gameplay brighter and your whole account more precious!
Welcome to our website, where you can buy Undead Heritage Armor set boosting in World of Warcraft Dragonflight. We guarantee a 100% completion of the entire armor set. This service is available for all EU and US servers, including North America, Latin America, and Oceania. Our skilled gamers will take control of your account and fulfill all the necessary requirements on your behalf. As a result, you will swiftly unlock the Undead Heritage Armor while retaining all your in-game achievements, gold, and any additional bonuses earned during the service.
What is an Undead Heritage Armor?
Undead Heritage Armor is a special gear in World of Warcraft Dragonflight, specifically designed for Forsaken characters. It is obtained through a unique questline tailored for the Forsaken race.The questline for this armor set provides Forsaken players with a unique and thematic set of armor that is tailored to their race. The armor is not only a cosmetic enhancement but also a symbol of the Forsaken's heritage within the game. To participate, you must meet three primary conditions:
Your in-game character must be Undead.
You must have completed the "Return to Lordaeron" questline.
Your character should be at least level 50.
Once you've confirmed that you meet these requirements, you can find Lilian Voss within the Ruins of Lordaeron. There, you will have the opportunity to accept the starting quest, known as "Unliving Summons."
How to unlock an Undead Heritage Armor Set?
In World of Warcraft's Dragonflight Patch 10.1.7, players were eagerly awaiting the release of a captivating new racial questline that would allow Undead characters to embark on a journey to claim their coveted Heritage Armor sets. The Forsaken Heritage story was a highly anticipated addition to the game, promising to dive deep into the lore of the Undead and confront a long-standing adversary: the Scarlet Crusade. Our PRO gamer will complete everything for you turnkey during the boost you purchase.
Upon successfully completing this quest, you will receive the prestigious Ensemble: Forsaken Champion's Attire, which is the coveted Undead Heritage Armor. As an extra bonus, the questline will also grant you access to two brand-new tabards: the Forsaken Champion's Tabard and the Queen Loyalist's Tabard.
How Fast Can You Start and Complete this Boost for my Undead?
Our commitment is to efficiently fulfill all boosts available on our platform. Our dedicated team is accessible around the clock to assist you, collaborating with an extensive network of skilled gaming professionals. Typically, we initiate these types of transmogrification requests within a time frame of 15 to 80 minutes and aim to complete them within 6 to 8 hours.
Undead Heritage Armor Farm:
All you need to know
Our Undead Heritage Armor farming service is centered around simplifying your PvE gaming experience and providing our esteemed clients with a definitive solution for efficient xmog collectibles unlocking in WoW. We aim to be your one-stop shop for all your World of Warcraft needs.
Our comprehensive carry ensures that your investment yields the desired results, effectively eliminating the often frustrating grind that players encounter. The entire process is designed to be swift, user-friendly, and straightforward:
Add to your cart and securely complete your order payment using various modes like Visa, MasterCard, or Crypto.
After a successful payment, reach out to your dedicated manager through Discord, Skype, or Email. This personalized chat ensures that all your queries and concerns are promptly addressed.
You and your manager will collaboratively schedule the most convenient time for your boosting service, or you can choose to start with the earliest available pilot.
Our expert gamer will swiftly complete the "Unliving Summons" questline on your Undead character.
Upon completion, our support agent will promptly notify you through Discord, Skype, or Email about the successful accomplishment of the task.
We NEVER use any third-party software or exploits, and we doall the work MANUALLY.
ETA:
Average starting time: 1-3 hours
Average Execution time: 6-8 hours
Rewards you will get:
Undead Heritage Armor set

unlocked:
You will keep all the

gold and rewards

that may be received during the boost.
Requirements + Important notes:
50+ level

Undead in EU or US servers

Account sharing

(an experienced player will securely log into your account and do all the work for you)