Night Elf Heritage Armor Boost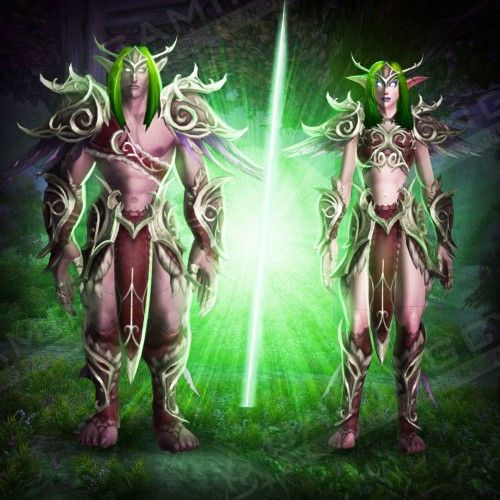 Boosting Schedule
Set the time when the booster may play your account with your manager. We can provide your whole carry while you're AFK without disturbing your usual gaming time!

Hide My Boost
We've developed this unique software to protect you from bans and suspensions. It allows account sharing without flagging an account.

Secure Payments
You can pay securely with PayPal or your Credit Card via Stripe. All payments are covered with the customer protection system and money back guarantee!

Secure Web-site
SSL and HTTPS protocols are used for your 100% privacy & data safety

Enlarge your collections!
An extensive list of unique & rare transmogs makes your gameplay brighter and your whole account more precious!
On this page of our site, you can buy Night Elf Heritage Armor boosting, and get the complete set with a 100% guarantee. We offer this service for all EU and US servers, including those in North America, Latin America, and Oceania, within the World of Warcraft Dragonflight realm. Our skilled gamers will take control of your account to fulfill all the necessary requirements on your behalf. As a result, you'll swiftly unlock the Night Elf Heritage Armor transmogrification while keeping all your in-game achievements, gold, and any additional bonuses earned during the service.
What is a Night Elf Heritage Armor?
The Night Elf Heritage Armor is a special set of gear in World of Warcraft. This armor is designed to honor the legacy and cultural heritage of the NE race within the game. The Night Elf Heritage Armor is known for its ornate and distinctive design. It includes pieces for the feet, chest, waist, head, shoulders, hands, legs, and wrists. The set is considered a prestigious cosmetic item in World of Warcraft and allows NE characters to proudly display their cultural heritage.To participate in this endeavor, you must meet two primary prerequisites:
Your in-game character must belong to the Night Elf race.
Your character's level should be at least 50.
Once you've confirmed that both of these conditions are met, you can locate a scroll positioned on a table at the Stormwind Embassy to initiate the quest known as "The Clarion's Call."
How to unlock a Night Elf Heritage Armor Set?
In Patch 10.1.7 of World of Warcraft's Dragonflight expansion, a unique racial quest has been added, specifically tailored for Night Elf characters seeking to get their Heritage Armor sets. The Night Elf Heritage storyline revolves around the reemergence of demonic corruption in Felwood. Tyrande dispatched a group of Sentinels to investigate this menace, but regrettably, none of them returned. Consequently, she sought the aid of Maiev, who in turn personally requested the player's assistance. Our PRO gamer will complete everything for you turnkey during the boost you purchase.
Upon triumphant fulfillment of this quest, you shall be bestowed with the Ensemble: Kaldorei Protector's Adornment, which comprises the illustrious Night Elf Heritage Armor. Furthermore, this questline shall bestow upon you a new prestigious title, "Ama'shan." As an additional reward, you'll gain access to three captivating one-hand sword transmog appearances that form the esteemed Traditionalist Kaldorei Blades set: Moonlight Glaive, Glaive of the Blood Moon, and Duskrune Glaive.
How Fast Can You Start and Complete the Boost for my Night Elf Character?
Our commitment is to efficiently fulfill all the boosting services available on our website. We maintain 24/7 online operators and collaborate with a vast team of skilled gamers. Typically, we initiate orders of this transmogrification nature within a window of 15 to 80 minutes and complete them in approximately 6 to 8 hours.
Night Elf Heritage Armor Farm:
Essential information
The central idea behind our Night Elf Heritage Armor farming service is to enhance your PvE gaming experience and provide a comprehensive solution for unlocking coveted WoW collectibles. We aspire to be your one-stop destination for all your World of Warcraft requirements.
This all-encompassing service assures the desired results for your investment, effectively eliminating the tiresome grind that often frustrates players. The entire process is designed to be swift, user-friendly, and straightforward:
Add to the cart and securely complete your order payment using various methods such as Visa, Mastercard, or cryptocurrency.
After successful payment, reach out to your dedicated manager through Discord, Skype, or Email. This personalized communication ensures that all your questions and concerns receive prompt attention.
You and your manager will collaborate to schedule the most convenient time for your boosting service, or you can opt for the earliest available pilot.
Our expert gamer will complete the "The Clarion's Call" questline on your Night Elf character.
Upon completion, our support agent will promptly notify you via Discord, Skype, or Email about the successful accomplishment of the task.
We NEVER use any third-party software or exploits, and we doall the work MANUALLY.
ETA:
Average starting time: 1-3 hours
Average Execution time: 6-8 hours
Rewards you will get:
Requirements + Important notes:
50+ level

Night Elf in EU or US servers

Account sharing

(an experienced player will securely log into your account and do all the work for you)