Orc Heritage Armor Boost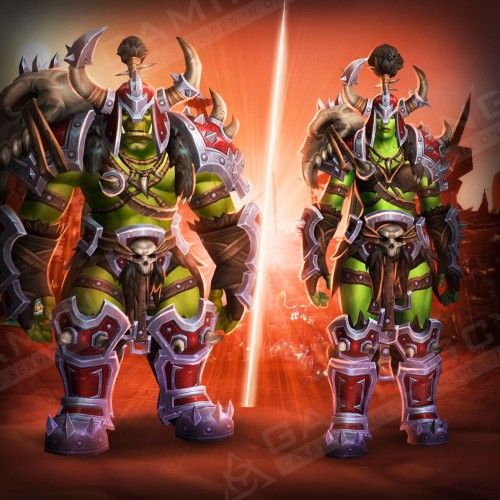 Boosting Schedule
Set the time when the booster may play your account with your manager. We can provide your whole carry while you're AFK without disturbing your usual gaming time!

Hide My Boost
We've developed this unique software to protect you from bans and suspensions. It allows account sharing without flagging an account.

Secure Payments
You can pay securely with PayPal or your Credit Card via Stripe. All payments are covered with the customer protection system and money back guarantee!

Secure Web-site
SSL and HTTPS protocols are used for your 100% privacy & data safety

Enlarge your collections!
An extensive list of unique & rare transmogs makes your gameplay brighter and your whole account more precious!
On this page of our site, you can buy Orc Heritage Armor boosting, and get the complete set with a 100% guarantee. This service is accessible on all EU and US servers, spanning North America, Latin America, and Oceania, within the World of Warcraft Dragonflight. Our proficient gamer will take the reins of your account, ensuring all necessary tasks are fulfilled on your behalf. This results in a swift unlocking of the Orc Heritage Armor transmogrification, while preserving all in-game achievements, gold, and any supplementary rewards garnered during the service.
What is an Orc Heritage Armor?
The Orc Heritage Armor Set, officially known as the "Wolf's Heritage," is a race-specific cosmetic gear in World of Warcraft. This unique armor set is designed for Orc characters and comes in three different color variations, including the red Wolf's Heritage Warsong Armor Set. The Orc Heritage Armor is a visually distinctive set that allows players to show their toon's heritage and pride. It's one of the race-specific sets introduced in World of Warcraft. To partake in it, you'll need to fulfill two primary conditions:
Your in-game character must be an Orc;
Your toon should be at least at level 50.
After you've ensured that both these requirements are met, you can proceed to locate Eitrigg within the Orgrimmar. Once you find him, you'll have the opportunity to accept the initial quest, known as "A People in Need of Healing."
How to unlock an Orc Heritage Armor Set?
In Patch 10.0.7 of World of Warcraft's Dragonflight, a brand-new racial quest awaits Orc characters, designed exclusively for obtaining their Heritage Armor sets. Eitrigg entrusts you with a crucial mission: the revival of the Kosh'harg festival in Draenor. To achieve this, you must earn three blessings: the Blessing of the Clan, the Blessing of the Land, and the Blessing of the Ancestors, enabling you to undertake an honorable rite known as om'gora, in front of the gathered clans. Throughout this questline, you will encounter familiar faces and ultimately acquire Heritage Armor inspired by the Orc Clans. When you purchase our transmogrification boost service, our professional gamer will handle all the necessary tasks for you, ensuring a seamless experience from start to finish.
Upon quest completion, you'll unlock three Orc Heritage Armor sets: Ensemble: Wolf's Heritage Warsong Armor Set, Ensemble: Wolf's Heritage Frostwolf Armor Set, and Ensemble: Wolf's Heritage Blackrock Armor Set. Each xmog set offers two style variations, one with trousers and one with skirts, along with two different helmet choices to suit your preference for facial coverage.
As a bonus reward from the questline, you'll also receive a Clan Banner that proudly displays the emblem of your chosen clan during the quest. If you ever want to change your clan representation or simply wish for a new flag, you can visit Envoy Korg in Razor Hill, Durotar. He'll provide the option to switch clans, which will update your Clan Banner toy accordingly.
How Fast Can You Start and Complete the Boost for my Orc Character?
Our commitment is to deliver swift and precise boosts for all the services available on our website. Our operators are available round the clock, and our team consists of numerous seasoned gamers. Typically, we initiate such transmogrification orders within a mere 15-80 minutes, with the entire process typically taking 6-8 hours to complete.
Orc Heritage Armor Farming:
All you need to know
Our Orc Heritage Armor farming service revolves around the core idea of streamlining your PvE gaming experience, providing a definitive solution for efficient WoW collectibles unlocking – a one-stop destination for all your World of Warcraft requirements.
This comprehensive service guarantees the desired results for your investment while intelligently bypassing the notorious grind that often frustrates players. The entire process is designed to be swift, user-friendly, and straightforward:
Add to your cart and securely complete your order payment using various methods, including Visa, Mastercard, or cryptocurrency.
After successful payment, reach out to your dedicated manager via Discord, Skype, or email. This personalized chat ensures quick resolution of any questions or concerns you may have.
Collaborate with your manager to schedule the most convenient time for your boosting service or opt for the earliest available pilot.
Our expert gamer will efficiently complete the "A People in Need of Healing" questline on your Orc character.
Once the job is done, our support agent will promptly inform you through Discord, Skype, or email.
We NEVER use any third-party software or exploits, and we doall the work MANUALLY.
ETA:
Average starting time: 1-3 hours
Average Execution time: 6-8 hours
Rewards you will get:
Orc Heritage armor sets

unlocked:
Clan Banner toy;
You will keep all the

gold and rewards

that may be received during the boost.
Requirements + Important notes:
50+ level

Orc in EU or US servers

Account sharing

(an experienced player will securely log into your account and do all the work for you)