Goblin Heritage Armor Boost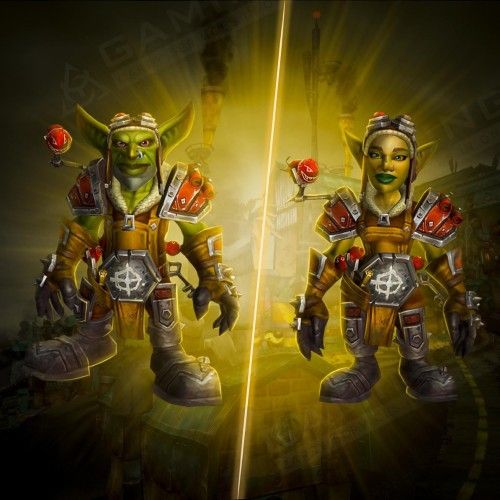 Boosting Schedule
Set the time when the booster may play your account with your manager. We can provide your whole carry while you're AFK without disturbing your usual gaming time!

Hide My Boost
We've developed this unique software to protect you from bans and suspensions. It allows account sharing without flagging an account.

Secure Payments
You can pay securely with PayPal or your Credit Card via Stripe. All payments are covered with the customer protection system and money back guarantee!

Secure Web-site
SSL and HTTPS protocols are used for your 100% privacy & data safety

Enlarge your collections!
An extensive list of unique & rare transmogs makes your gameplay brighter and your whole account more precious!
Welcome to our website where you can easily buy Goblin Heritage Armor boosting, securing the full set with a 100% guarantee. This exceptional service is accessible for all servers in the EU and US regions, encompassing North America, Latin America, and Oceania, within the World of Warcraft Dragonflight universe. Our seasoned gamers will skillfully handle your account, ensuring the completion of all necessary tasks. As a result, you'll enjoy a lightning-fast Goblin Heritage Armor unlock while retaining all your in-game achievements, gold, and any additional bonuses earned during the service.
What is a Goblin Heritage Armor?
The Goblin Heritage Armor is a special gear introduced in World of Warcraft for Goblin characters. It is part of the Heritage Armor system, which offers unique and thematic armor sets for different races in the game. The Goblin's set includes various pieces of armor and may have different style options, such as trousers or skirts, to suit player preferences. It is a unique transmogrification set that allows players to customize the appearance of their Goblin characters. In order to acquire the Goblin Heritage Armor, players must fulfill specific prerequisites:
Your in-game character must belong to the Goblin race.
Achieve Exalted reputation status with the Bilgewater Cartel faction.
Your character should attain a minimum level of 50.
Once you have confirmed that your character meets these criteria, you can then proceed to find Izzy at the Orgrimmar Embassy. Upon locating him, you'll be presented with the chance to accept the introductory quest titled "Old Friends, New Opportunities."
How to unlock a Goblin Heritage Armor Set?
Starting with the World of Warcraft's Battle for Azeroth Patch 8.3, Goblin characters embark on an exclusive questline to obtain their unique Heritage Armor sets. The journey starts with Sassy, who sends players to deliver a package to Hobart Grapplehammer. Along the way, you will assist Hobart with his inventive work, ultimately testing the remarkable X-52 Personnel Armor, a distinctive Goblin Heritage set. Although its defensive capabilities diminish by the questline's end, the gear retains its explosive and rocket-filled style. It offers two distinct helms, one with goggles worn and one with them raised, providing players with diverse fashion options. Our PRO gamer will complete everything for you turnkey during the boost you purchase.
How Fast Can You Start and Complete this Boost for my Goblin?
Our commitment is to swiftly and precisely fulfill all the xmog boosts available on our website. Our operators are accessible around the clock, collaborating with a vast team of skilled gamers. Typically, orders of this nature are initiated within a span of 15 to 80 minutes and are accomplished within 4-6 days.
Goblin Heritage Armor Farm:
All you need to know
Our Goblin Heritage Armor farming service revolves around simplifying your PvE gaming experience, providing an all-in-one solution for unlocking valuable WoW collectibles. We aim to eliminate the arduous grind that often frustrates players, offering a seamless and efficient process that ensures a desirable outcome for your investment.
Here's how it works in a nutshell:
Add the set to your cart and securely complete your order payment using various payment methods, including Visa, Mastercard, or cryptocurrency.
Once your payment is confirmed, reach out to your dedicated manager via Discord, Skype, or Email. This personalized chat ensures any questions or concerns you have are promptly addressed.
Together with your manager, schedule the most convenient time for your boosting service, or start with the earliest available pilot.
Our expert gamer will efficiently complete the "Old Friends, New Opportunities" questline on your Goblin character.
As soon as the task is accomplished, our support agent will promptly notify you via Discord, Skype, or Email.
We're here to make your World of Warcraft experience as quick, user-friendly, and straightforward as possible.
We NEVER use any third-party software or exploits, and we doall the work MANUALLY.
ETA:
Average starting time: 1-3 hours
Average Execution time: 4-7 days
Rewards you will get:
Goblin Heritage Armor Set

unlocked;

Exalted status

with the Bilgewater Cartel;
You will keep all the

gold and rewards

that may be received during the boost.
Requirements + Important notes:
50+ level

Goblin in EU or US servers

Account sharing

(an experienced player will securely log into your account and do all the work for you)