Dwarf Heritage Armor Boost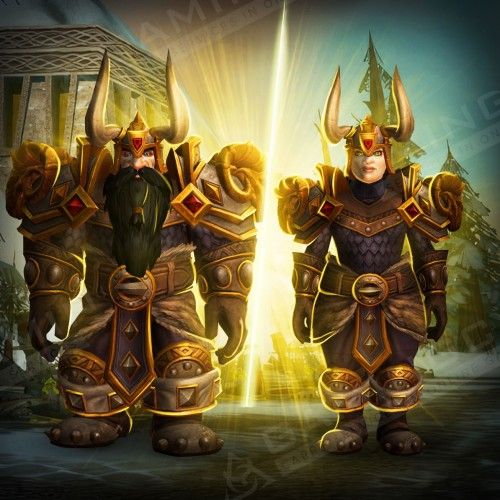 Boosting Schedule
Set the time when the booster may play your account with your manager. We can provide your whole carry while you're AFK without disturbing your usual gaming time!

Hide My Boost
We've developed this unique software to protect you from bans and suspensions. It allows account sharing without flagging an account.

Secure Payments
You can pay securely with PayPal or your Credit Card via Stripe. All payments are covered with the customer protection system and money back guarantee!

Secure Web-site
SSL and HTTPS protocols are used for your 100% privacy & data safety

Enlarge your collections!
An extensive list of unique & rare transmogs makes your gameplay brighter and your whole account more precious!
Welcome to our website, where you have the opportunity to buy the Dwarf Heritage Armor boosting service with a 100% satisfaction guarantee. This service is accessible for players on both the EU and US servers, including those in North America, Latin America, and Oceania, within the World of Warcraft Dragonflight realm. Our skilled gamers will take control of your account, fulfilling all the necessary criteria on your behalf. As a result, you can expect a swift and hassle-free unlocking of the Dwarf Heritage Armor, while preserving all your in-game achievements, accumulated gold, and any additional bonuses acquired during the service.
What is a Dwarf Heritage Armor?
The Dwarf Heritage Armor Set, known as the "Heritage of the Bronzebeard," is a cosmetic set in World of Warcraft. This gear can be used for transmogrification, allowing players to change their armor's appearance. It's part of WoW's Heritage Armor system, which offers unique cosmetic rewards for each playable race. To participate, you must meet three essential criteria:
Your in-game character must be a Dwarf.
Achieve Exalted reputation with Ironforge.
Ensure your character reaches a minimum level of 50.
Once you've confirmed these conditions, you can find Digger Golad at the Stormwind Embassy. Interact with him to commence the initial quest titled "Keep Your Feet On The Ground."
How to unlock a Dwarf Heritage Armor Set?
In World of Warcraft's Battle for Azeroth Patch 8.1, Dwarf characters have an exclusive questline to obtain their Heritage Armor sets. The journey begins with Digger Golad near the Stormwind Embassy, leading you to Gol'Bolar Quarry to find an ancient tablet that reveals the ceremonial Bulwark of the Mountain King. After collecting the shattered armor's shards, consulting blacksmith Grumnus Steelshaper, and recruiting Ignis the Furnace Master in Ulduar with Brann Bronzebeard, you return to Thelsamar for assistance from Bouldercrag the Rockshaper to acquire a longer-lasting Stoneform. To complete the ritual, you need a piece from the recent Earthen Ritual involving Magni's transformation into stone. Once you finish the Heritage of the Bronzebeard questline, our professional gamer will help you claim your Dwarven Heritage Armor as part of the boost you've purchased.
How Fast Can You Start and Complete the Boost for my Dwarf?
Our commitment is to swiftly and precisely fulfill all boosts available on our site. With our 24/7 online operators and a team of experienced gamers, we typically initiate such orders within 15-80 minutes and complete them within 6-8 hours.
Dwarf Heritage Armor Farming:
Step-by-step instruction
Our Dwarf Heritage Armor farming service is centered on enhancing your PvE gaming experience and providing an efficient solution for unlocking WoW collectibles. We aim to be your all-in-one destination for all your World of Warcraft needs.
This comprehensive carry service ensures a guaranteed transmog acquisition for your money, eliminating the frustrating grind that often plagues players. Our process is designed to be quick, user-friendly, and straightforward:
Add to your cart and securely complete your order payment using methods like Visa/Mastercard or Crypto.
After payment, reach out to your dedicated manager via Discord, Skype, or Email for personalized assistance with any questions or concerns.
You and your manager will schedule a convenient time for your boosting service or begin with the earliest available pilot.
Our expert gamer will efficiently complete the "Keep Your Feet On The Ground" questline on your Dwarf character.
Once the task is accomplished, our support agent will promptly notify you through Discord, Skype, or Email.
We NEVER use any third-party software or exploits, and we doall the work MANUALLY.
ETA:
Average starting time: 1-3 hours
Average Execution time: 6-8 hours
Rewards you will get:
Dwarf Heritage armor sets

unlocked;

Exalted status

with the Ironforge;
You will keep all the

gold and rewards

that may be received during the boost.
Requirements + Important notes:
50+ level

Dwarf in EU or US servers

Account sharing

(an experienced player will securely log into your account and do all the work for you)