Blood Elf Heritage Armor Boost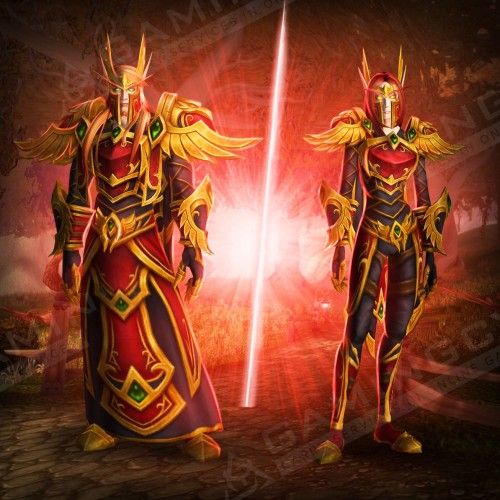 Boosting Schedule
Set the time when the booster may play your account with your manager. We can provide your whole carry while you're AFK without disturbing your usual gaming time!

Hide My Boost
We've developed this unique software to protect you from bans and suspensions. It allows account sharing without flagging an account.

Secure Payments
You can pay securely with PayPal or your Credit Card via Stripe. All payments are covered with the customer protection system and money back guarantee!

Secure Web-site
SSL and HTTPS protocols are used for your 100% privacy & data safety

Enlarge your collections!
An extensive list of unique & rare transmogs makes your gameplay brighter and your whole account more precious!
Welcome to our website, where you can buy Blood Elf Heritage Armor boosting and unlock the entire set with a 100% guarantee. This service is accessible for all EU and US servers, encompassing North America, Latin America, and Oceania servers, in the World of Warcraft Dragonflight. Our skilled gamers will take control of your account and fulfill all the necessary requirements on your behalf. As a result, you'll enjoy a swift and hassle-free unlocking of the Blood Elf Heritage Armor, while preserving all your in-game achievements, gold, and any additional bonuses earned during the service.
What is a Blood Elf Heritage Armor?
The Blood Elf Heritage Armor Set boost grants you a purely cosmetic ensemble within World of Warcraft, exclusively tailored for Blood Elf characters. This gear is entirely ornamental in nature and does not confer any gameplay advantages. Instead, the Blood Elf Heritage Armor Set offers a distinctive appearance, enabling BE characters to proudly display their lore. Engaging in the associated questline demands adherence to three primary prerequisites:
Your in-game character must belong to the Blood Elf race.
Your character should have attained an Exalted reputation with Silvermoon City.
Additionally, your character must reach at least level 60.
Once you've met these level and reputation prerequisites, you can commence the questline by seeking out Ambassador Dawnsworn at the Orgrimmar Embassy. This questline is aptly named "The Pride of the Sin'dorei."
How to unlock a Blood Elf Heritage Armor Set?
In World of Warcraft's Battle for Azeroth Patch 8.1, Blood Elf characters have a unique racial quest to obtain their Heritage Armor sets. This task involves the Fall of the Sunwell scenario, where players collaborate with Lor'themar, witness Arthas' invasion of Quel'Thalas, and Sylvanas' selfless sacrifice. It also explores Anasterian Sunstrider's last stand against Arthas. Completing this challenge reveals a rich narrative and rewards players with Blood Elf-themed armor.
Additionally, Patch 9.2.5 of Shadowlands has introduced an "Summons from the Matriarch" Questline, which is initiated by Lady Liadrin in Oribos. This content coincides with a resurgence of the Scourge in the Ghostlands and features the emergence of a well-known character who is finally ready for action
Our skilled professional gamer will handle all the tasks for you seamlessly as part of the boosting service you choose.
Upon successfully finishing this quest, you'll unlock the Blood Elf Heritage Armor set known as Heritage of the Sin'dorei. Furthermore, you'll be rewarded with the Elusive Emerald Hawkstrider mount and the Veil-Touched Ranseur Polearm Transmog. Paladins who complete this quest will receive a unique transmog set: Ensemble: Blood Knight's Dedication, which matches the attire worn by Blood Knight NPCs and includes the Blood Knight Tabard. In addition to the Blood Knight ensemble, Blood Elf Paladins will also gain access to a special cosmetic Polearm transmog upon quest completion: the Fallen Knight's Ranseur, an exact replica of the original Blood-Tempered Ranseur polearm.
How Fast Can You Start and Complete the Boost for my Blood Elf Character?
Our commitment is to efficiently and precisely fulfill all the boosts available on our website. With our 24/7 online operators and a team of numerous skilled gamers, we typically initiate such orders within a range of 15 to 80 minutes, completing them in just 6 to 8 hours.
Blood Elf Heritage Armor Farming:
All you need to know
Our Blood Elf Heritage Armor farming service revolves around enhancing your PvE gaming experience and providing an all-encompassing solution for efficiently unlocking collectibles in World of Warcraft. We aim to be your one-stop destination for all your WoW needs.
Our comprehensive carry ensures that your investment yields the desired results while sparing you from the often-dreaded grind that can be frustrating for players. The entire process is designed to be swift, user-friendly, and straightforward:
Begin by selecting the Blood Elf Heritage Armor Set you desire for your character. We offer a variety of options to suit different armor preferences.
Add your chosen item to your cart and securely complete your payment using various methods, including Visa, Mastercard, or cryptocurrency.
Once your payment is confirmed, reach out to your dedicated manager via Discord, Skype, or Email. This personalized chat ensures that all your questions and concerns are promptly addressed.
Together with your manager, you can schedule the most convenient time for your boosting service or start as soon as a pilot is available.
Our skilled gamer will efficiently complete the "The Pride of the Sin'dorei" and "Summons from the Matriarch" questlines on your Blood Elf character.
As soon as the job is finished, our support agent will promptly notify you via Discord, Skype, or Email.
With our streamlined process, we aim to make your WoW gaming experience hassle-free and enjoyable.
We NEVER use any third-party software or exploits, and we doall the work MANUALLY.
ETA:
Average starting time: 1-3 hours
Average Execution time: 6-8 hours
Rewards you will get:
Available options:
Heritage of the Sin'dorei:

We will complete "The Pride of the Sin'dorei" BfA quest line to get this set.

Elusive Emerald Hawkstrider:

We will complete "Summons from the Matriarch" SL quest line to get this mount.
Requirements + Important notes:
60+ level

Blood Elf in EU or US servers

Account sharing

(an experienced player will securely log into your account and do all the work for you)