Tauren Heritage Armor Boost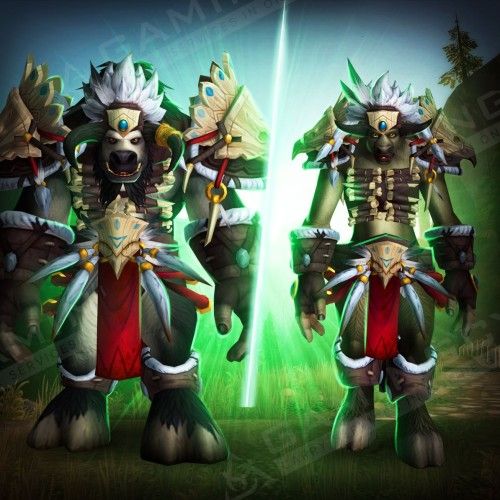 Boosting Schedule
Set the time when the booster may play your account with your manager. We can provide your whole carry while you're AFK without disturbing your usual gaming time!

Hide My Boost
We've developed this unique software to protect you from bans and suspensions. It allows account sharing without flagging an account.

Secure Payments
You can pay securely with PayPal or your Credit Card via Stripe. All payments are covered with the customer protection system and money back guarantee!

Secure Web-site
SSL and HTTPS protocols are used for your 100% privacy & data safety

Enlarge your collections!
An extensive list of unique & rare transmogs makes your gameplay brighter and your whole account more precious!
Welcome to our website, where you have the opportunity to buy a Tauren Heritage Armor boost. We offer a 100% guarantee that you will receive the entire set. This service is accessible on both EU and US servers, including those in North America, Latin America, and Oceania, for World of Warcraft Dragonflight. Our skilled gamer will take control of your account and complete all the necessary requirements on your character. As a result, you can expect a swift unlocking of the Tauren Heritage Armor transmogrification, while keeping all of your in-game achievements, gold, and any additional bonuses earned during the service.
What is a Tauren Heritage Armor?
Buying the Tauren Heritage Armor, you get a special cosmetic gear in World of Warcraft, specifically designed for Tauren characters. This transmog, known as the "Heritage of the Shu'halo," reflects the cultural and traditional aesthetics of this race. It provides a distinct appearance for Tauren characters, allowing players to showcase their pride in their heritage within the game. To engage in this undertaking, you must satisfy two key prerequisites:
Your in-game character must belong to the Tauren race.
Achieve the esteemed Exalted status with Thunder Bluff.
Your character should have reached a minimum level of 50.
Once you've confirmed that both of these conditions have been met, your next step is to seek out Spiritwalker Isahi, who resides within the hallowed halls of the Orgrimmar Embassy. Upon locating him, you will be presented with the opening quest titled "When Spirits Whisper," which marks the commencement of your journey.
How to unlock a Tauren Heritage Armor Set?
In World of Warcraft's Battle for Azeroth Patch 8.2, a new racial quest has been introduced exclusively for Tauren characters to claim their Heritage Armor sets. The quest's genesis introduces us to none other than Baine in the venerable city of Thunder Bluff, beseeching our assistance in quelling malevolent spirits that plague their lands. The final of this arduous journey brings forth the ultimate reward, the illustrious Tauren Heritage Armor. Our PRO gamer will complete everything for you turnkey during the boost you purchase.
Upon triumphant completion of this ultimate quest, we are bestowed with the illustrious Tauren Heritage Armor, an embodiment of the heritage of the Taur-ahe, replete with an ornate totem gracing our backs. Additionally, as a testament to our valor, we are graced with the Ancient Tauren Talisman - a revered artifact that bestows upon us the fleeting ability to summon forth the venerable Ancient Kodo once more, evoking a sense of nostalgia and reverence for this race's legacy.
How Fast Can You Start and Complete the Boost for my Tauren Character?
We always strive to complete all boosts that you purchase at our site in a fast and accurate manner. Our operators are online 24/7, and we work with hundreds of expert gamers. We usually start this kind of transmogrification orders within 15-80 minutes, and it takes us 6-8 hours.
Tauren Heritage Armor Farming:
All you need to know
Our Tauren Heritage Armor farming service is rooted in a core concept: to streamline your PvE gaming experience and provide our cherished clients with an all-encompassing solution for efficient WoW collectibles acquisition. We are your one-stop destination for all your World of Warcraft requirements.
This all-inclusive service ensures a guaranteed return on your investment, cleverly bypassing the arduous grind that often vexes players. The entire process has been meticulously crafted for speed, user-friendliness, and simplicity:
Add to your cart and securely complete your order through multiple payment options, including Visa/Mastercard and cryptocurrency.
Following a successful payment, reach out to your dedicated manager via Discord, Skype, or Email. This personalized channel ensures prompt resolution of all your queries and concerns.
Collaborate with your manager to schedule the most convenient time for your boosting service, or initiate it at the earliest available opportunity.
Our proficient gamer will efficiently navigate the "When Spirits Whisper" questline on your Tauren character.
Upon successful completion, our support agent will promptly notify you through Discord, Skype, or Email, delivering the gratifying news of your accomplishment.
We NEVER use any third-party software or exploits, and we doall the work MANUALLY.
ETA:
Average starting time: 1-3 hours
Average Execution time: 6-8 hours
Rewards you will get:
Tauren Heritage armor set

unlocked;

Exalted status

with the Thunder Bluff;
You will keep all the

gold and rewards

that may be received during the boost.
Requirements + Important notes:
50+ level

Tauren in EU or US servers

Account sharing

(an experienced player will securely log into your account and do all the work for you)