Vicious Saddle Boost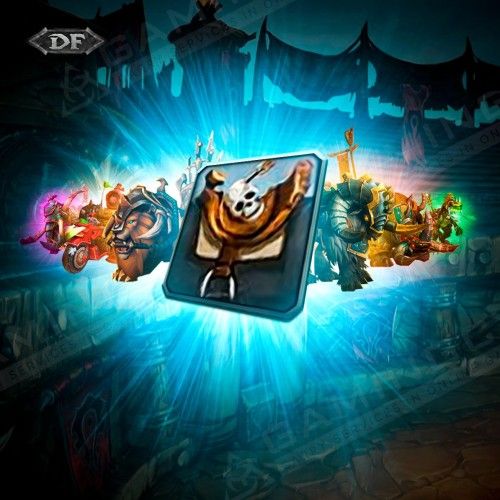 24/7 support
Get a helpful human reply in ±15 seconds!

Hide My Boost
We've developed this unique software to protect you from bans and suspensions. It allows account sharing without flagging an account.

Secure Payments
You can pay securely with PayPal or your Credit Card via Stripe. All payments are covered with the customer protection system and money back guarantee!

Secure Web-site
SSL and HTTPS protocols are used for your 100% privacy & data safety
Experience the convenience of buying a Vicious Saddle boost for real money in WoW through this service.
The Vicious Saddle is a highly prized item in World of Warcraft, earned by devoted players who engage in rated PvP battles. To receive this valued item, you must fill your rated PvP progress bar to 100% at the Combatant rank (1000+) after obtaining the seasonal mount (generally, every season, the first reward you get for filling the bar is the seasonal mount. And every time you fill the bar again - you receive Vicious Saddles).
Remember: the progress won't transfer to the next season, so completing the bar during the current season is essential. Once the rated PvP progress bar reaches 100%, you are awarded the Vicious Saddle, which can be used to acquire various Vicious mounts from your respective faction's Combatant Mount Quartermaster. These mounts symbolize your achievements in PvP and showcase your dedication and expertise in World of Warcraft's competitive environment.
Vicious mounts have an impressive history in World of Warcraft, hailing back to the four original rank 11 mounts from the classic game. Over time, the range of Vicious mounts has expanded, offering gamers a wide variety of choices. Each expansion brings a new set of Vicious mounts, maintaining the tradition and excitingly motivating PvP fans to keep competing.
In World of Warcraft Dragonflight, players can still obtain Vicious Saddles to purchase available PvP mounts. Like previous expansions, participating in rated PvP battles and filling the rated PvP progress bar is crucial for unlocking these distinguished rewards. By climbing the ranks and proving their worth in the arena, gamers can claim their Vicious Saddle and ride into combat on a mount that represents their hard-won accomplishments. As World of Warcraft continues to grow and develop, the Vicious Saddle remains a sought-after reward for PvP enthusiasts, symbolizing both the excitement of the pursuit and the triumph of victory.
Our professional gamer will securely access your account and participate in various PvP fights until he receives 1000 PvP points. As a result, you'll get the Vicious War Snail WoW Dragonflight seasonal mount for the first 1000+ points this season.
If you've already unlocked the seasonal mount, you'll be awarded the Vicious Saddle item instead.
The Vicious Saddle boost service offered by Gamingcy presents an excellent opportunity to save time and effort. You'll also retain any RNG-based PvP rewards earned during the carries.
VICIOUS SADDLE CARRY: PRICING
We aim to provide the best value for your money when offering our Vicious Saddle carry services. By purchasing multiple saddles, you can obtain several items at bundled prices, with discounts up to 25% possible. This is an ideal chance to expand your World of Warcraft collection without breaking the bank.
We're able to maintain competitive prices for our Vicious Saddle boosts because we collaborate with over 427 expert PvP gamers across EU and US servers. We also offer limited-time sales, providing even better deals for your purchase. Both Horde and Alliance factions are supported.
Quickly and affordably catch up to and surpass your friends' and guildmates' Dragonflight progress by purchasing a Vicious Saddle at Gamingcy.com!
HOW TO Get VICIOUS SADDLE IN WOW DRAGONFLIGHT?
The solution is straightforward! Buy Vicious Saddle WoW PvP mounts at Gamingcy.com!
Our site's boosting services are delivered by top-tier World of Warcraft guilds and executed swiftly and securely. We also strive to make our carries as budget-friendly as possible. Our professional PvPers know the quickest and most efficient methods for farming any PvP activity.
Bypass the time-consuming grind of arenas and battlegrounds alone or with pickup groups. Save significant time, effort, and money by purchasing a Vicious Saddle boost from Gamingcy. Acquire your mount at a low cost and without stress. Explore a quick and effortless way to attain highly coveted rewards from World of Warcraft's most challenging activities. Expand your collection of WoW PvP mounts today!
ETA:
Average starting time: 2-4 hours
Average Execution time: 2-5 days per saddle
Rewards you will get:
REQUIREMENTS + IMPORTANT NOTES:
70 level

character in EU or US server

Account Sharing

(an experienced player will securely play your account during the boost)
Keep in mind that if you need to get the Vicious Saddle item, and you haven't received the Vicious War Snail mount yet - you should order at least 2x Vicious Saddle since the first item will be automatically exchanged for the Vicious War Snail mount