The Mag'har Reputation Boost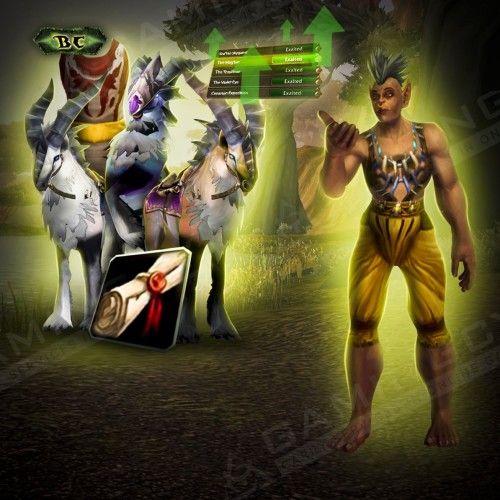 Boosting Schedule
Set the time when the booster may play your account with your manager. We can provide your whole carry while you're AFK without disturbing your usual gaming time!

24/7 support
Get a helpful human reply in ±15 seconds!

Hide My Boost
We've developed this unique software to protect you from bans and suspensions. It allows account sharing without flagging an account.

Secure Payments
You can pay securely with PayPal or your Credit Card via Stripe. All payments are covered with the customer protection system and money back guarantee!

Secure Web-site
SSL and HTTPS protocols are used for your 100% privacy & data safety
On this page we offer you to buy a fast Mag'har Rep Boost provided by a professional PvE gamer. Our services provide access to exclusive faction rewards and Mag'har of Draenor achievement.
The Mag'har, an unwavering and honorable group of untainted orcs in World of Warcraft: The Burning Crusade, reside within Nagrand's harsh surroundings, an Outland region. Unaffected by demonic forces, they uphold traditional orcish ideals such as courage, honor, and devotion, reflecting their people's rich cultural roots. The Mag'har also play a crucial role in the story of Outland, and allying with them is essential for players wanting to uncover the rich lore and history of this shattered world.
How Does the Mag'har Rep Leveling Work?
To build a reputation with the Mag'har, you must participate in various quests, including dailies completion, defeating foes, and traversing the hazardous landscapes of Outland. As your standing with this esteemed faction improves, you can obtain exclusive rewards like distinctive mounts, visually appealing tabards, and potent equipment to assist in their adventures.
WoW Mag'har Rep Farming:
The Process Explained
Our Mag'har rep leveling is designed to be quick, hassle-free, and cost-effective. Once you purchase our service, you can sit back and relax, our operator will contact you via Discord, Skype, or Email within 5-10 minutes of payment. Alternatively, you can reach out to us directly on Discord at Gamingcy, and we're available round the clock.
During the chat, we'll discuss your preference for playing schedule, starting time, and other details that might help us tailor the power-leveling process to your needs.
Our support team will keep you in the loop at all times and notify you as soon as the job is done. So, if you'd rather not waste dozens of hours doing tedious farming, let our experienced pro gamer build your rep with The Mag'har faction instead.
WoW Mag'har Rep Boost:
What no one tells you
What advantages come with opting for this service?
By purchasing the Mag'har rep farming, our professional boosters will play securely on your account to complete the required faction quests and dailies. We guarantee an Exalted Rep lvl, and offer various customizable options to ensure the most efficient and cost-effective service. At our site, we offer a hassle-free and enjoyable leveling experience that skips the tedious rep grinding. Our reputation boost is the fastest way to unlock outstanding rewards and rank up with Mag'har.
Why is it smart to let our professional do the whole job for you?
Gamingcy holds the conviction that online gaming should be a source of happiness and positivity, leaving you with a sense of contentment after each gaming session. Engaging in challenging activities like raids, dungeons, and arenas can offer the thrill and pleasure you desire in World of Warcraft. In contrast, dedicating time to grind reputation quests feels more like monotonous, routine work – almost like a regular job – rather than providing enjoyable gameplay. Spending precious gaming hours to earn favor with the Mag'har might not be the most prudent use of your time as an adult.
How much time will I save?
Typically, the process takes 1-3 days to achieve the coveted Exalted standing, but various reputation buffs could speed up things. We pride ourselves in offering the fastest boosting service possible.
WoW Reputation Ranks follow the progression:
Hated —> Hostile —> Unfriendly —> Neutral —> Friendly —> Honored —> Revered —> Exalted.
The Mag'har Quartermaster and location
Provisioner Nasela, the factional quartermaster and primary vendor for the Mag'har, is your destination for purchasing exclusive items that become available as your reputation levels advance. You can locate Provisioner Nasela at coordinates 53.4, 36.8 in the Nagrand region.
Here, you'll find a catalog of the most notable rewards that you can acquire from Provisioner Nasela:
ETA:
Average starting time: 1-5 hours
Average Execution time: The Mag'har exalted boosting takes 1-3 days
Rewards you will get:
Mag'har of Draenor achievement;
The Exalted rank with faction and access to all factional rewards.
Options available:
Reputation: Choose your current rank with the Mag'har.
Requirements + Important notes:
70 level

horde character in EU or US server

Account sharing

(an experienced player will securely log into your account and do all the work for you)