The Consortium Reputation Boost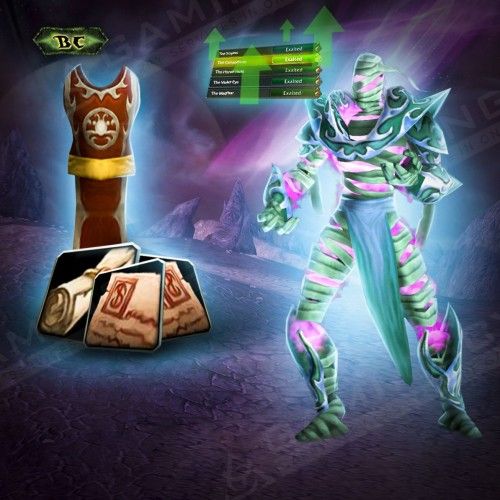 Boosting Schedule
Set the time when the booster may play your account with your manager. We can provide your whole carry while you're AFK without disturbing your usual gaming time!

24/7 support
Get a helpful human reply in ±15 seconds!

Hide My Boost
We've developed this unique software to protect you from bans and suspensions. It allows account sharing without flagging an account.

Secure Payments
You can pay securely with PayPal or your Credit Card via Stripe. All payments are covered with the customer protection system and money back guarantee!

Secure Web-site
SSL and HTTPS protocols are used for your 100% privacy & data safety
On this page you can buy Consortium Rep Boost in World of Warcraft Dragonflight. By choosing the Exalted rank boost, you can gain access to unique faction rewards and Chief Exalted Officer achievement.
The Consortium is a neutral faction in World of Warcraft's The Burning Crusade expansion, consisting of ethereal smugglers and traders who operate across Outland. You can earn a Consortium reputation by completing quests, engaging in specific activities, and venturing into certain dungeons.
How Does the Consortium Rep Leveling Work?
Our qualified booster will securely play your account, grinding factional quests and dailies until reaching the Exalted Rep level. Leveling your Consortium reputation grants access to unique rewards, including recipes, tabard, gems, and gear. To boost your reputation swiftly, you can undertake quests in Netherstorm, such as those provided by the Ethereum Prison and the Mana-Tombs dungeon. Running the Mana-Tombs on both normal and heroic difficulties and completing daily quests in Netherstorm can significantly contribute to reputation gains.
WoW Consortium Rep Farming:
The Process Explained
We have designed our Consortium rep leveling service to be fast, hassle-free, and affordable. Once you purchase, you can relax knowing we will take care of everything else. Our operator will contact you within 5-10 minutes via Discord, Skype or Email. If you prefer, you can contact us directly on Discord at Gamingcy. Our team is available to assist you 24/7.
During your Messenger discussion, you can inform us of your preferred Consortium reputation power leveling schedule, start time, ETA, and other details. Our booster's ultimate goal is to help you reach the Exalted standing in the fastest possible way.
Our support manager will provide regular updates on the boosting process and immediately inform you once the job is completed. Skip the tedious farming and let our expert Pro gamer do the work for you, saving you countless hours!
WoW Consortium Rep Boost:
What no one tells you
Why purchase this reputation farming service?
Our site offers various types of Consortium rep farming, allowing you to upgrade your current standing with this faction to the maximum level. This carry is fully customizable, ensuring a guaranteed result without overpaying. Our experience shows that purchasing the Consortium reputation boost on our site is the quickest way to obtain exceptional rewards, bypassing the tedious rep grinding. Gamingcy makes the entire leveling process effortless and enjoyable, handling the entire job turn-key.
Gamingcy holds the belief that online gaming should be a source of joy and positivity, leaving you with a sense of increased happiness after each gaming session. Engaging in challenging activities like raids, dungeons, and arenas can offer the excitement and enjoyment you desire in the world of Warcraft. On the other hand, grinding reputation quests feels more like monotonous, repetitive work, resembling a daily job, rather than providing an entertaining gaming experience. Investing your precious gaming time in building reputation with Consortium might not be the most sensible use of your time as a mature gamer.
Depending on your chosen plan, it usually takes 1-5 days to achieve this. With the aid of various reputation buffs, progress can be tremendously accelerated.
WoW Reputation Ranks follow this logic:
Hated —> Hostile —> Unfriendly —> Neutral —> Friendly —> Honored —> Revered —> Exalted.
The Consortium Quartermaster and location
Paulsta'ats, the Consortium's quartermaster and primary vendor, is your one-stop shop for exclusive items that become accessible as you progress through reputation levels. To locate him, head to coordinates 30.6, 57.0 in the Nagrand area.
Here's a list of the most notable rewards available for purchase from Paulsta'ats:
ETA:
Average starting time: 1-5 hours
Average Execution time: The Consortium exalted boosting takes 1-5 days
Rewards you will get:
Options available:
Reputation: Choose your current rank with the Consortium.
Requirements + Important notes:
70 level

character in EU or US server

Account sharing

(an experienced player will securely log into your account and do all the work for you)