The Cenarion Expedition Reputation Boost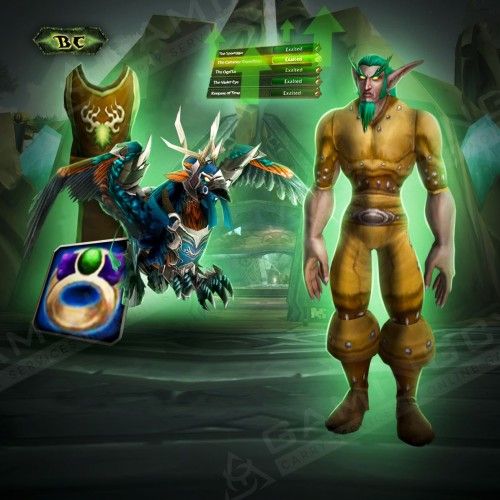 Boosting Schedule
Set the time when the booster may play your account with your manager. We can provide your whole carry while you're AFK without disturbing your usual gaming time!

24/7 support
Get a helpful human reply in ±15 seconds!

Hide My Boost
We've developed this unique software to protect you from bans and suspensions. It allows account sharing without flagging an account.

Secure Payments
You can pay securely with PayPal or your Credit Card via Stripe. All payments are covered with the customer protection system and money back guarantee!

Secure Web-site
SSL and HTTPS protocols are used for your 100% privacy & data safety
Here you can purchase the Cenarion Expedition Rep Boost in WoW Dragonflight.
The Cenarion Expedition, a faction featured in World of Warcraft's The Burning Crusade expansion, is an organization devoted to exploring and protecting the Outland's natural environments. They are stationed in Zangarmarsh, with their main base at Cenarion Refuge.
To increase your reputation with the Cenarion Expedition, you can complete various quests, run dungeons like The Slave Pens and The Underbog, and turn in Unidentified Plant Parts. As your standing with the faction improves, you'll unlock unique rewards from their Quartermaster, such as rare crafting recipes, equipment, and the Cenarion War Hippogryph mount upon reaching Exalted status.
By buying this boost, you will gain access to unique rewards. The table below highlights the items available at each reputation level.
Our professional booster will securely play your account, completing various factional quests and dailies until they reach the Exalted Rep level. At our website, you can obtain different types of Cenarion Expedition rep farming services, with the option to upgrade your existing rep standing with the faction up to the maximum level. Our services are fully customizable, ensuring a guaranteed outcome without any unnecessary costs.
To our experience, we have found that purchasing the Cenarion Expedition reputation boost at our site is the quickest way to access outstanding rewards, without the tedious task of rep grinding. Gamingcy will make the entire leveling process hassle-free and enjoyable by completing the job from start to finish.
The WoW Reputation Ranks follow a specific logic sequence, starting with Hated, then progressing to Hostile, Unfriendly, Neutral, Friendly, Honored, Revered, and ultimately, Exalted.
Cenarion Expedition Reputation Powerleveling:
How does it work?
Cenarion Expedition reputation power leveling is a hassle-free service designed to be quick, easy, and affordable. Simply make your purchase and our operator will contact you within 5-10 minutes via Discord, Skype, or Email. Alternatively, you can reach us on Discord at Gamingcy – we're available 24/7.
After discussing your preferences, including play schedule, starting time, ETA, and key details, our dedicated booster will get to work. Typically, it takes 5-7 days to reach the highly coveted Exalted status, but various buffs may speed up the process. Regardless of the approach, our booster prioritizes rapid progress to reach your goal as quickly as possible.
We keep you informed throughout the process and immediately let you know when it's complete. This means you can skip the tedious farming and let our expert pro gamer handle everything for you. Save dozens of hours and avoid the stress of leveling up your Cenarion Expedition reputation by trusting our reliable team to do it for you.
Below you can find the list of the most significant rewards, which you can purchase from the Fedryen Swiftspear, quartermaster of this faction:
ETA:
Average starting time: 1-5 hours
Average Execution time: Cenarion Expedition exalted boosting takes 5-7 days
Rewards you will get:
The Exalted rank with faction and access to all factional rewards.
Options available:
Reputation: Choose your current rank with the Cenarion Expedition.
Requirements + Important notes:
70 level

character in EU or US server

Account sharing

(an experienced player will securely log into your account and do all the work for you)