The Ogri'la Reputation Boost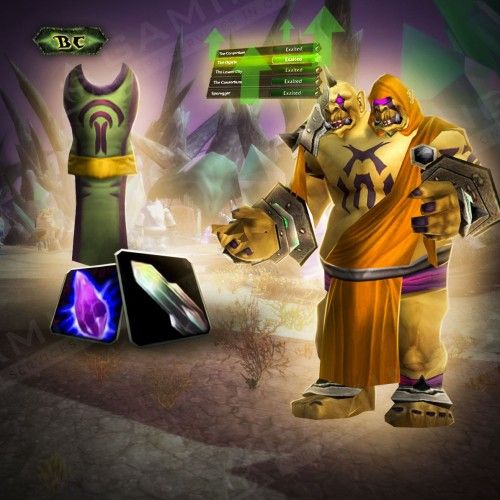 Boosting Schedule
Set the time when the booster may play your account with your manager. We can provide your whole carry while you're AFK without disturbing your usual gaming time!

24/7 support
Get a helpful human reply in ±15 seconds!

Hide My Boost
We've developed this unique software to protect you from bans and suspensions. It allows account sharing without flagging an account.

Secure Payments
You can pay securely with PayPal or your Credit Card via Stripe. All payments are covered with the customer protection system and money back guarantee!

Secure Web-site
SSL and HTTPS protocols are used for your 100% privacy & data safety
Here you can buy Ogri'la Rep Boost in World of Warcraft Dragonflight. It's a Neutral WoW TBC faction. Choosing the Exalted rank boost will give you access to unique factional rewards and the A Quest a Day Keeps the Ogres at Bay achievement.
Ogri'la is a faction in World of Warcraft, comprised of ogres and gronn in the Blade's Edge Mountains. They defend their land from threats of the Burning Legion. Players gain reputation by completing quests and killing mobs, unlocking unique rewards like mounts and armor. One main storyline involves battling fel corruptors. With its immersive story and characters, Ogri'la offers a thrilling experience in the game.
How Does the Ogri'la Rep Leveling Work?
Our professional booster will securely play your account and grind various factional quest lines and dailies until you reach the Exalted Rep lvl.
WoW Ogri'la Rep Farming:
The Process Explained
We've made our Ogri'la rep leveling service fast, simple, and affordable. Once you make a purchase, our operator will contact you within 5-10 minutes via Discord/Skype/Email to discuss your preferences, such as your playing schedule, starting time, ETA, and other details. You can also reach out to us directly on Discord at Gamingcy - we're available 24/7!
Throughout the boosting process, our support manager will keep you updated and let you know as soon as the job is done. Say goodbye to tedious farming and let our expert pro gamers save you dozens of hours by building up your rep with the Ogri'la faction!
WoW Ogri'la Rep Boost:
What no one tells you
Why purchase this reputation farming service?
We offer different kinds of Ogri'la rep farming that can upgrade your current rep standing with this faction up to the max level. Our carry is fully customizable and provides a guaranteed result without overpaying. We have found that buying the Ogri'la reputation boost at our site is the quickest way to unlock outstanding rewards while skipping the boring rep grinding. Gamingcy ensures that the entire leveling process is hassle-free and enjoyable.
Why is it smart to let our professional do the whole job for you?
Here at Gamingcy, we're firm believers that online gaming should be all about spreading happiness and positivity. We want your gaming sessions to leave you feeling even happier than when you started. While participating in challenging activities like raids, dungeons, and arenas can deliver the excitement and enjoyment you crave in the world of WoW, grinding through reputation quests can often feel like a monotonous chore – almost like a day job. Spending your precious gaming hours to build your reputation with the Ogri'la may not be the most productive use of your time as a responsible adult.
Typically, it takes only 7-21 days to reach Exalted status with various reputation buffs that may help speed up the process. Our boosters always strive to provide the quickest possible service.
The WoW Reputation Ranks follow the logic of

:
Hated -> Hostile -> Unfriendly -> Neutral -> Friendly -> Honored -> Revered -> Exalted.
The Ogri'la Quartermaster and location
Jho'nass, the quartermaster for the Ogri'la faction and the main vendor, is your destination for acquiring exclusive items that become available as your reputation levels increase. You can locate Jho'nass at coordinates 28.0, 58.6 in the Blade's Edge Mountains area.
Here's a list of the most notable rewards you can obtain from Jho'nass:
ETA:
Average starting time: 1-5 hours
Average Execution time: Ogri'la exalted boosting takes 7-21 days
Rewards you will get:
Options available:
Reputation: Choose your current rank with the Ogri'la.
Requirements + Important notes:
70 level

character in EU or US server

Account sharing

(an experienced player will securely log into your account and do all the work for you)