The Stormwind Reputation Boost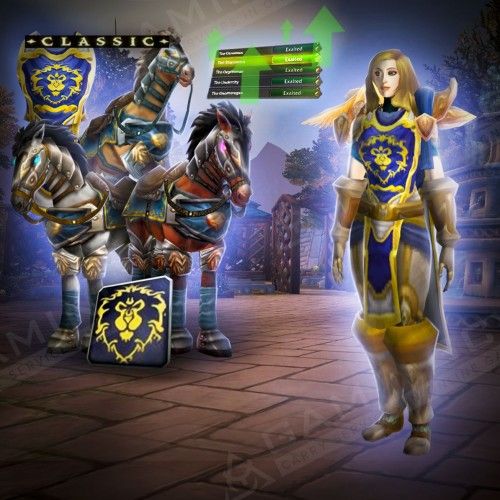 Boosting Schedule
Set the time when the booster may play your account with your manager. We can provide your whole carry while you're AFK without disturbing your usual gaming time!

24/7 support
Get a helpful human reply in ±15 seconds!

Hide My Boost
We've developed this unique software to protect you from bans and suspensions. It allows account sharing without flagging an account.

Secure Payments
You can pay securely with PayPal or your Credit Card via Stripe. All payments are covered with the customer protection system and money back guarantee!

Secure Web-site
SSL and HTTPS protocols are used for your 100% privacy & data safety
If you're looking to purchase Stormwind Rep Boost in World of Warcraft Dragonflight, look no further. This Alliance WoW faction.
Stormwind represents the faction aligned with Stormwind City, the human capital situated in the northwestern corner of Elwynn Forest. Previously under the rule of the young King Anduin Wrynn, supported by Highlord Bolvar Fordragon and Lady Katrana Prestor, it is now governed by King Varian Wrynn, who returned during the era of the Lich King.
How Does the Stormwind Rep Leveling Work?
Offers unique rewards and achievements when you purchase the Stormwind rep farming service, with guaranteed results up to Exalted rank. Our professional boosters will securely play your account and complete factional quest lines and dailies to reach the desired Rep level.
WoW Stormwind Rep Farming:
The Process Explained
Our Stormwind rep leveling service is the perfect solution. Fast, simple, and affordable, you won't have to worry about a thing after making a purchase. An operator will reach out to you within 5-10 minutes of payment via Discord, Skype, or email. Or, if you prefer, feel free to contact us via Discord using our tag Gamingcy - we're available 24/7. From there, we'll work with you to establish convenient playing times, starting times, ETAs, and other important details for your preferences.
You'll be updated throughout the process by our support manager, who will inform you immediately once the job is done. Skip the tedious farming and let our expert PRO gamer handle the work of building your reputation with the Stormwind faction. Save yourself dozens of hours today!
WoW Stormwind Rep Boost:
What no one tells you
Why you should consider buying this service?
On our website, we provide a range of Stormwind Reputation Boost options designed to elevate your reputation with this faction to the highest level. Our customizable carry service ensures guaranteed results without breaking the bank. Opting for our Stormwind reputation boost is the fastest route to unlocking fantastic rewards and bypassing the tiresome reputation grind. Say goodbye to monotonous grinding and say hello to remarkable rewards through our hassle-free, turn-key service at Gamingcy.
At Gamingcy, we hold the belief that online gaming should be a source of happiness and positivity, leaving you with a sense of contentment after every gaming session. Participating in challenging activities like raids, dungeons, and arenas can offer the thrill and enjoyment you crave in WoW. In contrast, grinding reputation quests can often feel like a mundane, repetitive task, akin to a day job, rather than providing engaging gameplay. Investing your precious gaming time into building reputation with Stormwind might not be the most efficient use of your time as an adult.
How much time will I save?
Typically, it takes 2-7 hours to reach Exalted standing, though various reputation buffs may speed things up. Our booster will always aim to carry you to the finish line as quickly as possible.
WoW Reputation Ranks follow this logic:
Hated -> Hostile -> Unfriendly -> Neutral -> Friendly -> Honored -> Revered -> Exalted.
The Stormwind Quartermaster and location
Captain Lancy Revshon, serving as the Stormwind Quartermaster, holds the key to exclusive items that become available as you attain specific reputation levels. You'll locate him at the coordinates 67.6, 72.8 within Stormwind City.
Here's a list of the most notable rewards that you can acquire from Captain Lancy Revshon:
ETA:
Average starting time: 1-3 hours
Average Execution time: Stormwind exalted boosting takes 2-7 hours
Rewards you will get:
Options available:
Reputation: Choose your current rank with the Stormwind.
Requirements + Important notes:
70 level

alliance character in EU or US server

Account sharing

(an experienced player will securely log into your account and do all the work for you)