The Darkspear Trolls Reputation Boost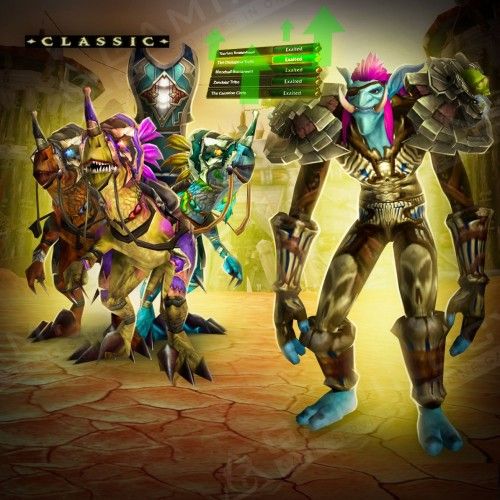 Boosting Schedule
Set the time when the booster may play your account with your manager. We can provide your whole carry while you're AFK without disturbing your usual gaming time!

24/7 support
Get a helpful human reply in ±15 seconds!

Hide My Boost
We've developed this unique software to protect you from bans and suspensions. It allows account sharing without flagging an account.

Secure Payments
You can pay securely with PayPal or your Credit Card via Stripe. All payments are covered with the customer protection system and money back guarantee!

Secure Web-site
SSL and HTTPS protocols are used for your 100% privacy & data safety
This service provides you an opportunity to buy Darkspear Trolls Rep boost in WoW Dragonflight. It's a Horde-only faction.
The Darkspear Trolls faction, an integral part of the Horde, is revered for its rich culture and mystical traditions within the World of Warcraft. Hailing from the Echo Isles, the Darkspear, once led by the late great Vol'jin, display unwavering loyalty and tenacity.
As members of the Horde, the Darkspear Trolls contribute their potent voodoo magic and shamanistic prowess to their allies. Their adaptability and resourcefulness provide invaluable support in Azeroth's tumultuous conflicts.
Players can deepen their connection to the Darkspear Trolls faction by completing quests and engaging in combat, earning a reputation to access unique rewards and privileges. Embrace the vibrant heritage and ferocious spirit of the Darkspear Trolls, and stand proudly alongside these fierce warriors in the World of Warcraft.
By opting for this purchase, players unlock exclusive faction rewards. A comprehensive list of rewards for each reputation tier is provided in the table below. Our expert booster will securely handle your account, accomplishing various faction quests and daily tasks until the Exalted Rep level is achieved. Our platform presents an array of Darkspear Trolls rep farming alternatives, facilitating customizable, guaranteed outcomes without incurring excessive costs. Our track record demonstrates that acquiring the Darkspear Trolls reputation boost through our service is the most efficient way to access remarkable rewards while avoiding the tedious rep grinding ordeal. Gamingcy pledges a seamless and enjoyable leveling experience, delivering a complete turn-key solution.
In World of Warcraft, Reputation Ranks progress as follows: Hated, Hostile, Unfriendly, Neutral, Friendly, Honored, Revered, Exalted.
Darkspear Trolls rep powerleveling:
How it works
Our aim is to make the Darkspear Trolls reputation leveling process swift, seamless, and cost-effective. After purchasing, our operator will reach out within 5-10 minutes via Discord, Skype, or email. Alternatively, you can contact us on Discord at Gamingcy, available 24/7.
Upon connecting with our booster, you can discuss your preferred playing schedule, start time, ETA, and other specifics to ensure a hassle-free leveling experience. Our skilled gamer will diligently work to achieve Exalted status, typically taking 5-48 hours, with the option of reputation buffs to expedite the process.
During the boosting process, our support manager will be accessible to offer progress updates and notify you upon completion. Avoid the monotony of farming by entrusting our professionals to handle the leveling and save valuable time. Opt for our Darkspear Trolls Rep leveling service and embark on your leveling journey today!
Below you can find the list of the most significant rewards, which you can purchase from Champion Uru'zin, the quartermaster of this faction:
ETA:
Average starting time: 1-3 hours
Average Execution time: Darkspear Trolls exalted boosting takes 5-48 hours
Rewards you will get:
Options available:
Reputation: Choose your current rank with the Darkspear Trolls.
Requirements + Important notes:
70 level

horde character in EU or US server

Account sharing

(an experienced player will securely log into your account and do all the work for you)