The Stormpike Guard Reputation Boost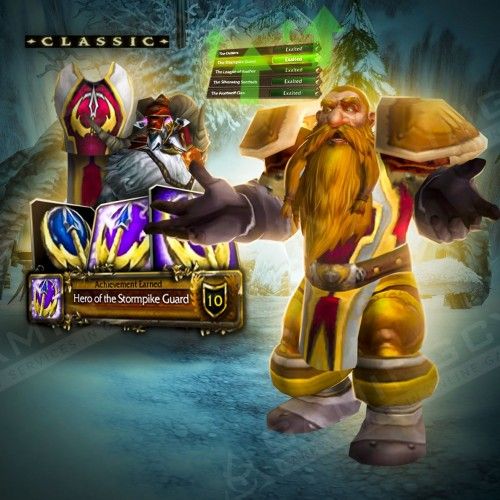 Boosting Schedule
Set the time when the booster may play your account with your manager. We can provide your whole carry while you're AFK without disturbing your usual gaming time!

24/7 support
Get a helpful human reply in ±15 seconds!

Hide My Boost
We've developed this unique software to protect you from bans and suspensions. It allows account sharing without flagging an account.

Secure Payments
You can pay securely with PayPal or your Credit Card via Stripe. All payments are covered with the customer protection system and money back guarantee!

Secure Web-site
SSL and HTTPS protocols are used for your 100% privacy & data safety
This service gives you an opportunity to buy Stormpike Guard Rep boost in WoW Dragonflight. It is a classic Alliance faction.
The Stormpike Guard is a revered faction in the World of Warcraft, hailing from the snowy region of Alterac Valley. These valiant dwarves are known for their staunch defense against the rampaging Frostwolf Clan. Players who ally with the Stormpike Guard can access unique rewards, such as powerful gear and impressive mounts, by increasing their reputation with the faction. To build rep, adventurers must participate in the Alterac Valley battleground and complete various quests and objectives. As players progress through the reputation ranks – from Hated to Exalted – they'll unlock more exceptional rewards, solidifying their standing with the faction. The Stormpike Guard offers a challenging and rewarding experience, making it a popular choice for WoW enthusiasts seeking new adventures.
By opting for the Stormpike Guard rep leveling service, you'll gain access to exclusive faction rewards and the Hero of the Stormpike Guard achievement upon reaching Exalted rank. The table below offers a detailed overview of available items at each reputation level.
Our skilled booster will diligently manage your account, completing faction quests and daily tasks until the Exalted Rep level is achieved. Our site features various Stormpike Guard rep leveling options, allowing you to upgrade your current standing with the faction to the highest level. Our customizable carry service guarantees results at an affordable price.
Based on our expertise, acquiring the Stormpike Guard reputation boost from our platform is the most efficient way to unlock extraordinary rewards while avoiding tedious rep grinding. At Gamingcy, we ensure a smooth and enjoyable leveling experience by handling the entire process from beginning to end.
In World of Warcraft, Reputation Ranks progress from Hated, to Hostile, Unfriendly, Neutral, Friendly, Honored, Revered, and ultimately, Exalted.
Stormpike Guard Reputation Power Leveling Made Easy:
HOW IT WORKS?
In discussing the leveling of Stormpike Guards reputation, we recognize the significance of efficiency, straightforwardness, and cost-effectiveness. Upon completing your order, you can rest easy, as our representative will reach out to you through Discord, Skype, or email within 5-10 minutes following payment verification. You can also connect with us on Discord using the handle Gamingcy, available 24/7. During our conversation, we will address your desired gaming schedule, initiation time, estimated completion time, and other details to tailor your Stormpike Guard reputation power leveling experience. Our skilled booster will elevate your exalted Stormpike Guard faction within 5-48 hours, influenced by various reputation boosts that may accelerate the progress. Throughout this period, our support manager will maintain communication, providing updates and informing you promptly upon the task's completion. Bid farewell to monotonous grinding and reclaim countless hours with our expert power-leveling service. Give it a try today!
Below you can find the list of the most significant rewards, which you can purchase from Thanthaldis Snowgleam, the quartermaster of this faction:
ETA:
Average starting time: 1-3 hours
Average Execution time: Stormpike Guard exalted boosting takes 5-48 hours
Rewards you will get:
Options available:
Reputation: Choose your current rank with the Stormpike Guard.
Requirements + Important notes:
70 level

Alliance character in EU or US server

Account sharing

(an experienced player will securely log into your account and do all the work for you)