The Ironforge Reputation Boost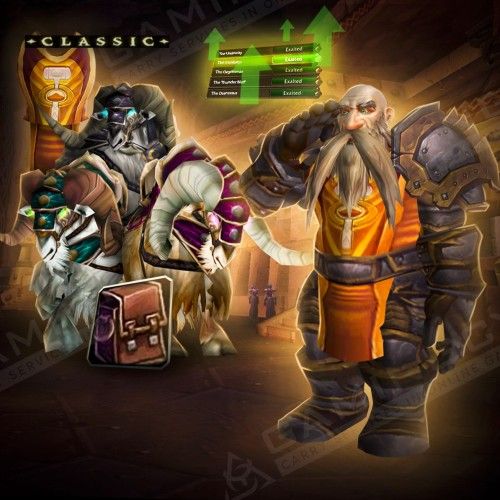 Boosting Schedule
Set the time when the booster may play your account with your manager. We can provide your whole carry while you're AFK without disturbing your usual gaming time!

24/7 support
Get a helpful human reply in ±15 seconds!

Hide My Boost
We've developed this unique software to protect you from bans and suspensions. It allows account sharing without flagging an account.

Secure Payments
You can pay securely with PayPal or your Credit Card via Stripe. All payments are covered with the customer protection system and money back guarantee!

Secure Web-site
SSL and HTTPS protocols are used for your 100% privacy & data safety
This service provides you an opportunity to buy Ironforge Rep boost in World of Warcraft Dragonflight. It's an Alliance-only faction.
Ironforge, the magnificent mountain fortress, stands proudly as the capital city for the tenacious dwarves of Azeroth. Founded by King Magni Bronzebeard, Ironforge boasts a rich cultural heritage, legendary craftsmanship, and unwavering camaraderie among its denizens. The Ironforge faction is a testament to the dwarves' indomitable spirit, as they embody honor, tradition, and a relentless pursuit of knowledge. Their exceptional skills in metallurgy, engineering, and archaeology make them an invaluable component of the Alliance.
Nestled within the heart of the Khaz Modan mountains, Ironforge's awe-inspiring architecture and grandiose halls are a testament to the dwarves' unparalleled artistry and engineering prowess. The Great Forge, the city's fiery centerpiece, serves as a hub for blacksmiths, engineers, and craftsmen, producing some of the finest wares in Azeroth.
Attain the esteemed Exalted rank and unlock exclusive rewards with our expert assistance. Our seasoned boosters will diligently complete faction quests and daily tasks on your behalf, propelling you towards your desired reputation standing. We provide customizable options to meet your rep objectives without overspending. By choosing Gamingcy's Ironforge reputation boost, you can bypass the monotonous grind and swiftly access exceptional rewards. Our comprehensive service guarantees a seamless and enjoyable leveling journey.
WoW Reputation Ranks are structured as follows: Hated, Hostile, Unfriendly, Neutral, Friendly, Honored, Revered, Exalted. For a thorough overview of the rewards available at each stage, consult the table below.
Ironforge Reputation Power Leveling:
How Does it Work?
Our Ironforge rep leveling service is designed to be fast, simple, and affordable. Once you make a purchase, our operator will contact you through Discord, Skype, or email within 5-10 minutes of payment. Alternatively, you can contact us directly on Discord using our tag, Gamingcy, as we are available 24/7.
During the chat, we'll discuss your preferred playing schedule, starting time, ETA, and any other details relevant to your Ironforge reputation power leveling needs. With various reputation buffs, our expert PRO gamer can usually help you reach Exalted status within 5-48 hours.
Throughout the boosting process, our support manager will remain in touch, keeping you updated on progress and completion. Skip the tedious farming and save yourself dozens of hours - let our expert PRO gamer build rep with the Ironforge faction for you!
Below you can find the list of the most significant rewards, which you can purchase from Captain Stonehelm, the quartermaster of this faction:
ETA:
Average starting time: 1-3 hours
Average Execution time: Ironforge exalted boosting takes 5-48 hours
Rewards you will get:
Options available:
Reputation: Choose your current rank with the Ironforge.
Requirements + Important notes:
70 level

alliance character in EU or US server

Account sharing

(an experienced player will securely log into your account and do all the work for you)