The Darnassus Reputation Boost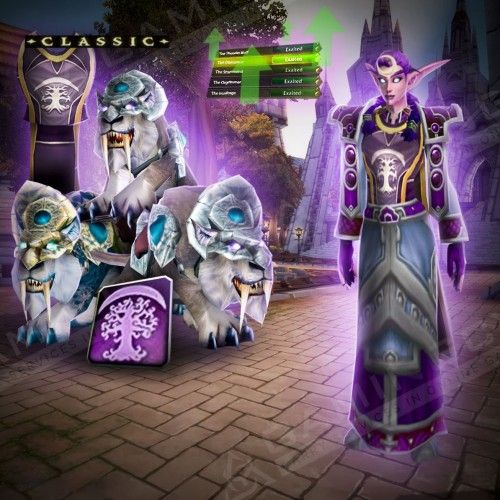 Boosting Schedule
Set the time when the booster may play your account with your manager. We can provide your whole carry while you're AFK without disturbing your usual gaming time!

24/7 support
Get a helpful human reply in ±15 seconds!

Hide My Boost
We've developed this unique software to protect you from bans and suspensions. It allows account sharing without flagging an account.

Secure Payments
You can pay securely with PayPal or your Credit Card via Stripe. All payments are covered with the customer protection system and money back guarantee!

Secure Web-site
SSL and HTTPS protocols are used for your 100% privacy & data safety
Here you can buy Darnassus Rep Boost in World of Warcraft Dragonflight. It's a Alliance WoW faction. By purchasing our Darnassus rep farming service, you can access exclusive factional rewards.
Darnassus is a revered elven city in World of Warcraft located on the world tree Teldrassil. Led by High Priestess Tyrande Whisperwind, it values balance and tranquility, and its citizens are devoted to the goddess Elune. Players who align with Darnassus can access unique quests, mounts, and gear. Its affiliation with the Cenarion Circle also offers opportunities for reputation building. Darnassus has a rich lore, intertwined with the Night Elf race and features skilled archers, druids, and hunters.
How Does the Darnassus Rep Leveling Work?
Our professional boosters will securely grind through various factional quest lines and dailies on your account until the Exalted Rep level is achieved.
WoW Darnassus Rep Farming:
The Process Explained
Our Darnassus rep leveling service is designed with speed, simplicity, and affordability in mind. When you make a purchase, our operator will reach out to you on Discord, Skype, or email within 5-10 minutes to discuss your preferences for the service. If you prefer, you can also contact us directly on Discord using the tag Gamingcy. We're available 24/7 to make the process as convenient as possible for you.
Our expert booster will work with you to create a playing schedule and starting time that suits you best, and will provide you with an estimated time of arrival for reaching the coveted Exalted standing. Throughout the process, our support manager will keep you updated on progress and notify you immediately when the job is complete.
Don't waste your time farming for reputation - let our PRO gamer handle the hard work and save yourself hours of tedious grinding. Choose our Darnassus rep power leveling service and level up your reputation effortlessly.
WoW Darnassus Rep Boost:
What no one tells you
What advantages come with opting for this service?
Our site offers a range of Darnassus reputation boost options that allow you to upgrade your current reputation status with this faction up to the maximum level. Our fully customizable carry service guarantees results without excessive costs, making it the fastest way to unlock exceptional rewards and bypass tiresome rep grinding. Gamingcy ensures a hassle-free and enjoyable leveling process with our turn-key approach.
Why is it smart to let our professional do the whole job for you?
Gamingcy is built on the belief that online games should be a source of joy and positivity, leaving you with increased happiness after each gaming session. Engaging in challenging activities like raids, dungeons, and arenas can deliver the excitement and enjoyment you desire in WoW. However, dedicating your gaming hours to the repetitive grind of reputation quests can feel more like mundane work, akin to a day job, rather than providing entertaining gameplay. As an adult, it's prudent not to squander your valuable gaming time on building reputation with Darnassus.
How much time is typically required for this process?
Typically, it takes 2-7 hours. With the help of various reputation buffs, we work to expedite the leveling process and get you to your goal as quickly as possible.
In terms of WoW Reputation Ranks, the order is as follows:
Hated -> Hostile -> Unfriendly -> Neutral -> Friendly -> Honored -> Revered -> Exalted.
The Darnassus Quartermaster and location
Moon Priestess Lasara, the esteemed Darnassus Quartermaster, serves as the primary vendor for exclusive items that become accessible at specific reputation levels. You can conveniently locate her at the coordinates 55.2, 12.8 within the city of Stormwind.
Here's a compilation of the most noteworthy rewards available for purchase from Moon Priestess Lasara:
ETA:
Average starting time: 1-3 hours
Average Execution time: Darnassus exalted boosting takes 2-7 hours
Rewards you will get:
Options available:
Reputation: Choose your current rank with the Darnassus.
Requirements + Important notes:
70 level

alliance character in EU or US server

Account sharing

(an experienced player will securely log into your account and do all the work for you)