The Shado-Pan Reputation Boost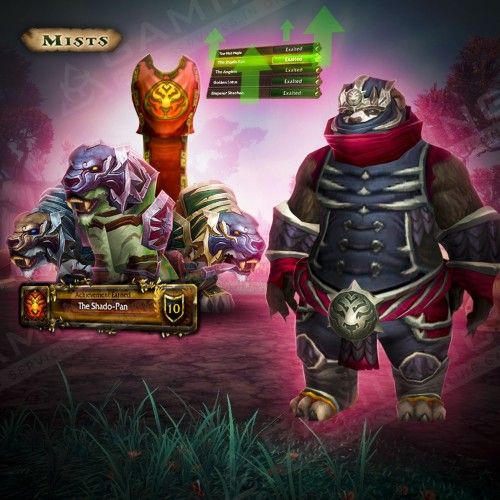 Boosting Schedule
Set the time when the booster may play your account with your manager. We can provide your whole carry while you're AFK without disturbing your usual gaming time!

24/7 support
Get a helpful human reply in ±15 seconds!

Hide My Boost
We've developed this unique software to protect you from bans and suspensions. It allows account sharing without flagging an account.

Secure Payments
You can pay securely with PayPal or your Credit Card via Stripe. All payments are covered with the customer protection system and money back guarantee!

Secure Web-site
SSL and HTTPS protocols are used for your 100% privacy & data safety
Our service offers you the opportunity to purchase an Shado-Pan reputation boost for the neutral WoW Pandaria faction. We accommodate players on all Dragonflight servers across the EU and US regions. Upon acquiring the Shado-Pan rep leveling service, you will unlock exclusive faction rewards and Shado-Pan achievement.
The Shado-Pan, a secretive order of highly disciplined pandaren fighters, embrace a ninja-like culture to protect their empire. They are primarily located in Pandaria's Townlong Steppes and conduct a mystifying Trial of the Red Blossoms every seven seasons, featuring three perilous challenges.
How Does the Shado-Pan Rep Leveling Work?
A proficient booster will securely handle your account, tackling various faction missions and daily objectives until the exalted reputation level is reached. This specific boost is a favorite among our clients, as it unveils the most sought-after perks of the faction. Further information on these advantages can be found below. We supply an array of Shado-Pan reputation level upgrades for sale. Whether your aim is to advance from Neutral to Exalted or to achieve other ranking progressions for acquiring the Shado-Pan Riding Tiger mounts, our service is here to support you.
The Shado-Pan Rep Power leveling:
What's the procedure?
The entire operation is streamlined and efficient. Once you purchase The Shado-Pan rep leveling service, our manager will promptly reach out to you via Skype/Discord/Email, typically within 5-10 minutes. You can also contact us 24/7 through GamingcyDiscord.
In this stage, you will coordinate all specifics regarding The Shado-Pan reputation powerleveling for your account, including start time, ideal playing schedule, and other aspects. Our manager will keep you informed throughout the boosting process and notify you through your preferred messenger upon completion. Say goodbye to grinding WoW reputations for extended periods—purchase a boost and let Gamingcy take care of the mundane tasks!
WoW Shado-Pan Rep Farming:
An Expert's Perspective
What advantages come with opting for this service?
Online gaming should be fun, providing positive emotions and leaving you feeling content after each session. High-level World of Warcraft Dragonflight activities (raids, dungeons, arenas) undoubtedly deliver such experiences. However, monotonous reputation quest grinding can feel more like tiresome office work than engaging entertainment. Allocating valuable gaming time to building rep with Shado-Pan may not be the most sensible decision for adult gamers.
A more intelligent approach is to entrust the laborious rep grind to an experienced player who is knowledgeable about Mists of Pandaria locations, questlines, mob spawn points, and the most effective strategies for reaching an Exalted reputation with this faction. Another crucial advantage is that they will complete the leveling process from start to finish, accommodating your usual gaming schedule (you can specify when we may access your character). With our exceptional 24/7 online support, you'll enjoy a 5-star premium boosting service rather than wasting hours searching for guides and grinding quests and mobs.
How much time is typically required for this process?
Generally, it takes 2-7 days to achieve Exalted status, although reputation buffs may accelerate progress. Regardless, our booster's primary goal is always to deliver the carry as rapidly as possible.
WoW Reputation Ranks follow this sequence:
Hated → Hostile → Unfriendly → Neutral → Friendly → Honored → Revered → Exalted.
The Shado-Pan Quartermaster and location
Rushi the Fox, the Shado-Pan Quartermaster, serves as the faction's primary vendor. Pay him a visit to acquire exclusive items unlocked at specific reputation levels. You'll locate him at coordinates 48.8, 70.6 in the Townlong Steppes.
Here's a list of the key rewards available for purchase from Rushi the Fox:
ETA:
Average starting time: 1-5 hours
Average Execution time: Shado-Pan exalted boosting takes 2-7 days
Rewards you will get

:
Options available:
Reputation: Choose your current rank with the Shado-Pan.
Requirements + Important notes:
70 level

character in EU or US server

Account sharing

(an experienced player will securely log into your account and do all the work for you)