The Huojin Pandaren Reputation Boost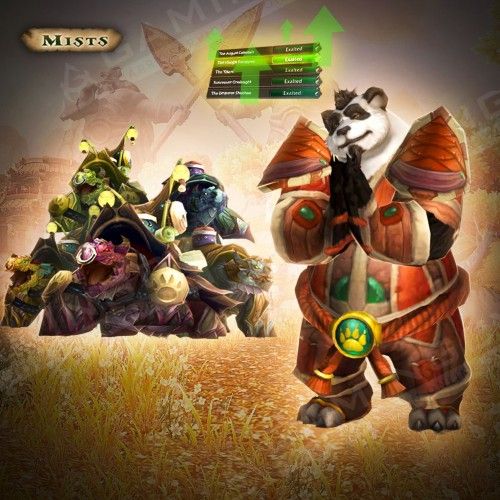 Boosting Schedule
Set the time when the booster may play your account with your manager. We can provide your whole carry while you're AFK without disturbing your usual gaming time!

24/7 support
Get a helpful human reply in ±15 seconds!

Hide My Boost
We've developed this unique software to protect you from bans and suspensions. It allows account sharing without flagging an account.

Secure Payments
You can pay securely with PayPal or your Credit Card via Stripe. All payments are covered with the customer protection system and money back guarantee!

Secure Web-site
SSL and HTTPS protocols are used for your 100% privacy & data safety
Here you can buy the Huojin Pandaren Rep Boost in World of Warcraft Dragonflight. It's a Horde WoW Pandaria faction. Upon purchasing this boost, you gain access to exclusive benefits and achievements under the title of Exalted rank boost.
Who are the Huojin Pandaren?
The Huojin Pandaren are a WoW faction representing the passionate and martial nature of Pandaren. They value self-improvement, independence, and courage, and have strong ties with the Horde and their Pandaren kin. The faction seeks to honor its unique culture while forming bonds with other races.
How Does the Huojin Pandaren Rep Leveling Work?
Our professional boosters will securely play on your account to complete various factional quest lines and dailies until the desired Exalted Rep lvl is achieved. Whether you are aiming to level up your current standing or max out your rank, our carry services are fully customizable to fit your needs at an affordable price.
In our experience, purchasing the Huojin Pandaren reputation boost through our site is the quickest way to acquire incredible and unique rewards while avoiding the tedious and monotonous process of rep grinding. At Gamingcy, we guarantee a hassle-free and enjoyable experience, completing the entire process on your behalf.
The Huojin Pandaren Rep Power leveling:
How it works?
Why purchase this reputation farming service?
During your chat with our team, you can discuss your preferences for your Huojin Pandaren reputation powerleveling. This includes your playing schedule, starting time, ETA, and any other specific nuances you may have. Our team will do their best to meet your needs.
Throughout the leveling process, our support manager will keep you informed with regular updates. Once the job is complete, we'll let you know immediately. Save yourself hours of tedious farming and let our expert PRO gamers build your Huojin Pandaren rep for you.
Our Huojin Pandaren rep leveling service is designed to be fast, affordable, and hassle-free. Once you purchase our service, our team will take care of everything for you. Within 5-10 minutes of payment, one of our operators will contact you via Discord, Skype, or email. Alternatively, you can contact us directly on Discord using our gaming tag, Gamingcy. We are available to chat 24/7.
Generally, it takes us around 2-7 hours to reach Exalted standing with the Huojin Pandaren faction. However, this time frame can vary depending on various reputation buffs that we utilize during the process. Regardless, our primary goal is always to ensure the fastest possible completion of the carry.
WoW Reputation Ranks follow a logical progression:
Hated —> Hostile —> Unfriendly —> Neutral —> Friendly —> Honored —> Revered —> Exalted.
The Huojin Pandaren Quartermaster and location
Turtlemaster Odai <Dragon Turtle Breeder> is the factional quartermaster and the primary vendor: visit to buy exclusive items that get unlocked at certain reputation levels. You can find her at 69.8 41.0 coordinates in Orgrimmar location.
Below you can find the list of the most significant rewards, which you can purchase from the Turtlemaster Odai:
ETA:
Average starting time: 1-3 hours
Average Execution time: Huojin Pandaren exalted boosting takes 2-7 hours
Rewards you will get:
Options available:
Reputation: Choose your current rank with Huojin Pandaren.
Requirements + Important notes:
70 level

horde character in EU or US server

Account sharing

(an experienced player will securely log into your account and do all the work for you)