The Sunreaver Onslaught Reputation Boost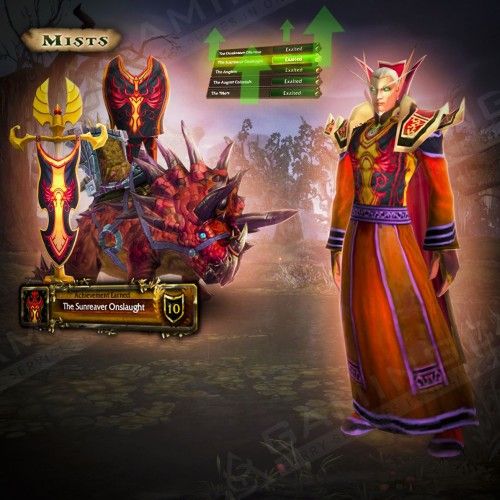 Boosting Schedule
Set the time when the booster may play your account with your manager. We can provide your whole carry while you're AFK without disturbing your usual gaming time!

24/7 support
Get a helpful human reply in ±15 seconds!

Hide My Boost
We've developed this unique software to protect you from bans and suspensions. It allows account sharing without flagging an account.

Secure Payments
You can pay securely with PayPal or your Credit Card via Stripe. All payments are covered with the customer protection system and money back guarantee!

Secure Web-site
SSL and HTTPS protocols are used for your 100% privacy & data safety
You can buy the Sunreaver Onslaught rep boost, WoW Pandaria horde faction, through this professional service. We extend our carries to all Dragonflight servers in both the EU and US regions. Our skilled booster will securely access your account and work on various faction quests and daily missions to reach the exalted reputation level.
By opting for the Sunreaver Onslaught rep farming, you will unlock exclusive faction rewards and Sunreaver Onslaught achievement if you select the Exalted rank boost. This type of boost is favored by our clients as it provides access to the most valuable benefits of the faction, which we will explain further below.
We have a variety of Sunreaver Onslaught reputation level upgrades available for purchase. Whether your goal is to progress from Friendly to Exalted or obtain other ranking improvements to secure the Reins of the Crimson Primal Direhorn, we can assist you.
Purchasing this reputation enhancement allows you to bypass the tedious rep grinding process and quickly obtain the rewards in a safe and efficient manner. Our expert World of Warcraft boosting service ensures a seamless and enjoyable leveling experience, handling the entire task from beginning to end.
The Sunreaver Onslaught Rep Power leveling:
How does it work?
Our method is swift and uncomplicated. Once you purchase The Sunreaver Onslaught rep leveling service, our manager will promptly reach out to you via Skype/Discord/Email, usually within 5-10 minutes. You can also contact us 24/7 using Gamingcy Discord.
During this interaction, you will discuss all aspects related to The Sunreaver Onslaught reputation powerlvling in your account, such as the start time, preferred gaming schedule, and other particulars. Our manager will provide updates throughout the boosting process and notify you via your chosen messaging platform when the task is completed. Eliminate the need for grinding WoW reputations for extended periods – invest in a boost and let Gamingcy handle the mundane tasks!
WoW Sunreaver Onslaught Rep Farming:
Insider's Perspective
As devoted gamers, we can confidently affirm that the quickest way to achieving Exalted status with the Sunreaver Onslaught faction is to purchase a fast reputation boost through our website. This approach saves you countless hours of repetitive quest farming.
We firmly believe that online gaming should elicit enjoyment and positive emotions, leaving you satisfied after each session. High-level World of Warcraft Dragonflight activities (raids, dungeons, arenas) can offer this experience. In contrast, the monotonous nature of reputation quest grinding can feel more like tiresome office work rather than engaging entertainment. Allocating limited gaming time as an adult to building rep with Sunreaver Onslaught may not be the most reasonable choice.
A more intelligent approach is to delegate the mundane rep grinding to a knowledgeable gamer acquainted with Mists of Pandaria locations, questlines, mob spawn points, and the quickest methods for reaching exalted reputation with this faction. A key advantage is their commitment to executing the entire leveling process, working within your established gaming schedule (you can indicate when we may access your character). Paired with our exceptional 24/7 online support, you'll enjoy a top-tier 5-star boosting service rather than wasting hours searching for guides and grinding quests and mobs. Exalted status is typically achieved within 5-7 days, although reputation buffs may hasten the process. Regardless, our booster's primary objective is always to deliver the carry as rapidly as possible.
WoW Reputation Ranks follow this progression:
Hated —> Hostile —> Unfriendly —> Neutral —> Friendly —> Honored —> Revered —> Exalted.
Below you can find the list of the most significant rewards, which you can purchase from the Vasarin Redmorn, quartermaster of this faction:
ETA:
Average starting time: 1-5 hours
Average Execution time: Sunreaver Onslaught exalted boosting takes 5-7 days
Rewards you will get:
Sunreaver Onslaught achievement;
The Exalted rank with faction and access to all factional rewards.
Options available:
Reputation: Choose your current rank with Sunreaver Onslaught.
Requirements + Important notes:
70 level

horde character in EU or US server

Account sharing

(an experienced player will securely log into your account and do all the work for you)