Glory of the Hero Boost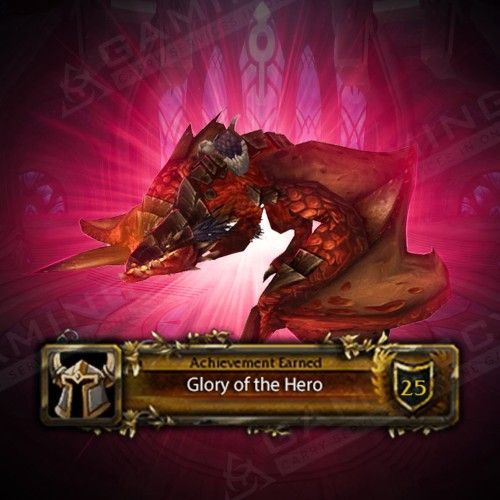 24/7 support
Get a helpful human reply in ±15 seconds!

Hide My Boost
We've developed this unique software to protect you from bans and suspensions. It allows account sharing without flagging an account.

Secure Payments
You can pay securely with PayPal or your Credit Card via Stripe. All payments are covered with the customer protection system and money back guarantee!

Secure Web-site
SSL and HTTPS protocols are used for your 100% privacy & data safety

Enlarge your collections!
An extensive list of unique & rare collectibles makes your gameplay brighter and your whole account more precious!
Welcome to Gamingcy, where you can purchase a Glory of the Hero boost from our team of professional WoW PvE gamers. We're providing this service in WotLK Classic and Dragonflight expansions. Our carries are available on any EU and US server, and we pride ourselves on providing a smooth achievements run to help you fulfill all the requirements for the WoW dungeon Glory meta. As a result, you will unlock the highly coveted Red Proto-Drake account-wide mount. What's more, any WoW Dragonflight or Wrath Classic gold or other rng-based rewards you may receive during the boost will be yours to keep.
What achievements will I get?
The Glory of the Hero requires the completion of 37 achievements in dungeons.
Why Choose Gamingcy?

We understand that even in

World of Warcraft Retail

realities, completing these instances solo can be a challenging task.
While you may attempt to find help in the LFG or the Trade chat, our experience shows that it is often a complicated task. First, you will find that there are not many people willing to do an achievement run, as most players are currently involved in the latest game content, leaving legacy dungeons for later.
Additionally, when you do manage to find some teammates, they are often either toxic individuals or newbies who lack knowledge on how to complete the raid, boss fights, and mechanics. You will have to spend time checking multiple guides and explaining the strategies to your group.
This makes completing all the requirements an arduous task, taking you several days or even weeks. Instead, we invite you to take advantage of our Glory of the Hero carry, which guarantees

395 achievement points

and a new epic account-wide mount without any hassle.
Our team of expert gamers will provide you with a stress-free gaming experience, leaving you to sit back and enjoy the rewards. So why wait? Contact us today to get started on your WoW PvE journey!
Glory of the Hero Mount: All you need to know
Obtaining the coveted Glory of the Hero mount, Reins of the Red Proto-Drake, in World of Warcraft can be a tedious and time-consuming process. But fear not, for Gamingcy has the solution! By purchasing a WotLK dungeons achievements run with us.
Key reasons to buy Dungeon Glory run

You can skip the long and arduous task of farming glory achievements with random players from the LFG. Our site employs the best PvE guilds in the game, ensuring that your boosting process will be both quick and secure.
Our team of professional is dedicated to providing you with a hassle-free and enjoyable experience. We offer turn-key solutions that will save you both time and effort. And if you're interested in learning about the strategies, tactics, and mechanics of WoW encounters, we're happy to provide explanations where necessary.
Our primary goal is to get you your mount boost as quickly as possible. We're available 24/7 to provide you with online support and guide you through the most efficient walkthrough of any WoW encounter. With our experienced PROs and

premium 5-star service

, you can be confident in getting the desired result for the money you pay.

Conclusion
Say goodbye to endless hours spent googling guides and wiping with pugs, and hello to dozens of new WotLK collectibles!
ETA:
Average starting time: 1-3 days
Average execution time: 1-3 days
Rewards you will get:
Glory of the Hero meta-achievement and all WotLK dungeons achieves required for this meta;
Reins of the Red Proto-Drake account-wide flying mount;
A chance to get some gear and weapons for transmog purposes;
12x WotLK dungeons completed in Normal Mode.
Options available:
Selfplay:

you will play your character yourself with a group of our professional player(s).

Account sharing:

an experienced player will securely log into your account and do all the work for you.

WoW Expansion:

choose the game that you're playing and need your boost on (Dragonflight or WotLK Classic).
Requirements + Important notes:
70 level

character in Dragonflight EU or US server

80 level

character in WotLK Classic EU or US server